In 2008 it was hard to find a hockey fan who'd heard of Dmitry Kulikov. Before ganging up with the Drummondville Voltigeurs of the QMJHL the Russian played in one of the minor leagues back home and didn't exactly get a lot of chances to stand in the spotlight. It may sound unlikely but two years after that he blossomed as one of the top defensemen of the Florida Panthers. And while the adjusting from junior to pro hockey seemed to go smooth enough, off the ice, Dmitry clicked with North American lifestyle even easier, which is uncommon for his compatriots.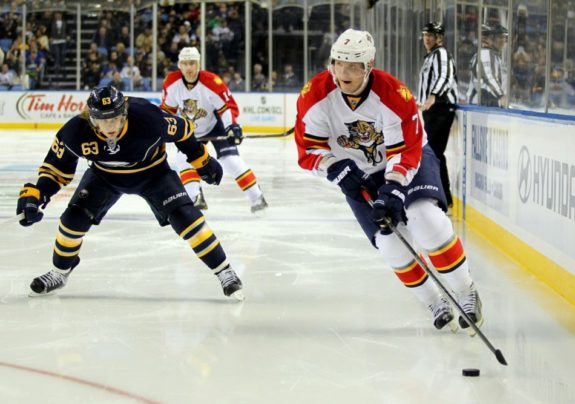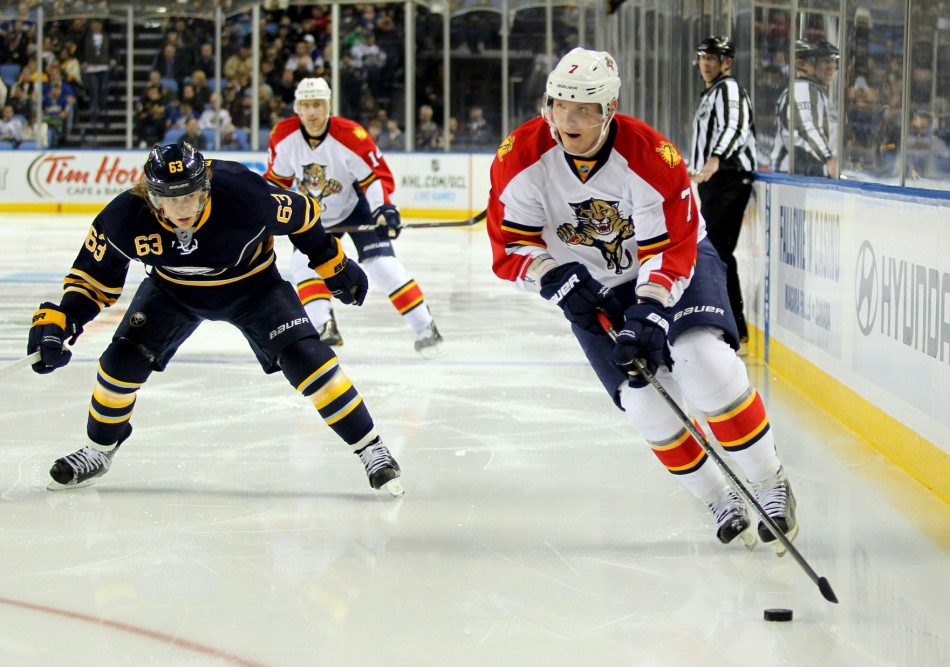 It's never easy to swap Europe for North America. But it might help if you're coming to Québéc being Russian. Certainly, you will get your share of cultural shock and everything that goes with it, but at least you won't have to get used to the environment. But it's a whole new story in Florida…
"To be honest, I have to say I miss Québéc sometimes," Kulikov said. "I can't wait to play up north during winter. I really want to see a land covered in snow, feel the cold air, you know? I miss it down here. But I don't regret that I play here. On the contrary, I believe the luckiest of our lot play for the Panthers. We play in the NHL while living in the warmest state. So if think you about it, our climate is sort of our advantage".
Nevertheless, you have to admit that you can get comfortable with any climate pretty fast if the food is good. And being a European Dmitry inevitably should have changed his diet. Or has he?
"Québéc food? Well, all I know is poutine. It's French fries with cheese and sauce. I tried it a couple of times but not really, so I won't be able to name all the ingredients. I wouldn't say that I eat differently down in Florida," said Kulikov. "Although, I lived in a billet-family two years ago and they cooked for me. But now that I live by myself I have to take care of that. I try to eat healthy but every now and then there's a bit of fast-food in my diet".
"The only Russian food I get to cook here is pelmeni. I absolutely love this stuff! I could live on it. There's a Russian grocery store about 45 minutes drive from my place and I shop there quite regularly. You can find a lot of rare stuff there, like Russian sausages, fish and bread. I'd love to be able to cook some other traditional Russian meals but I'm a rookie when it comes to cooking. But I do want to learn how to cook borsch and pirogi," added Dmitry with a smile.
What Kulikov really had to get used to was the lack of interest in hockey in Florida.
"The locals don't really recognize me," says Kulikov. "Well, there are some that get the gist of who I am while we're talking. If I'm asked what I do for a living, I say that I play for the Panthers. After that some might ask my last name, but a lot of people tend to ask me what type of hockey do I play, ice-hockey or floor-hockey? A lot of people aren't really into hockey down here".
Kulikov was quick to adjust to the new level. He became one the most reliable defensemen on the Panthers roster. His current average ice-time is 19:49 – only Dennis Wideman and Bryan McCabe get to play more often than him. And the fact that Dmitry won a silver medal at IIHF World Championship with Team Russia in Germany this spring certainly works in his favour as well.
But Kulikov's first season wouldn't qualify for a pleasure cruise. He had to miss 14 games in the regular season due to the injury he got in the game against the Hurricanes.
"I managed to get to the bench by myself after the hit," said Kulikov. "I didn't even pay much attention to the pain until the end of the game. Only then I realized that something serious had happened. The doctors told me it was nothing to worry about, no surgery was needed and I'd up and running again in 3 to 4 weeks. But I would have tried to get better as soon as possible if it happened to be something more serious, anyway".
Even though everybody in the Panthers organization seemed to be very pleased with Kulikov's performance, some of the fans were not. Late in October 2009 a compilation of Dmitry's mistakes was posted on YouTube by some unhappy fan.
"I think the guy who made this video either envies someone or simply has a lot of anger. I have no idea why I've got to be a part of it. I didn't really pay much attention to the video. You can make pretty much the same video about any hockey player.
"You can make the same video about Niklas Lidstrom, Andrei Markov or Sergei Gonchar using material just from one single season. And you won't take them for All-Stars after that. So I don't have any hard feelings towards the guy who did it".
It didn't take Kulikov too long to silence his ill-wishers. The very next month he scored his first NHL goal followed by another two tallies.
"I never thought that November is my lucky month, you know," remarked Dmitry. "Now I like to think it is and I'm looking forward to it".
Former head coach of the Voltigeurs, Danny Brooks, once called Kulikov "a North American player with Russian last name", which partly explains why the latter's adjustment to the NHL went amazingly easy. But it's only the first step – now Dmitry has to take his game to a whole new level. So what's the big plan for this season?
"We've got to make it to the play-offs. We should take a second spot in our division and the sixth in the conference," concluded Kulikov. "As for myself, I want to score, at least, 10 goals and get 30 assists".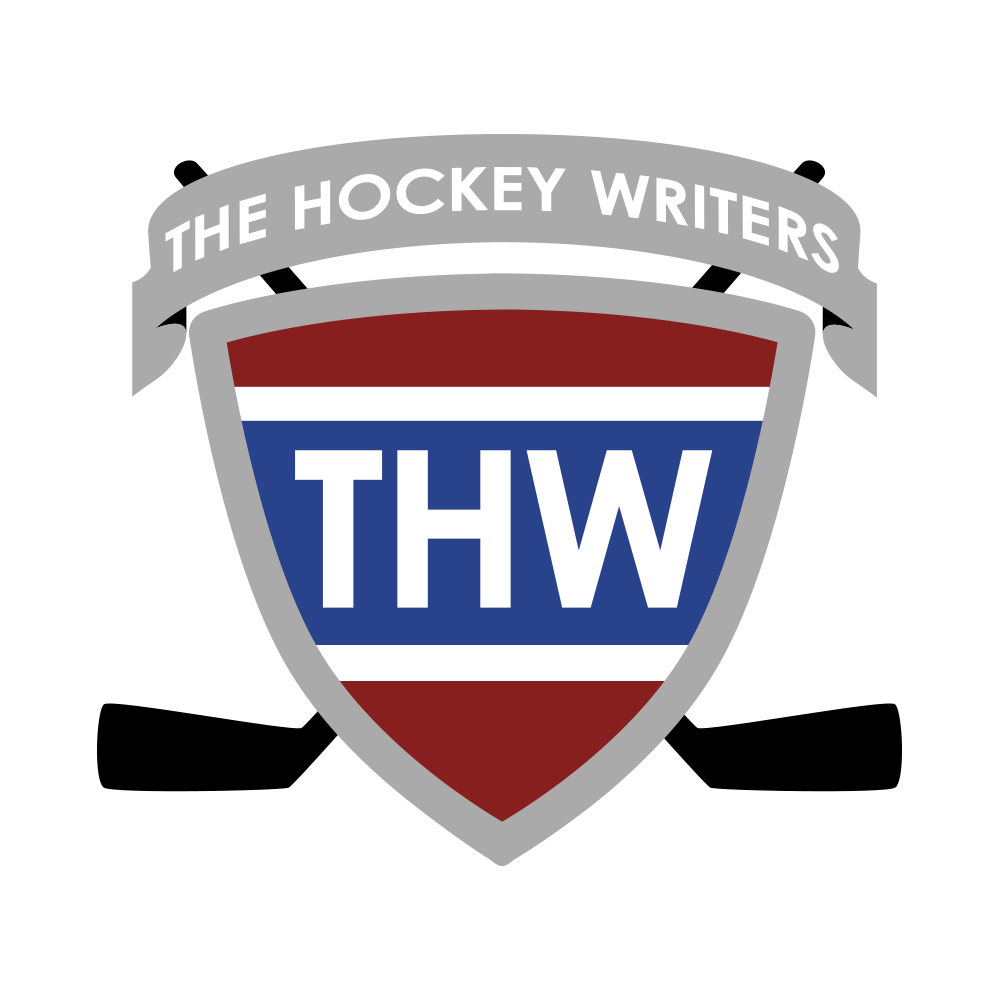 The Hockey Writers is:
1) A top-tier hockey media company delivering a top-notch, in-depth look at the NHL
2) A collective of some of the best hockey writers anywhere
3) A multimedia provider with daily podcasts and YouTube shows
4) Well-respected and widely-cited NHL prospect and draft resource