With a slow start to the season, Ottawa area hospitals are witnessing an increase in sprained ankles, as Ottawa Senators fans jump off the bandwagon. However, after head coach Cory Clouston put the team through a tough practise this week and GM Bryan Murray held court with the local media talking trade, the team overcame the last minute loss of Jason Spezza (groin issue) to defeat the Buffalo Sabres 4-2 in Buffalo on Friday evening. As Ottawa fans worry about their squad, it is important to remember, the 2007 Stanley Cup finalists started the year with only two wins in their first six games – it is still early folks!
It is difficult to call the seventh game of the year a "must win game", but that is exactly what faced Ottawa last night. Brian Elliott had a shaky start, allowing two goals on seven shots, but he rebounded with a strong performance, finishing the night with 34 saves. While some fans were left wondering after the first period if rookie Robin Lehner would see action tonight against the Montreal Canadiens, Elliott backstopped his team to an important victory and he be the starter tonight when the puck drops at 7 pm EST.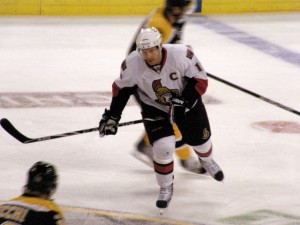 The win was important for the confidence of the team and improved the Senators record to 2-4-1, and in 12th place in the Eastern Conference standings. The storyline of the game and the headlines in Ottawa this morning, all belong to Senators captain Daniel Alfredsson.
Alfredsson proved yet again, why he is the heart and soul of this squad, scoring his eighth career hat trick and reaching an important career milestone in the process; 1,000 career points in the NHL.
A sixth round selection in the 1994 NHL draft (133rd overall), the native of Gothenburg, Sweden continues to lead by example in Ottawa; demonstrating that hard work and determination can bring you to unexpected heights. Always a team player, Alfredsson was quick to point out the importance of the two points his team earned last night – the milestone was an added bonus.
"It hasn't really been on my mind at all, obviously with the struggles we have been going through; it's about trying to get some wins," Alfredsson told the Team 1200 in Ottawa. "It feels great to be able to get the 1,000 points and win at the same time. A big road win for us so I'm pretty happy right now."
"I think we dug deep, I think we played hard; we didn't have a great third period but our goalie had a great third period."
http://www.youtube.com/watch?v=IlJxBPZb2RA
For the most part, head coach Cory Clouston was pleased with his team and proud of his captain's performance.
"For about 45 minutes we played our game and sometimes when you are a little bit fragile you play to not lose, as opposed to playing to win," said Clouston. "Credit to Buffalo, they came hard at the end but we got the two points and that's the most important thing. It's definitely something to build on."
"You couldn't write a better script for that (Alfredsson's 1,000th point), he was our best player tonight, obviously, when you score three goals. It is very important for him to play that way when we've got guys out and we're struggling, we need him to step up like he did."
In his tenth year as captain of the Ottawa Senators, Alfredsson has hit the ice for 1,009 NHL games. The Calder Memorial Trophy winner in 1996 as the NHL's Rookie of the Year, Alfredsson is the 75th player in NHL history to reach the 1,000-point plateau. He is the franchise's top goal scorer (379), assist leader (621) and points (1,000), power play goals (117), shorthanded goals (22), and game winning goals (63).
There is little doubt that his #11 will hang from the rafters of Scotiabank Place when his career concludes, and team owner Eugene Melnyk has already stated that a job in the front office is waiting for "Alfie" if he decides to pursue that option when he hangs up his skates.
With an election this month in Ottawa for the Mayor's job and a split amongst the voters as to who can best serve the city as its leader, if Alfredsson decided to throw his hat in the ring, he would win a landslide.