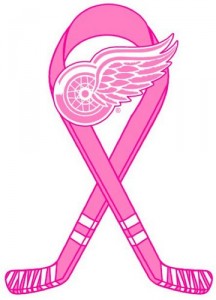 Tonight the Detroit Red Wings will face off against the Calgary Flames; however, there is more to it than just a hockey game.
The Red Wings will be auctioning off gear that was used in practice this morning and that will be used during warm ups tonight. Goaltenders Chris Osgood and Jimmy Howard wore special blockers and catchers at practice this morning, that have a pink inlay on them, that will be auctioned off. According to Head Equipment Manger for the Red Wings Paul Boyer they were donated by Vaughn Sports of Lake Orion (Michigan).
The skaters will be using sticks in the pre game skate that are taped with special black tape with pink ribbons. The sticks will then be auctioned along with the goalie gear and purple ties that will be worn and autographed by the coaching staff.
For fans attending the game that wear pink in support you can register for a raffle to win a team-autographed jersey. All fans can donate $40 and then pick a puck that has been autographed by the players and then wrapped (so as to whom the signature belongs to is a surprise). The fan to chose the puck that is signed in gold by Johan "Mule" Franzen will get the chance to meet a player after the game.

Earlier this month the Detroit area Plymouth Whalers (OHL) held their annual "Pink Out!" Game. The team dyed their hair pink and wore special pink jerseys that were auctioned off after the game.
The team challenged fans to raise over $10,000 before the game and then the coaching staff would dye their hair pink as well. The community rose to the challenge and had over $12,000 raised before the game and a total of over $18,000 was raised after the game worn jerseys were auctioned off.