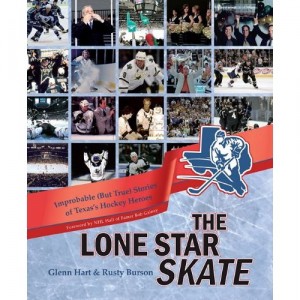 The Lone Star Skate: Improbable (But True) Stories of Texas's Hockey Heroes
By Glenn Hart and Rusty Burson.  (2011, Austin, TX: Bridgeway Books. Hardcover. Pp. 180. $39.95 US. ISBN 978-1-934454-38-1)
"Black gold…Texas tea…"  When the average person thinks of sports in the Lone Star State, the images usually conjured in their mind tend toward the iconic Dallas Cowboy cheerleaders, Nolan Ryan pitching for the Texas Rangers, and lots of fans in Austin yelling "Hook 'Em Horns!"  For hockey fans, though, it is often the (sometimes still controversial) relocation of the Minnesota North Stars to Dallas, Mike Modano's amazing career in that city, and Brett Hull's Stanley Cup winning goal.  Of course, there is more to Texas hockey than that.  In The Lone Star Skate: Improbable (But True) Stories of Texas's Hockey Heroes, Glenn Hart and Rusty Burson, took the time to introduce readers to a few of local hockey's more famous names and their contributions to the legacy of Texas hockey.
The press release for Lone Star Skate pointed out a few "revelations" that the publisher felt noteworthy:
Gordie Howe's most enjoyable seasons were playing with his boys in Houston, not his extensive career in Detroit;
Early marketing ploys adopted by the Stars' franchise included handing out free tickets to strippers;
How Norm Green's original relocation plans were thwarted by Mickey Mouse; and
A story about an audience who left at the second intermission because they were unaware of hockey games having a third period.
While interesting, there are other stories within the book that also cry out for attention.
Lone Star Skate owes much to many whose names roll quickly off the tongues of those in the world of hockey.  The table of contents read like a miniature "who's who":  The Howe Family, Norm Green, Terry Ruskowski, Jim Lites, Mike Modano, The Dineen Family, Rick Kozuback, Brett Hull, John Torchetti, and Glenn Hart.  Former Montreal Canadiens' general manager Bob Gainey provided a touching foreword to the book, recounting both his years as a player and his "second career" as a general manager.  Gainey reminisced that "You never forget your first championship" (x) and he expressed that sentiment for both his first championship as a player as well as his first as a GM.
The stories provided an insight into the men who influenced Texas hockey.  One example is how Terry Ruskowski's professional hockey career began in Texas with the Houston Aeros. This later took him on a journey throughout the U.S. and Canada, eventually to playing for Herb Brooks and the Minnesota North Stars, and finally back to Texas as coach of the minor league Laredo Bucks.  Another is the story of how Brett Hull arrived in Dallas and how the "missing piece" helped the team subsequently hoist the Stanley Cup.
In comparison with the press release, a number of other stories from Lone Star Skate deserve noting:
Colleen Howe's contribution to hockey – both for her family and for her love of the game;
Terry Ruskowski almost did not play hockey because he was afraid to fight (41);
Jim Lites's innate abilities as a sports executive, including serving two teams in two sports simultaneously;
Details on the Dineen's long family hockey pedigree, including Bill Dineen's granddaughter;
The lasting legacies of Lites and Rick Kozuback in selling hockey in non-traditional markets;
John Torchetti's journey playing in the minor leagues and eventually coaching in the NHL; and
Co-author Glenn Hart's experiences with minor league hockey in Houston and Laredo.
Not much detracts from the narrative throughout, but a few things are noticeable. The authors cut a few corners when they repeated the story of the North Stars move to Dallas almost verbatim in both the Norm Green and Jim Lites chapters.  They did the same with the tale of drafting the Howes in both the Howe and Dineen sections.   The authors did not really add anything new to what most fans already know about Mike Modano's career.  Modano's section does not mention his retirement from the Stars, although the omission of his signing with the Detroit Red Wings is understandable.  These things demonstrated the limited nature of the authors' source material and, unless one reads through the acknowledgements section, the interviews with players like Modano and Hull are not that obvious.
In an odd transition, the book went from the story of Gordie Howe, someone who earned so little playing for the NHL, to the description of Norm Green's lavish and palatial Dallas estate. (23)  This beginning to Green's chapter will likely not help his cause in the Twin Cities. However, Green does deserve the recognition for bringing major league professional hockey to Dallas.  The story of Green's introduction into hockey ownership with the Atlanta/Calgary Flames and onto the Minnesota North Stars may seem one-sided to those already familiar with it.  Nevertheless, one must keep things in context – this is a story about Texas hockey, not Minnesota hockey.  Despite this, Green's story made for compelling reading.
Lone Star Skate was an interesting glimpse into how the hockey world is interconnected.  From hockey stars to Dallas Stars, little things add up to contribute to the big picture and prove how enmeshed everyone in small communities can be.  Hart and Burson briefly showed how hockey had been around Texas for quite a while, in the form of minor league hockey in the mid-1940s.  Overall, most fans should be pleased by the duo's efforts to showcase some of the people who made these contributions and sacrifices to help shape Texas hockey into what it is today.
The Lone Star Skate
(Amazon affiliate link – THW gets a small commission, thanks)
The Lone Star Skate (Amazon non-affiliate link)
Rebecca Dobrinski