Henrik Samuelsson THW Close-Up:
Date of birth: 1994-02-07
Place of birth: Leksand, SWE
Ht: 6'2  Wt: 192
Shoots: Right
Position: Center/winger
NHL Draft Eligibility: 2012
Please Click Here for "Notes Up Front" and the "Legend" for various topics covered below in the "Live Updated" THW's NHL 2012 Entry Draft Guide – The Next Ones home page.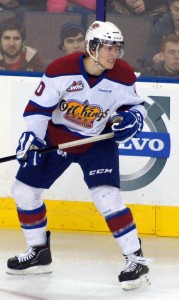 Henrik Samuelsson has had an international schedule in the past 12 months that would make James Bond jealous.  First he was playing for the US NTDP which is the top level of junior hockey in that country.  Then he went to play for his father in Sweden where he did well in the under-18 and under-20 teams but struggled a bit playing against the men.  Now he is in the hockey crazed city of Edmonton getting a taste of the grinding WHL schedule that most readies young players for the bright lights of the NHL.  So how does one adjust to all that shifting around and to the North American game that is very tough on young players?  If your name is Henrik Samuelsson you act like there's no adjustment at all.
Henrik has seamlessly entered the new league and his new team.  Unlike most players coming from Europe Henrik was actually raised in the US so culture and language aren't barriers to him feeling comfortable playing in Canada.  And as far as adjusting on-ice, Henrik plays a style of hockey where it is more likely that opponents will have to adjust to him.  He is a big strong forward who never shies away from contact and has a real mean streak on the ice.  Since joining the Oil Kings, Samuelsson has put up 23 points in 28 games playing on the second and third lines.  His style and size has complemented the speedy forwards of Edmonton well and has added a much-needed physical dimension to the first couple lines.
As far as skill sets and physical tools go, Henrik is a highly coveted player.  Players similar to him have gone high in the second round of the draft and Henrik looks to be ranked around there as well.  He is not an absolutely offensive dynamo, nor is he just a big grinding forward who is hell on defensemen.  He is one of those rare players who has a unique mix of size and skill that can play a variety of roles for teams.  He is good enough to play with the top guys on his team offensively while being able to disrupt and check the other teams top guys in all three zones.  Everything he has done in Edmonton hints at him having what it takes to be this type of player for an NHL team.
Henrik has a great one-time shot and can score goals on the PP and set-up offense as well as on the rush.  He has really good puck skills for a bigger player and is great at finding open teammates.  In the corners and in front of the net Henrik is very hard to handle for opposing players because of his size but also because he is great with the puck in tight and has a number of go-to moves that he uses to create space for himself in those areas.  He is never lost in tight and will always have some idea of what to do or where to go and how to create offense.  In the defensive zone he is very reliable and loves to put pressure on the opponents and is always physical.
The things Henrik needs to work on are his skating and his discipline.  First off, a lot of big 17 year olds struggle as skaters because they have grown so much recently that they aren't strong enough for their frame.  If they have decent skill and work ethic one has to assume that their skating will improve with age.  Henrik seems like he falls into that category and with his style of play he never needs to be the fastest guy on the ice.  His discipline is another story.  Henrik has had three suspensions since coming into the WHL and the most recent will keep him out of the first two games of the playoffs.  One has to question whether he can avoid those types of plays as a pro when he does it playing for the first place team in the league when they are a game or two away from the playoffs.  Henrik plays on the edge physically and is effective at it.  But like most players who do that he is always a second away from going over that edge and it takes a lot of discipline and a team-orientated mentality to keep yourself in line.  So far, Henrik has shown that he has some work to do in this area.
I have had the opportunity to watch Henrik 15-20 times this year and overall I would say that he is at least as good as he is ranked in the draft at this point.  I think he would be very good value as an early second round pick.  Guys like Chris Stewart and Ryan Getzlaf were drafted 18th and 19th overall and Milan Lucic was taken 50th overall which was a steal.  Henrik may or may not get to those guys' level but he is the same type of player and could fill that role to some degree.  He is actually more offensively skilled than a lot of power forwards and can score goals in more ways than just going hard to the net.  He can also drop the gloves and is a pretty decent fighter.
Scout's Honour:
Samuelsson was a mid season pickup for the Oil Kings from Modo in Sweden after spending last season playing with the US U17 Team. Samuelsson is a gritty forward who wins board battles and excels at maintaining offensive zone puck possession. He can play center or the wing equally effectively and is at his best below the hash marks where he uses his size to his advantage. It was a rough first half of the year for Samuelsson, but after a quick start with Edmonton, don't be surprised if you see the big power forward as a big riser in the Final rankings.
Statistics:
Bio/Interview(s)/Link(s):
International Tournaments:
International play is what put Henrik on a lot of scout's radars as he has posted 11 points in 11 games in the Under-17 and World Juniors combined in 2011 and has an Under-17 silver medal and World Juniors' Gold Medal to show for it.
Henrik's experience in International tournaments and leagues is very unique at his age and will help him adjust to different teams and different opponents as a pro.
ETA = 2-3 years
Risk-Reward Analysis:
Risk = 3/5   Reward = 5/5
NHL Potential:
Top six power-forward
Strengths:
*See "THW Close-Up" section above.
Size and Strength
Physical Play
Passing and Vision
Hard, accurate shot
Defensive play
Flaws/Aspects He Needs To Work On:
Work on explosiveness and strength
Work on Skating
Needs to focus on mental aspects of the game, staying disciplined.
Fantasy Hockey Potential:
Offensive = 8/10   Defensive = 7.5/10
NHL Player(s) Comparison:
– Corey Perry
– Ryan getzlaf
Video(s):
THW's The Next Ones prospect profile template design architect: Chris Ralph