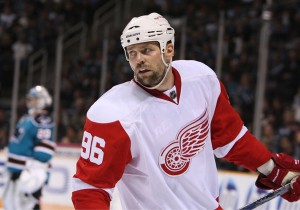 Midway through the first period of Monday night's Detroit Red Wings-Washington Capitals game the Red Wings put the puck in the net for what looked to be their first goal of the game, but joy and elation were short-lived phenomena for the Wings; Emotions cut off abruptly by the emphatic gesturing of the referee. No goal.
For Red Wings fans it's an easy guess as to the reason the goal (which would have made the score 2-1 Washington) was waved off: Tomas Holmstrom. It's a scenario that's played itself out countless times over the veteran's career.
Sometimes it appears as though the mere presence of a man like Holmstrom, one with the reputation of being a net-front god, is enough of a reason for the NHL's brilliant men in stripes to disallow a Red Wing goal, and even award "Homer" with a penalty for his apparent misdeeds. Other times Holmstrom legitimately does something to affect the play in an illegal manner.
Unfortunately, tonight was one of those "other times." Upon watching the replay, one could clearly see that Holmstrom pushed Capitals' defenseman Mike Green into goaltender Braden Holtby, preventing him from making a save. While Red Wings fans in the arena rained down the boos prematurely (as crowds often do), you'd be hard-pressed to find a Wing-nut at home that would disagree with the call on the ice. The problem, however, wasn't the call itself at all. Instead, it was comments from "Caps insider"  Alan May that lead to a bit of controversy, perhaps by design.
Immediately following the play, May took to Twitter, and like so many before him, spouted off an ignorant and sensational statement that one would hope wasn't fully thought through.
Wow!! IMO Wings Holmstrom is one of NHL's dirtiest players, does this every game. I'm shocked #Caps got PP, even though well deserved

— Alan May (@MayHockeyCSN) March 20, 2012
But upon being questioned by well-known Puck Daddy writer and TSN contributor Dmitry Chesnokov, May didn't backpedal as one would expect if his statement had been rushed and emotion filled. He meant what he said.
That fact in and of itself should tear away a significant amount of credibility from Mr. May. Whether he's stuck behind glass panes of Jack Edwards-esque homerism, or just hasn't watched a hockey game prior to Monday night, I'm not sure, but neither looks particularly becoming for the CSN Washington analyst.
Net battles happen night in and night out. There's pushing, shoving, cross-checking, and a whole lot of NSFW word dropping going on at any given time. The net-front battle is one of the most heated events in any hockey game. It's an important area of the ice to control for either team, and that's why they fight so passionately for its control. To say that a player is dirty for participating in these nightly battles is absolutely absurd.
Every team in this modern era of the NHL (whatever that means) has at least one player who imitates the style of Holmstrom. If he didn't pioneer the style, he perfected it, and you can bet that countless other players in the league have tried to emulate it. That includes the Washington Capitals.
The pushing, shoving, and general roughhousing that occurs in front of the net every night isn't dirty. Not even close. If it's illegal and the referees see it and feel it needs to be called, they will, and do.
Unless doing things worthy of only mere interference calls has suddenly become grounds for scorning someone, and unless committing any infraction in the game of hockey is now considered "dirty", Holmstrom isn't a dirty player, and nowhere near the dirtiest in the league.
Perhaps May simply needs a reminder of a what a dirty play really looks like.