Every month, The Fantasy Five-Hole takes a look at some of the most relevant fantasy question on poolies mind.  With only 10 or 11 games remaining per team in the regular season, we are joined by fantasy experts Brandon Landry (@thelandshock), Anatoliy Metter (@AnatoilyMetter) and Peter Harling (@pharling) to discuss some of their post-season sleepers, season in review, the return of a KHL castoff, and some late season pickups. These questions were prepared by Travis Landry who could be followed on Twitter @TravisLand2pt0.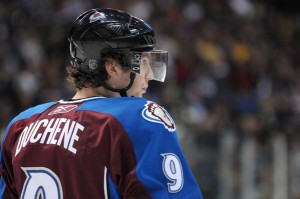 1.  Many fantasy hockey participants came into the 2011/12 season with great optimism. However, looking back at the season there have been many fantasy disappointments including: Getzlaf, Ovechkin, Duchene, Roy, Kulemin, Ryan, Green, Reimer, Niemi, Visnovsky. Out of these players, who do you expect to bounce back and who will continue to struggle next year?
Brandon Landry: One would have to believe that Matt Duchene is resilient enough to recover from this down year. He just turned 21 and is a very dynamic and creative forward with all the skills of becoming one of the league's elite scorers. Once he puts these injuries behind him and can find steady linemates in Colorardo, he'll be leading the Avalanche like we all believe he can. Another player I believe that could recover next season is Ryan Getzlaf. The captain of the Ducks has had an embarrassing year statistically along with the majority of the Ducks. He's still growing and as long as he has Corey Perry next to him the superstar playmaker will have the opportunity to again hit over a point-per-game. It could also help if the Ducks had depth in scoring which could arrive sooner rather than later with Emerson Etem on his way among others. If the Ducks can find a way to take pressure off the top line, perhaps they'll be able to play the freestyle game they have played for the past number of years.
Anatoliy Metter: I definitely think that Mike Green bounces back for the 2012-2013 NHL campaign. Green missed significant chunks of the 2011-2012 season, and hasn't recorded a point in the New Year. Green has been recovering from a groin/abdomen injury that required surgery and it is not surprising to see the defenceman struggling to find his game. If Green comes into the 2012-2013 season fully healthy, then fantasy managers should expect an uptick in production from Washington's d-man. On the other hand, Alex Ovechkin's stock seems to be trending downward with every new NHL season. Ovie has had a significant drop in production over the last couple of seasons and might just continue to struggle next year unless he kicks his game into overdrive. Not to say that Ovechkin hasn't been trying, but it seems that the rest of the league has found a way to adapt or somehow neutralize Ovie as a scoring threat. If Ovechkin comes into next season ready to work hard, then managers should take note. Until then, expect Ovie to put up more of the same underachieving numbers that are not worth a high draft pick.
Peter Harling: I expect Matt Duchene to bounce back. He missed a lot of time this season due to injuries. He has returned strong from both injuries and right now the Av's are flying high. In his absence Ryan O'Reilly is currently the team leading scorer and playing top line minutes. It is just a matter of time and good health until Duchene regains the top line center position in Colorado.  Mike Green has also had an injury plagued season in Washington missing 50 games to injury and suspension. With only six points in 22 games played this season is a far cry from the player that was the back-to-back league leading defence point leading scorer.  Green is not very reliable defensively and when he was dominating offensively he was omitted from the Canadian Olympic roster. The Caps have changed their team philosophy from run and gun offence to a more all-around game as a result of playoff disappointments. This philosophical shift will limit Greens ice time and impact. Another factor to consider is the addition of Dale Hunter as team Head Coach. Hunter has shown he is very familiar and comfortable with his former junior star defender John Carlson.  Mike Green's best years may be behind him.
2.  With the playoffs upon us, poolies are only weeks away from filling out postseason office pools. During the 2011 playoffs we saw breakout campaigns from several lesser known commodities, including Brad Marchard, Teddy Purcell, Sean Bergenheim and Joel Ward. Who do you see as some players to watch for in the 2012 playoffs?
Brandon Landry: Marcus Kruger is a player who forced his way onto the 'Hawks this season with a strong camp and after impressing in his short stint last year. The Stockholm native is finding his name on the scoresheet more often than not as of late and is eating up some large minutes for Chicago. Also, I would keep an eye out on Rich Peverley, as someone will have to plug the hole missing from Nathan Horton. He has 34 points in his last 39 games while playing the majority of his minutes in a depth role.
Anatoliy Metter: The Ottawa Senators have been surprising everyone in the Eastern Conference this year and the recent play of Ben Bishop is something for fantasy managers to take note of. Bishop has gone 3-0-2 as a Senator and has recorded a 1.92 GAA and .926 Save Percentage. Going into the Stanley Cup playoffs with a hot goalie can definitely help a team's chances for a lengthy playoff run and Bishop might just be the player that helps the Sens have a strong showing in April. As for fantasy forwards, Wojtek Wolski looks as though he was the beneficiary of a change of scenery. Since arriving in Florida, Wolski has been racking up points for the big cats and could definitely help the team in the playoffs. While Wolski most likely won't impress in the +/- department, he is a scoring threat and his play since being traded to the Panthers could be an indicator that the winger has found himself a niche on an up and coming Panthers team.
Peter Harling: Darren Helm of the Detroit Red Wings plays a high intensity style of game that Coaches love to see in the playoffs. He looks like Charlie Hustle on every shift. He has speed to burn, is very responsible defensively and can play center or wing. Despite his slight stature he throws hits and plays physically.  In later draft rounds, Helm could be a pool winner as he has the ability to elevate his play. In last year's playoff his points per game increased as he scored three goals and three assists in 11 games. If Detroit goes deep, Helm will be a big part of their success.
3.  It has been rumoured for weeks, if not years that we could see the return of KHL superstar Alexander Radulov to the Predators. Obviously Radulov is an extremely talented player, but, he hasn't played in the NHL since 2007-08 when he accumulated 58 pts in 81 games. What could we expect from him the rest of the season? And how will his return impact his line-mates?
Brandon Landry: I believe that when he returns, it will take him a few games to get adjusted to both the NHL level of play and the Trotz system. I can see Radulov playing in the thirteen-to-fifteen minute range for his first few games while putting up a 0.6ppg average and before you know it, we'll be in the playoffs. He'll knock a few minutes off of the Kostitsyn brothers, Martin Erat and Patric Hornqvist while improving the point pace for whoever ends up being his center.
Anatoliy Metter: Jaromir Jagr returned from the KHL to the NHL and has proven that he still has some gas left in the tank to compete in North America. Radulov is an immensely talent forward that could definitely put the puck in the net and bolster Nashville's scoring. However, nobody knows how Radulov will be able to play if he returns. After not playing in the NHL, there will definitely be a re-adjustment period for the Russian forward. This much is for certain, if Radulov wants to be accepted by his NHL line-mates, then he must come back to Nashville with a team first attitude. If Radulov is willing to work hard and help his team, then there should be no reason that he won't be accepted back in the Music City. Once Radulov re-adjusts to the NHL pace, he should return back to his NHL-form and start pouring in points on a nightly basis.
Peter Harling: The Nashville Predators are beginning to appear on a lot of "Dark horse" lists for this year's playoffs. With an elite goalie in Pekka Rinne, All-Star defence lead by Shea Weber and Ryan Suter and deadline additions of Andrei Kostitsyn and Paul Gaustad; the Preds' are a serious threat. Last year the team lost in game six to Vancouver in the Conference semi-finals and the team has only improved this year. The return of Radulov would give them a significant boost in exactly what they need most; goal scoring. The Predators have lacked an elite offensive forward since the Paul Kariya and Peter Forsberg era. Now Radulov may not be in the "elite" category, but he is a sniper and will provide the team with a serious go-to option when a goal is needed. Radulov would be a first line winger and would draw top checking attention from the opposition. That will create space and opportunity for wingers such as martin Erat, Patrick Hornqvist, Colin Wilson, Craig Smith, and the Kostitsyns. If Radulov returns, he may be enough to elevate Nashville from "dark horse" to contender!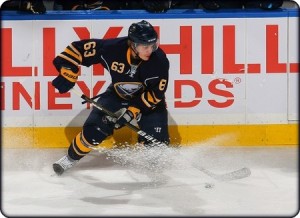 4.  At this point in the season, fantasy managers are either in the stretch run of a point's league or in the playoffs of a head-to-head. Many pools are sitting tight are and fantasy managers alike are looking for that one player that will put them over the top to win their pool. Who do you advise them pick up?
Brandon Landry: In regards to points, a few players I would consider picking up for the run are Carl Hagelin, Tyler Ennis, Matt Stajan, Ryan Malone or Marcus Johansson. Hagelin, Stajan and Johansson are all playing top minutes with their respective squads alongside star calibre players such as Marian Gaborik, Jarome Iginla and Alex Ovechkin. Tyler Ennis is thriving on a line with Drew Stafford and Markus Foligno while playing over eighteen minutes a night and Ryan Malone is set up around the net on the Lightning powerplay ready to tip in or hammer home a Stamkos blast from the half-boards or a St. Louis center-ice dish.
Anatoliy Metter: Tyler Ennis has been white-hot as of late and fantasy managers should jump at the chance to own the dual position player. Since he could fill a void at center and left wing, Ennis should be added in all formats. With 14 points in his last 15 games, Ennis has been rewarding the 34% of Yahoo! owners who have put their faith in his this year. Ennis and fellow teammate Drew Stafford have been enjoying playing together and with the Sabres in a fight for the 8th and final playoff seed in the Eastern Conference it will take some clutch play and scoring for the Sabres to make it to the post-season. Fantasy managers should look for Ennis to continue his hot ways and should feel safe picking up the C/LW for the fantasy playoffs.
Peter Harling: Andrew Shaw of the Chicago Blackhawks has quietly played his way onto the roster from nowhere. The agitating forward was drafted by the hawks in the fifth round in 2011 and has split duty in the AHL and the NHL this season.  With four points in his last two games Shaw is hot and has helped the Hawks pull out of the nosedive down the standings the team was taking.  At only 1% yahoo fantasy owned, he may be an available free option to pick up should you have a free roster spot.
5.  Many times we see a team like Montreal in 2010 or Edmonton in 2005 rise from a lower seed and perform a Cinderella run in the post-season. Who, if any, do you see falling under this category for the upcoming playoffs?
Brandon Landry: I believe that whoever ends up finishing in the seventh or eighth spot in the Western Conference will have a chance at a Cinderella run. With five teams battling for two spots, the two teams that make it will have to show that they're one of the best teams in the league by winning from here on out and are already playing playoff-type hockey with the urgency of making the postseason. With this all being said, I believe that the San Jose Sharks could find a way deep into the postseason with the return of injury-prone star Martin Havlat whom has given the Sharks a reliable top-six along with the capability of a deadly powerplay. If Niemi can snap out of his funk, then we could possibly see a return of the Niemi which led the Blackhawks only a few years ago.
Anatoliy Metter: There is nothing more exciting than watching a Cinderella team go through the playoffs and surprise other teams in the process. I believe that the Ottawa Senators fit the mold of a team that could rise from the lower seeds and bounce a higher seed from the Stanley Cup playoffs. Ben Bishop has been solid between the pipes for the Senators and Ottawa has more than its fair share of offensive weapons. Erik Karlsson has shown why he's a top tier offensive defenseman and has given opposing teams a reason to worry when he handles the puck. The Senators have enough balance to make a solid run in the post-season and could do it as a lower seeded team. Nobody was counting Ottawa in at the start of the season and after such a consistent body of work throughout the current NHL season, nobody should be counting them out.
Peter Harling: The Ottawa Senators have already enjoyed a Cinderella regular season. In October the team entered the season considered an early favourite for the Nail Yakupov sweepstakes and were in a rebuild mentality after an awful season the year prior in which they purged several veterans by the deadline. The team AHL affiliate, Binghamton Senators however won the Calder cup as AHL Champions. This season many of the players who were a part of that AHL Championship are now with the NHL Senators. The Sens have the best goaltending depth in team history with workhorse Craig Anderson, top prospect Robin Lehner and recent acquisition Ben Bishop. Jason Spezza is playing at an elite level; Erik Karlsson is a Norris Trophy favourite. All the pieces are there for the Sens' to not be taken seriously as they were not supposed to make the playoffs but will squeak in as the seventh seed. But as the regular season has shown, this team is very dangerous, never quits and has the skill, and desire to upset higher seeded teams.