TML Captains is a series that profiles the men who 'wore the C' for one of the NHL's charter franchises. Part 1 featured Bert Corbeau.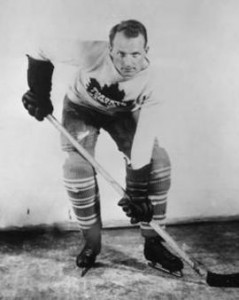 Clarence Henry 'Hap' Day
#3, 4, Left Wing & Defenceman
b: 14 Jun 1901 Owen Sound, ON
d: 17 Feb 1990 St. Thomas, ON
Toronto St. Patricks 1924-26, Toronto Maple Leafs 1926-37
Acquired: Signed as free agent, December 9, 1924.
Lost: Traded to New York Americans for cash, September 23, 1937.
Toronto totals: 538 Games, 86 goals, 113 assists, 199 points, 587 PIM
Captain: 1927-37
Head Coach: 1940-50 Regular season record: 546 games, 259W-206L-81T, 599 points (.549%). Playoff record: 80 games, 49W-31L (.613%)
Assistant General Manager: 1950-55
General Manager: 1955-57
Among the many who have worn the 'Blue and White', few have spent almost their entire career, and been so inextricably linked, to the Maple Leafs as Clarence 'Happy' Day.
Day grew up playing hockey on the rinks of Midland and Port McNicholl, Ontario, eventually playing senior hockey in Hamilton with the Tigers of the OHA. He attended the University of Toronto, studying Pharmacy and playing hockey with the varsity team. It was there that Charlie Querrie, owner of the Toronto St. Patricks, and player Bert Corbeau observed Day. Querrie made up his mind that he wanted the left wing, and sent Corbeau to persuade Day to turn pro, though it would take a guarantee that he could continue his studies (in fact, he later ran a pharmacy from Maple Leaf Gardens), and a $5,000 salary, before Day joined the St. Pats. He debuted at left wing on December 10, 1924, on a line with Jack Adams and Babe Dye, and scored 10 goals and 22 points in 26 games.
The following season, Hap was moved back to defence, where he'd play the remainder of his career. Corbeau and Day formed a decent defence pairing, Pig Iron putting up 121 penalty minutes while Hap scored 14 goals, though the St. Pats only won 12 of their 36 games. Day scored 11 goals in 1926-27 in 44 games, though again the St. Pats were not a good team, going 15-24-5. It was during that season that Conn Smythe and others stepped in and transformed the St. Patricks into the Maple Leafs, and things began turning around in Toronto.
Clarence's nickname was an honest one; he was always a cheerful, happy fellow. But Smythe recognized early that Hap Day had strong leadership qualities, and named him Captain in 1927. Unfortunately for Day, there would be a minor setback when he suffered an Achilles heel tear on February 2, 1928 limiting him to only 22 games. He'd return the next season, and missed only 15 games over the next 10 seasons. Day and the Leafs began improving, making the playoffs in the spring of 1929. But in October of 1930, a major trade saw Smythe acquire Francis 'King' Clancy, who would pair with Day on the Leaf blueline to create one of the best NHL tandems of the time. In fact, the Leafs iced one of the best sets of 5 players in the NHL when Hap and King were on with the Kid Line of 'Gentleman Joe' Primeau, 'Busher' Jackson and Charlie 'The Big Bomber' Conacher. Toronto's team got progressively better, making the playoffs in the spring of 1931, but losing in the quarter-finals. The next season, construction on the new Maple Leaf Gardens was completed, and the team capped off the inaugural season by winning the Stanley Cup.
Hap continued to play with the Leafs and serve as Captain. His teams did not miss the playoffs again – in fact, they played in 3 more Stanley Cup Finals (1933, 1935, 1936). During his playing career, he took on the task of coaching the West Toronto Nationals OHA juniors to a Memorial Cup victory in 1936. It would foreshadow Day's later career.
The Leafs management decided an overhaul was needed. Clancy retired and other older veterans were gone from the 1936-37 team, and Hap Day was traded to the New York Americans. He played one season with future Hall of Famers Ching Johnson, Hooley Smith and Nels Stewart, but contributed only 3 assists. He retired to be an NHL referee for 2 years, but was hired to coach the Maple Leafs by Smythe after Dick Irvin suddenly moved to coach the Montreal Canadiens.
Day coached the Leafs through one of the NHL's most difficult times, Word War II, when teams lost so many young players to military duty. Yet, he coached the team to one of its most successful decades. He missed the playoffs just once (1945-46), but won 5 Stanley Cups during the decade. Day was the coach of the 1941-42 team that came back from a 3-0 deficit to Detroit to win 4 straight and claim the championship. And under Day, the Leafs were the first NHL team to win 3 consecutive Stanley Cups (and 4 in 5 seasons).
Day was made assistant GM in 1950, and with Joe Primeau as coach, the Leafs won another Cup in 1951. By 1955, Day was in charge of most hockey operations, though Smythe remained General Manager in name. But, the Leafs of the mid-1950s were not really a contender, and when the team was eliminated in 1957, Smythe announced he wasn't sure if Day would be around the following season. Embarrassed, Day resigned, which allowed Smythe to install a committee under his son Stafford. Day moved into running a business, which he retired from in 1977. He died in 1990. For the Leafs' 75th Anniversary, he was named to the top 25 players' list. His number 4 was added to the Honoured Numbers in 2006.
Awards (with Toronto)
Stanley Cup: 1931-32 (player – 1)
Stanley Cup: 1941-42, 1944-45, 1946-47, 1947-48, 1948-49 (head coach – 5)
Stanley Cup: 1950-51 (assistant general manager – 1)
Named to Toronto Maple Leafs Top 25 Players List, 2001
Honoured Number '4', 2006
Inducted to Hockey Hall of Fame in the Player Category, 1961
Information for this article was complied from sources including http://www.legendsofhockey.net and http://www.hockey-reference.com