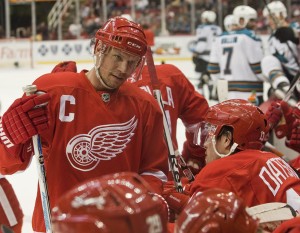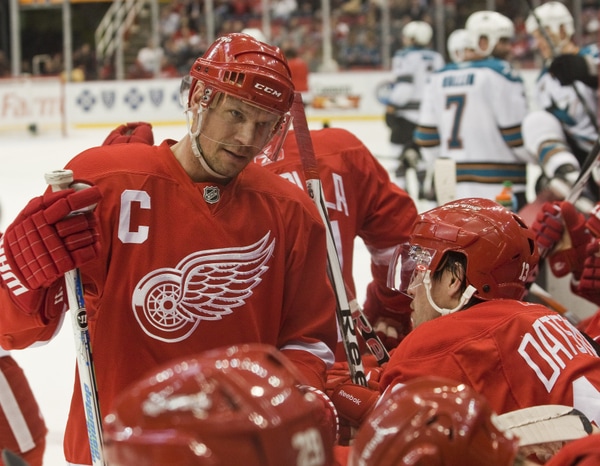 The Detroit Red Wings are not only an annual playoff team (21 consecutive seasons, an active pro sports record), but an annual 100 point team (12 consecutive seasons, a NHL record). As such, the rest of the league is always wary of, paying attention to, and preparing for the challenge of facing them in the postseason. This season is by no means any different, however, if they're planning for the team that went 4-8-2 in March they're going to have a big surprise coming their way.
Detroit's abysmal stretch isn't a secret to anyone. Their fall was well documented by fans and critics alike. A look at NHL.com's Super 16 power rankings sees them falling from 1st on February 20th  to 14th just a month later. More important than in opinion pieces, the Wings also slid  from 1st to 6th in the Western Conference standings.
The reason for the unceremonious plummet? Among others, injuries. Pavel Datsyuk, Nicklas Lidstrom, Johan Franzen, Jimmy Howard, Joey MacDonald, Darren Helm, Todd Bertuzzi, Kyle Quincey, Jonathan Ericsson, and Jakub Kindl all missed time in March. The unstable lineup made for equally unstable play, yet the Wings were reluctant to use their predicament as an excuse. The most candid admission of such came from Mike Babcock following their Wednesday evening victory over the St. Louis Blues,
"Injuries are excuses, but they're reality, too. We had a ton of them and then when you get these guys back, it takes them a while to get skating."
The statement is a strong indication that Babcock believes his team has turned a corner. To give your players a crutch, no matter how sturdy it may be, is to doom yourself to wallowing in self-pity-to accepting the circumstances instead of fighting them. To make such a public acknowledgement he must believe that those struggles are wholly behind them.
Why wouldn't he? The only players still struggling with injuries are backup goalie Joey MacDonald, concussed PK specialist Patrick Eaves (out since Nov. 26), and high energy grinder Darren Helm (expected back for 1st round of playoffs). The roster is nearly back to 100%. The injury plague is a thing of the past, but there are more good signs to note as well.
Over the last 7 games we've seen the true Detroit Red Wings begin to emerge. The team everyone knows they can be has started to spread its tire-anchored wings in defiance of its struggles.
The first sign of good things to come came on March 21st. The Red Wings forced the Eastern Conference Champion New York Rangers into OT in a 2-1 loss (Highlights).  A hard-fought loss that devastatingly became their 6th in as many games. It both proved to the team that they're capable of hanging with the best and dejected them at the same time. That knowledge, and the determination that agonizing defeat can elicit, proved crucial to their next game.
On March 24th the Wings found themselves trailing to the Carolina Hurricanes by a score of 4-1 at 15:55 of the 2nd period. They had outplayed the Hurricanes by in large, yet a few costly mistakes had them down for the count. They didn't give up. They believed they could come back, and they desperately wanted to avoid dropping 7 straight. The final score? 5-4 Detroit in regulation (Highlights).
The dominate team that reared it's head against the Hurricanes stayed for the next as well. That turned out to be a crushing defeat of the league's worst team, the Columbus Blue Jackets (Highlights). Though the 7-2 victory may have caused them more pain than gain, as they lost to the same team by a score of 4-2 just 2 nights later (Highlights).
Guilty of underestimating the team they just destroyed? Probably. Too busy looking ahead to their next contest, an important game against the Nashville Predators? Almost certainly.
Yet for all the time spent preparing for their division rival and a game with major playoff implications, the Red Wings failed to show (Highlights). The 4-1 loss at home to their potential first round opponent was the result of a disappointing effort and a strong night of goaltending from Nashville's Pekka Rinne. The Predators made a statement. They also may have provided Detroit the final kick needed to hit their playoff stride.
In their first game of April the Wings found themselves trailing the Florida Panthers entering the 3rd period. They stuck with it and won the game 2-1 in a shootout (Highlights). They recovered from their loss to Nashville and beat a playoff bound team. More importantly, they reaffirmed their confidence and stopped themselves from slumping again. The big game though, the game Red Wings fans may point to as the turning point for their team should they hoist Lord Stanley's Cup, took place Wednesday night against the St. Louis Blues.
From the start Detroit knew it would be a difficult game. The Blues had already clinched the Central Division title, and beaten them twice in Scottrade Center (A place where they boast the best home record in the league at 30-5-5). Furthermore, the goaltender of opposition would be none other than Brian Elliot, a man riding 3 consecutive shutouts. Yet they also knew, as evidenced by their own 3 home ice victories, that they could beat them.
Through 2 periods of play the teams were at an utter stalemate. Shots were 20-19, saves were 20-19. Detroit failed to capitalize on 3 powerplay attempts, but had shown great promise in them. So when St. Louis' Ryan Reaves received a controversial 5 minute major and game misconduct 6 minutes into the 3rd, things looked good for Detroit. Just over a minute later, St. Louis would be the first to score. Shorthanded goal against number 11 for the Red Wings. 3 minutes later, Tomas Holmstrom took a seat for holding. With the ice even, the score became more lopsided. The Blues were up by 2 half way through the period. Detroit looked finished.
It would have been easy for the Red Wings to believe they were finished, too. Down 2-0 with 10 minutes remaining is difficult to overcome against any team, let alone the St. Louis Blues. League leaders in goals against with the league leader in GAA and Sv% in net, who as previously mentioned, was riding 3 consecutive shutouts. No one expected the Red Wings to come back, except for the Red Wings themselves.
They'd done it before after-all. Back in late December the Red Wings found themselves trailing to the Blues by the same score, yet they came back and won that game as well. Sure that was on home ice, and sure they had more time, but why not again? Detroit believed they could do it.
With 6 minutes left in the game Johan Franzen made it 2-1, and with 3 minutes remaining he made it 2-2. The Mule kicked hard and at precisely the correct time. Todd Bertuzzi put the finishing touches on the comeback with the only goal of the shootout, and Detroit had toppled the mighty in crowd-silencing fashion.
Part of the will and determination Detroit exhibited that night comes from experience, an attribute that can prove vital come playoff time. Teams often spend the trade deadline looking for veteran guys to add to the room. As the oldest team in the league, the Red Wings have had that experience on board all season. Their players have known both the joys of victory and the agonies of loss. They know what it takes to win, and they know they're capable of it.
It's that team that Detroit will look to bring into the playoffs. With just 2 games remaining and a mere 1 point lead on Nashville for 4th in the West, the Red Wings are hungry. They're confident. They're healthy.
A Detroit team that believes it can beat anyone at any point in any game is something to be feared; And they're right to believe they can beat anyone. The San Jose Sharks are the only team out of the 9 potential playoff teams in the West that Detroit hasn't beaten at least twice. Their overall record against those teams? 24-15-2, with just one game remaining against the Chicago Blackhawks. Not only do the Red Wings feel they can defeat anyone, but they have the evidence to back it up.
That feeling is important too. After their stunning comeback against St. Louis, the team's attitude was noticeably upbeat. The consensus being that the victory was a huge confidence booster for the team. Something that could spark them the rest of the way.
One player that has hopefully already been sparked is Johan Franzen. The top 6 winger has now scored 28 goals on the season, but often will go several games without one (his longest drought this season is 8 games). The Red Wings need to be able to count on him for playoff success. He must be a scoring threat and cannot go long stretches without contributing. Historically, playoff production has been far from a problem for Franzen, who seems to elevate his game come postseason. The Mule has 37 goals and 72 points in 83 career playoff games. If he can provide that level of production, the Red Wings' chances are vastly improved.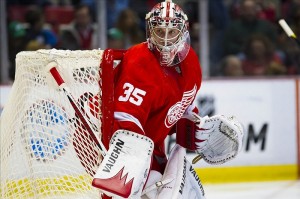 Another player that must be consistent is goaltender Jimmy Howard. After an All-Star first half of the season, Howard has struggled with injuries. Now back and looking to regain his form, he's gone 2-1-0 with 2 excellent 27 save performances resulting in wins. With a .920 Sv% and a 2.13 GAA on the season Howard has proven he's capable of greatness. He will need to maintain that level if his team is to go deep. There's no reason he can't.
So too must team leaders Nicklas Lidstrom, Pavel Datsyuk, and Henrik Zetterberg continue to perform at their highest levels. Fortunately, they have been. Datsyuk and Zetterberg have alternated carrying the team this season, and though still finding his form after returning from an ankle injury, Lidstrom is never a liability and can only improve.
In fact, the team as a whole seems to have the mindset that they can only improve. Already capable of beating one of the best, how much better can they be? According to coach Babcock, the return of Darren Helm will help them significantly,
"As everyone knows just in watching us play, we're not near as good a team without him. We have way less depth, and we don't come at you near as hard. He can really help our team, and the sooner he's back the better for us."
All this isn't to say that Detroit isn't without their weaknesses. Every team has them. Their biggest though, is an important one to success: The powerplay.
At a 15.9% success rate, it currently ranks 21st in the league. At times it's been downright abysmal. Their aforementioned 11 shorthanded goals against (3rd most in league) are a strong indication of that reality.
There's room for improvement on the PK as well. Also ranked 21st in the league in this special teams stat, Detroit is killing just 81.2% of their penalties. If you can't score on the powerplay, you must kill off the penalties you take. With neither being a strong suit this season, Detroit could easily lose a heavily penalized series. Their 5-on-5 play may be the best in the league, but their special teams will need to contribute at some point.
At 48-27-5, Detroit is one of the best teams in the league. If they were to plug the hole that is their special teams struggles, they could be even better. That should terrify their opponents.
Many are overlooking Detroit's chances this season. St. Louis, Vancouver, New York, and Pittsburgh have garnered most of the attention for their impressive seasons. Nashville's trade deadline moves sent the hype around their team soaring, and Boston's chance to repeat is strong according to many. The Red Wings have a slight underdog status heading into the playoffs, and that's not all bad.
Now more than ever the Red Wings believe in themselves. They believe that they can beat anyone at any moment of any game. That self-confidence should be frightening to any team that attempts to stand in the way. The Red Wings certainly aren't unbeatable, but they look to be heating up and gaining momentum at just the right time. Their mentality is that of a winner. Their skill set and experience are tried and true. They're ready for the long haul. Are their opponents ready for them?