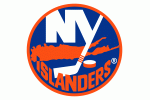 The New York Islanders are headed toward their fifth straight season without a playoff berth. Ever since Wade Dubielewicz and the Islanders made the playoffs on the last day of the 2006-2007 NHL season, the team has failed to qualify for the post-season. More notably, the New York Islanders last made the playoffs when they had established an established bench boss.
Ted Nolan might not have been the easiest coach to play for in the NHL, but he knew his way around a professional lineup and was a big reason for the success of the 2006-2007 New York Islanders. Players such as Jason Blake, Mike Sillinger, Alexei Yashin, Miroslav Satan, Viktor Kozlov, and Ryan Smyth all played motivated hockey in order for the Isles to eek out a playoff spot on the last day of the '06-'07 season, but that same type of hard work is not seen on a consistent enough basis with the current New York Islanders.
The NHL has changed since the lockout and has become a much quicker and more up-tempo game, but on some nights it is as though the young New York Islanders simply do not recognize this change. In an up and down 2011-2012 NHL season, the Islanders were a surefire bet for two things, getting scored on early and blowing their late-game leads. New York lost countless leads in the third period this year and that was undoubtedly something that frustrated and angered the Isles' coaches and fans.
While the Islanders had significant trouble closing out games in 2011-2012, the team had just as many problems coming out of the gate in a prepared fashion. On certain nights the Islanders simply seemed unmotivated when starting their games and negative results ensued as the team would be scored on in the opening minutes. This is not to say that the Islanders have started and finished every one of their games on a disastrous note, but at some point in time the individuals behind the bench will have to be responsible for the progress (or lack thereof) of the team.
If various players aren't responding or playing to their full ability, then isn't it the job of the head coach to remedy the situation?
Here's a look as to why Capuano doesn't fit the profile of an NHL bench boss: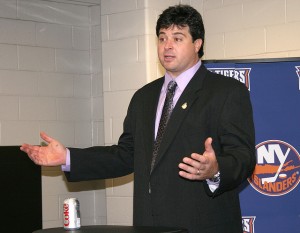 3.) Inexperience – Jack Capuano was brought up from the AHL when the Islanders stopped responding to Scott Gordon. Seeing how far the Isles had fallen under Gordon, it was impressive that Capuano managed to come in and finish the season with a personal mark of 26-29-10 in 65 games coached. More importantly, the Islanders responded to Capuano and finished with a very strong second half. However, Capuano's inexperience has started to show this year as his team has come out slow during some periods and strong in others. There have been many games where the Islanders have played a dedicated 60 minutes of hockey, but New York has been unable to string together more than 3 consecutive victories this season. The fact that Capuano constantly mentions that "some players just didn't show up tonight", is an indicator that Cappy might not have the locker-room's ear as a whole. Capuano is new to NHL coaching, but at 59-64-21, it is hard to gauge if the Isles' head coach has improved or fully adapted to the NHL.
2.) Line-Shuffling – Throughout the 2011-2012 NHL season, there were times when it was apparent that the Islanders needed to undergo some line changes. Secondary scoring was largely absent until the late stages of the Isles' season, but Capuano sometimes refused to give in to the fact that his line combinations were ineffective and that a change was imminent. Capuano's restructuring of the Isles' lines did work sometimes, but the amount of time that it took for these changes to be implemented was just inexcusable. If players aren't responding to their line-mates, then changes have to be made to the lineup. Even though the Islanders are a developing product, time is not a luxury that New York has as Garth Snow's rebuild will start to be judged very harshly if a significant improvement isn't made before the lease on the Nassau Veterans Memorial Coliseum runs out.
3.) Losing Late or Exiting Early? – This is probably a moot point by now, but blowing substantial leads and allowing the opponent to score or create legitimate opportunities in the opening minutes of a hockey is unacceptable. The Islanders have tasked themselves with unnecessary comebacks this year by letting the opposition score early on, but it is the job of the coach to have his team fired up for a game. If a coach can dissect his foe, then he should be able to provide his players with a game-plan that will ensure success for three periods, not just 20 or 40 minutes of play. In comparison, blowing multiple goal leads in the last 20 minutes of play was just as much a thorn in the Isles' side as the early scoring that was done against them. It is always mentioned that a three-goal lead in hockey is the most dangerous type of advantage, but for the Islanders it was as though having any type of lead going into the third period was a disadvantage. Even though the Islanders lacked defensive depth this season, there is no reason that the team should have blown as many late-game leads as it did. At some point in time, the head coach must be scrutinized since it is their tutelage that will enable their players to start and finish games on a strong note.
On the other hand, here are a couple of reasons as to why Capuano should stick around: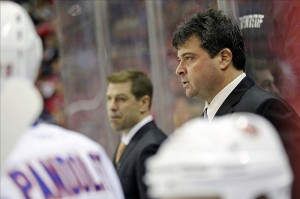 2.) Righting the Ship – As much as Jack Capuano's inexperience doesn't work to his favor, he is a coach who has done the most with the Islanders since Ted Nolan. Scott Gordon's system was not going to work in Long Island, but Jack Capuano has shown that when his players come out motivated and willing to trust his guidance, good results usually follow. Cappy has not given up on the Islanders and the team has not given up on its coach as they recently went through a tough stretch of games that included victories against playoff teams such as Pittsburgh and Florida. Maybe Capuano is still largely inexperienced, but the coach has showed a willingness to improve on a team that NHL fans and executives alike knew was a work in progress. If anything, Capuano strives for better results as a head coach and will learn how to keep the team's ear over the course of a full season.
1.) Cool, Collected, and Committed – Yes, Jack Capuano's responses during post-game conferences can be a bit cryptic and repetitive, but it is obvious that the coach cares about the results that his team produces. Capuano might come across as vague in his responses after a tough loss, but that should not be mistaken for a nonchalant nature. It is obvious when Capuano does not like the way that his team performs and the coach does not shy away from saying that certain players have not been performing up to par. As a matter of fact, Capuano has taken the liberty of benching players such as Kyle Okposo and Nino Niederreiter when he thought that the two needed to view a couple of games from the press box. Even though it is disconcerting to hear that some players are not responding to Capuano and not putting forth 100% effort, Capuano deserves credit for keeping such things in-house and not projecting the blame on a specific player. Capuano wants to win with the Islanders and to say that the bench boss is uninterested in his current position with the team would be a great disservice to the coach.
Verdict?
Jack Capuano deserves to have his run as the Isles' head coach extended, but his leash will undoubtedly get shorter if the Islanders can't sustain some sort of success above .500 in 2012-2013. As of now, the negatives listed outweigh the positives, but Capuano's inexperience shouldn't be a determining factor. Mike Yeo also went through a season of ups and downs with the Minnesota Wild and seemed to have lost the collective ear of his team throughout the 2011-2012 NHL season, but his job will likely be safe heading into the off-season.
Capuano and Yeo seem to be stuck in the same boat, but the former head coach has had more time to adapt to the NHL and figure out a way to get the most out of his team. If the Islanders choose to dismiss Capuano, then what will be their next move?
It was not too long ago that Joel Quenneville turned down the Islanders in favor of the Chicago Blackhawks and the Isles have not done much since then to convince an established NHL coach that Long Island is a premiere destination for success. Doug Weight remains a possibility and Brent Thompson has done a great job with the Bridgeport Soundtigers of the AHL, but is more inexperience the solution?
The Islanders could have hired Bruce Boudreau when he was axed by the Washington Capitals, but Garth Snow and Charles Wang stood by Capuano. Whether or not this was the correct decision remains to be seen, but Capuano must do everything in his power to prove Snow and Wang right if they choose to keep him around for the 2012-2013 NHL season.
This much is certain, Capuano can't keep on sending messages to his team by placing 5 d-men on the ice and expecting a response. Nobody is asking Capuano to become as fiery as John Tortorella, but something has to give at one point or another. Capuano's inexperience has been apparent during the 2011-2012 NHL season, but the coach can dedicate himself to improvement much like the players in the Islanders uniforms.
If the 2012-2013 New York Islanders continue to be unresponsive and lackadaisical when it comes to starting and finishing their games, then Capuano must be given the axe. Until then, the front office must devote itself to evaluating all aspects of this budding team. Many Islanders fans have committed themselves to a developing team and it is only fair that the front office ensures that this team develops correctly under the guidance of the right head coach.