The slumping Vancouver Canucks are currently in the midst of a rebuild and with the pool of young talent at their disposal, the Canucks' future looks bright.
It's evident that the Canucks have a hole on offensive production but in an attempt to turn that around, the organization has used nine out of their last 10 first-round picks on forwards.
The Canucks have a healthy amount of offensive talent climbing the ranks and it has Canucks management and fans very excited for the near future.
I have narrowed down the Canucks' prospects pool down to four entries that I believe will prove to be the most valuable to the hockey club as it strives towards becoming a Cup contender again.
With all of that, let's start from least valuable to most valuable.
4. Defending the Twine
First up is the 36th-overall pick from the 2014 NHL entry draft, Thatcher Demko – a goaltender out of San Diego, California.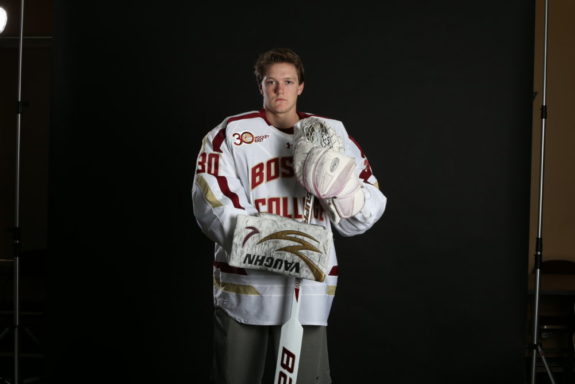 At just 21 years of age, Demko has plenty of growth to undergo before he will be a starter in the NHL but he's now known as the future of Canucks' netminders.
A product of Boston College, Demko put himself on the map during the 2015-16 with the Eagles, winning 27 of his 39 games, posting 10 shutouts and recording a GAA of 1.88. He signed an entry-level contract with the Canucks in April.
With his 6'4″ frame and good lateral movement, Demko is a naturally talented goalie. What makes him special is his calmness and maturity between the pipes,  rarity at his age. Primarily, Demko relies on his sound positional play and doesn't expel any unnecessary energy, making desperation saves an easier task late in a hockey game.
3. Calling in Backup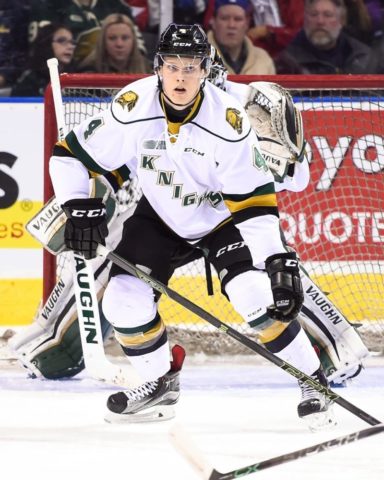 Up next is the Canucks' highest drafted defenceman (fifth overall) since Bryan Allen in 1998 who went fourth overall, Olli Juolevi – a Finnish blueliner from Helsinki.
Juolevi was the highest drafted defenceman in the 2016 Draft and for good reason. He is projected to be the Canucks' future number one d-man. During the 2015-16 season with the London Knights, Juolevi contributed an impressive nine goals and 42 points in 57 games on his way to hoisting the Memorial Cup.
Much like the previous entry, Juolevi is praised for his poise and maturity despite his young age and has even had qualities compared to that of Nicklas Lidstrom. With his smooth-skating and great hockey IQ, Juolevi will be a future quarterback on the Canucks' struggling power play and hopefully be a contributor in revamping their brutal offence.
2. Dynamic Duo
Holding down the number two spot is both Elias Pettersson and Jonathan Dahlen, a Swedish dynamic duo praised for their chemistry and offensive prowess. Alone, both these players make a top-five list of Canucks prospects but as a pair, they easily land the number two spot.
Dahlen was drafted by the Ottawa Senators in 2016 and at the 2017 trade deadline Canucks GM, Jim Benning made a very slick move in trading for him. This trade played a big role come draft day as the Canucks elected to select Dahlen's roommate, Pettersson fifth overall.
Last season, thedu played for Timra IK of the Allsvenskan in Sweden, playing on a line and absolutely dominating the League, finishing first (Dahlen) and second (Pettersson) in team scoring.
https://twitter.com/ryanbiech/status/878399574569873409
Dahlen notched 25 goals and added 19 helpers in 45 games while Pettersson found twine 19 times and assisted on an additional 22 in 43 games. They're both offensively gifted and would make good additions to the Canucks' roster.
Their chemistry and friendship makes them a dangerous duo and they've been compared to, you guessed it, Daniel and Henrik Sedin. However, in an interview with TSN-1040, Dahlen acknowledged the chemistry but asked not to be compared to the great Sedin twins.
1. First and Foremost
Last, but certainly not least, is the Canucks' 23rd overall selection in the 2015 draft, Brock Boeser – a Burnsville, Minnesota native.
Boeser is an offensive weapon that plays very well-rounded hockey and has a pure goal-scoring ability that you just can't teach: he always seems to be in the right place at the right time.
While playing for the University of North Dakota for the 2015-16 season, Boeser found the net 27 times and helped out on 33 more in just 42 games while carrying a pretty +45 rating.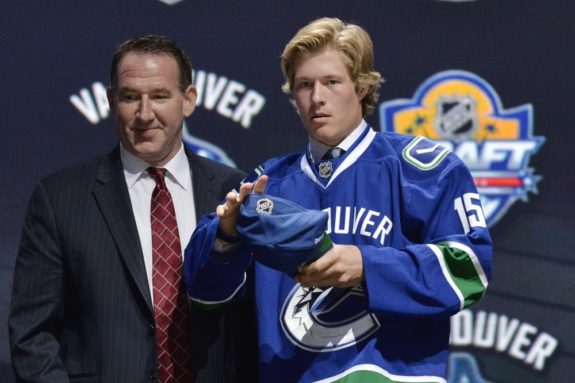 That offensive skill earned him nine games with the Canucks during the 2016-17 season that saw to him notching four goals and one assist. That production alone will earn him a larger role in the coming season.
In the next few seasons, Boeser will undoubtedly emerge as one of, if not the best offensive weapon in the Canucks' arsenal and will likely become a first-line fixture for years to come.
Runners-Up
Runners-up include Nikolay Goldobin, Adam Gaudette, Jordan Subban and Jake Virtanen.
My selection of the top-four was based on overall talent, proven production and the current needs of the Canucks.