A third-round pick for the Edmonton Oilers, Dmitri Samorukov had a good rookie season in the OHL with the Guelph Storm, and he completed his on-ice season skating for Team Russia at the U18 WJC in Slovakia. The Hockey Writers reached Samorukov and spoke with him in his native Russian while he was getting back home after the Oilers' summer development camp. In this exclusive interview, Samorukov talked about his emotions during the draft, being picked by the Oilers, and plans for the future.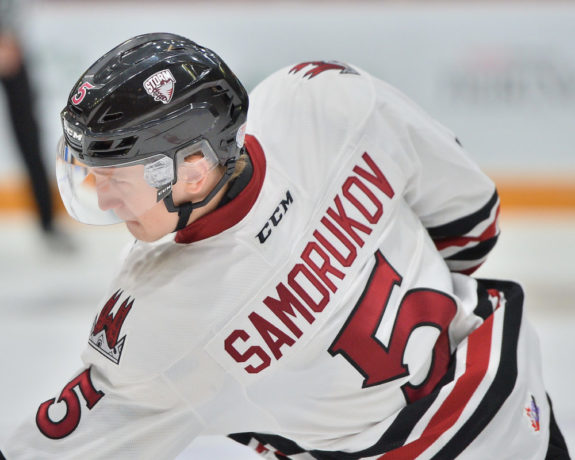 "After I was drafted, I was frankly relieved," Samorukov told when asked about his feelings about the draft. "Before [the selections] I talked with my agent, and we counted to get picked in the second or third round. I understand that I lost too much time at the start of the season." When asked for more details, his history remembered one of many other Russian players who cross the pond earlier. "I couldn't find my game at first. I had some problems with the language barrier, and I lost a couple of months to the adaptation period."
Oilers Draft Pick
Samorukov claimed that he didn't know that the Oilers were going to draft him. "I couldn't imagine that [the Oilers were drafting me]. I didn't even have a Canadian visa. At the [NHL draft] combine, I have talked with 15 teams, but I think that it's a normal practice."
After the draft, the Russian defenseman attended the Oilers rookie camp. It was a good experience, as Samorukov recalls: "It was a very interesting [experience]. It was really interesting to check how all worked. Emotions were through the roof, as it was a completely new experience for me, it was like a big family where everyone supports each other." Other than an interesting experience, the Oilers' rookie camp was for Samorukov also a chance to spend some time with other Russian players. The young defenseman spent most of his time with three players: Kirill Maximov, Ziyat Paigin, and Ostap Safin.
Oilers 2017 #NHLDraft recap https://t.co/uFFIsgfvAX Meet prospects Yamamoto, Skinner, Samorukov, Safin, Maksimov, Brind'Amour and Kemp #NHL pic.twitter.com/3kk1GKUnpn

— Edmonton Journal (@EJ_Oilers) June 25, 2017
"I played with [Maximov] for seven years," Samorukov explained. "I didn't know [Paigin] earlier, but after a couple of days, we started going along and also started chatting. [Safin] is from the Czech Republic, but his family is Russian. Our families are friends, we didn't have any problem." Samorukov also recalled playing many times against Maximov in the OHL. "It was probably easier against him, because I knew what he would be trying to do.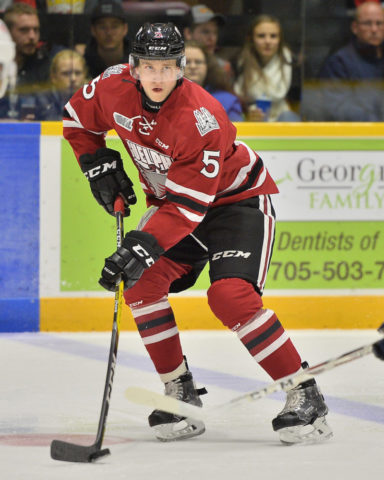 As per reports, Samorukov tried to play physically at the camp, as he thinks that this is the part of the game where he is probably better. "Yes, [the physical game] has always been my strong point," Samorukov confirmed. "I always try to do what the coaches say, I am also trying to play more with the puck; when you grow up, you realize that sometimes you don't need to play too physical, but more of a smart game to be helpful for your team. But of course, when there is a chance to deliver a big hit, I'm not thinking twice about it."
The game in North America is more physical by nature, but it isn't easier to play physically. "From one hand, hitting is easier [on the smaller ice surface]. Because of [there is] less space. But this also leads to the fact that attempting a hit is more dangerous, for the same reason. You need to be more careful."
Playing for Team Russia
Samorukov not only has played very well in the OHL with the Storm, but he also has a rich international experience, having played at two U18 WJCs with Team Russia. "This year we had more chances to win," he said about the 2017 tournament, where Russia got back home with a bronze medal. "We weren't lucky. And a couple of guys weren't in the right spirit. As it was a normal round robin game. It was a semifinal game, and we could have won."
At the U18s, Samorukov played with one of the contenders for the first overall pick at the 2018 NHL Entry Draft, Andrei Svechnikov. He also thinks that Svechnikov has all it takes to get drafted first overall. "Of course, it's hard to predict right now, but he's an extremely talented player and my opinion is that he should be drafted first [overall]. He has a kind of unique way of playing, with great skating and a great shot. He's also rather big."
Back to the OHL
For his 2017-18 campaign, Samorukov expects to return to Guelph for another season in the OHL. "In early August I will fly to Edmonton, and I'll practice autonomously. Then, the rookie camp. I'll do whatever I can there, but the Storm are already waiting for me." The defenseman said to be very happy about being drafted by a Canadian team. "I'm very satisfied to have been drafted by Edmonton. It's a team with great conditions for the younger players, with a great future."
Samorukov's rights in the KHL are controlled by his mother club, CSKA Moscow. He has a lot of players that he knows there, but his thoughts are focused only on the NHL. "My [KHL rights] are held by the [hockey school] where I was brought to big hockey: CSKA Moscow. Sometimes I have a look at the [KHL], but mostly it's just to check how my friends are doing. Now, I am fully focused only on another league."