The Buffalo Beauts hosted their Media Day and their second practice of the 2017-18 NWHL season on Saturday, Oct. 7. Seeing the players on the ice for the first time and then having the opportunity to speak with them and the coaches after practice, it is very much apparent that the team is functioning as one. The cohesiveness, the sense of care for one another, a united "fun" while also being down to business—everything about the third year Beauts screams unity.
Beauts co-coaches Ric Seiling and Craig Muni have themselves a very satisfying collection of players. THW takes its first in-person glimpse of the 2017-18 Beauts and gathers thoughts from the team itself.
Coaches Assembling the Pieces Properly
There were numerous instances during the practice of players being partnered together that already had familiarity with one another. Defenders Kayla Parsons and Colleen Murphy both attended high school at the North American Hockey Academy (NAHA), and in more than one instance were partnered on the back end for drills. Wearing purple practice jerseys, former Markham Thunder teammates Jess Jones and Rebecca Vint were on a line together with perennial Isobel Cup champion Corinne Buie and openly communicated with one another between sessions. The coaches are sticking with familiarity, and may only make some slight changes from here on out.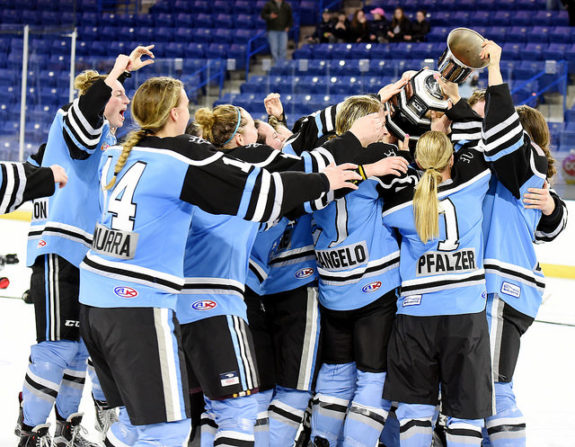 "I think the coaches did a pretty good job of putting lines together," said Beauts defender-forward Jacquie Greco. "Girls that already played with each other, so the chemistry is pretty much already there."
Greco was utilized as a defender throughout the practice session and spent some time with another veteran Beaut Sarah Casorso. With initially-signed defender Kelly Seward not being able to join the team due to personal commitments, Greco may very well remain on defense for the full season. If Greco is kept on 'D', she will make eight Buffalo blueliners on the roster.
Only Minimal Tweaking Needed From the Coaches
Muni added onto Greco's sentiments. "There will probably be some tweaking as we move along," the three-time Stanley Cup champion said. "Once we get through the two exhibition games and a few more practices, kind of let the pieces fall together. As Jacquie said, we wanted to start with players that played with each other and are familiar with each other, so that they already have that built-in chemistry. That gives us at least a good starting point."
The cohesion is also quite apparent between coaches and players. Seiling and Muni are the only co-coaching tandem in the league presently. They have since added a tertiary member to their staff who is of equal importance.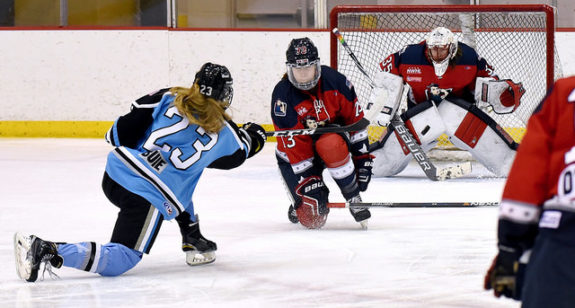 Goaltenders Reached Through the Addition of Draper
That third counterpart is newly hired goaltending consultant Tom Draper. The practice was in session for a full 120 minutes. Throughout the duration, Draper was steadfastly beside Beauts goalies Kelsey Neumann and Julia DiTondo. A former NHL goaltender himself, Draper was visibly witnessed imparting words of advice and encouragement to both netminders. Asked what advantages having Draper alongside them for the 2017-18 can bring, Seiling offered the following sentiments:
"We felt all along that goaltenders are sometimes a neglected position," he explained. "Especially at this level. You have seen how important (it is) with our winning in New York. Lev (goaltender Amanda Leveille) helped us with that one. Then Bri (retired goaltender Brianne McLaughlin) in Boston. Talking to the girls today, I said, 'You know, Tom is not only here just for our goaltenders.'"
Draper Impacts ALL the Beauts – Not Just the Goalies
A goaltending consultant such as Draper provides unique insight not just to the three Buffalo goalies, but to the skaters as well. Seiling went on to explain how the consultant can be pivotal in how the Beauts' shooters approach a particular opposing goaltender. He shared:
"Last year our goaltending coach helped pick some weaknesses out on the New York goalie, on the Boston goalie, that helped us get to that Cup right there," Seiling pointed at the Isobel Cup in front of him. "So they play a very integral part sometimes, people having Tom's experience. I mean, it's advantageous for us and it would be foolish of us not to tap his name as a resource."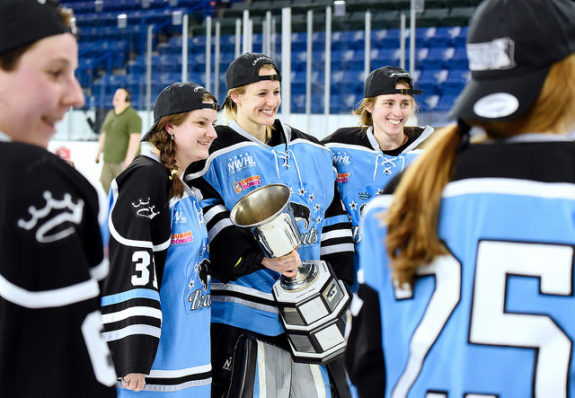 Muni added: "When you are brought through practice—and goaltender is such a specialty—obviously Ric and I never played that position. You've got so much on your mind. What you want to do with the team, and try to fix from your previous game, goaltending always seems to be the one that you'd neglect. So, by having Tom's experience here we'll be able to shore that up and goalies won't be neglected. They'll get the attention they should have."
A League-Wide Increase in Talent
One look at the names on the Buffalo roster and it is apparent that the team is loaded with firepower. On paper, they are arguably the most offensively potent team in the NWHL. Seemingly, offense on the Beauts' roster is coming from anywhere and everywhere.
Seiling recalled, "I remember the first practice last year and the smile on my face—because I saw the increase in the talent level from the year before. And again today, we got on the ice and same thing. I had a smile on my face, because I see the increase in the talent level and the skill level of these girls just keeps getting better and better every year."
Now it's time to meet the press. #DefendTheCrown pic.twitter.com/GjT0bUxZtX

— Buffalo Beauts (@BuffaloBeauts) October 7, 2017
This is going with the understanding that a large number of the best women's players in the world—two of whom were part of the Beauts' Isobel Cup championship this past season—are on national teams gearing up for the PyeongChang Winter Games in February. The NWHL will be without seemingly the best players in women's hockey for its third season. Seiling can only imagine the potency of the league upon their return, especially when noting how strong the level of play with be in Season 3 without those players.
"I wonder when the Olympics are done and there's more players (that) are coming back, it's really going to make this league." He would go on to say, "I think right now you're really going to see some really great hockey. I think there's going to be more equivalency across the league, and more equality across the league, and it's going to come down to battling and who gets the biggest breaks and who makes the biggest breaks."
The Beauty of Having No Holes to Fill
"Last year we had some strength with primarily two players on every line," Muni said. "We would fill in holes here and there, shuffling girls around… Now we won't have to do that. We are going to have depth at every position. Any one of our three lines will be a scoring line, a scoring threat. It's not like we will be relying on one individual, or one line, or one group of 'D'."
One of the most dominating scorers in hockey, Jess Jones, has come to Buffalo. Last season she was at the very top of the CWHL scoring while with the Thunder. On her decision to come down to "The City of Good Neighbors", Jones said, "I came because of the city. I know they've always had their (the Beauts') back. I knew some of the girls previously, so it seemed like a good opportunity to come play hockey and try something new."
"Our ultimate goal is repeating" #DefendTheCrown pic.twitter.com/TF1eHgvWYn

— Buffalo Beauts (@BuffaloBeauts) October 7, 2017
The trio of Jones, Vint, and Buie may very well be Buffalo's most dangerous line combination. In addition to Jones' firepower and her familiarity with Vint, Buie has been a member of each Isobel Cup championship since the league's inception. The season before NWHL play commenced, she won a Clarkson Cup. That makes three straight years of raising a trophy over her head. Her nine goals last season for Buffalo were the most on the team.
Sitting alongside Buie and nudging her, Jones said, "We're linies right now, and I think it's going to be pretty good. I am pretty excited to play with her right now."
Time to Get the Season Underway
The stage is set. The players are ready and the coaches are ready. We know what the team looks like, and we are anxious just to see them play. Now we just need the regular season to get underway. Two days after their media day practice, the Beauts will add some international flavor by playing an exhibition game against Team China. A few weeks later when they take on the Connecticut Whale on Oct. 28, it is going to be the real deal.
Muni stated it best: "We've got high expectations, and failure is not one of them."
General Manager of the Buffalo Beauts (NWHL). Hockey history writer "The Hockey Writers". Credentialed media for the NHL Combine and 2018 IIHF World Junior Championships in Buffalo, NY, USA. Born and raised in Buffalo, NY. Lifelong hockey fan for over 40 years. Proponent of the women's game.