The coaching staff for the Buffalo Beauts collectively have an immense amount of professional hockey experience. Co-coach and general manager Ric Seiling played over 700 games in the NHL. Craig Muni, the team's other co-coach, played in over 800 and won the Stanley Cup three times. Both of these gentlemen have now added the Isobel Cup to their resumes.
With the goal in mind of keeping the Isobel Cup in the "City of Good Neighbors", the Beauts went out and brought in another NHL alum to serve as a goaltending consultant for the team. Welcome back to Buffalo, former Sabre Tom Draper!
Draper's Affinity for Buffalo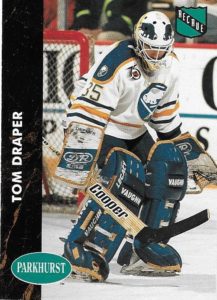 Draper's pro career spanned from his first pro season in Finland (1987-88) up through the 2003-04 season in the old United Hockey League (UHL). Of his 53 regular season games during his NHL career, 37 of them were played as a member of the Buffalo Sabres. Draper was a member of the blue and gold for the 1991-92 and 1992-93 season. His seven NHL postseason appearances were all as a Sabre.
"With few exceptions, the two years I spent in Buffalo were two of my favorite," Draper shared with THW. "I was finally given an opportunity to play at the NHL level and I played well. I also had the chance of working with Mitch Korn, who is definitely the best goalie coach around."
Draper's two seasons as a Sabre were exciting ones for the team and the city. Some of his teammates those seasons included Hockey Hall of Famers like Pat LaFontaine, Dale Hawerchuk, Dave Andreychuk, Dominik Hasek and Grant Fuhr. They were fun times for Draper and for Buffalo.
"As far as the city and its fans," Draper went on to say, "they were and still are second to none. Even as their teams struggle, they continue to support them. They want their teams to reflect their values, and they ask a lot of their teams and players. True blue collar fans!"
Geographically the Beauts Make Sense for Draper
For the time being, the NWHL is housed in the states of New York, New Jersey, Connecticut, and Massachusetts. Draper currently lives in Binghampton, New York. Binghampton to Buffalo is roughly a three hour drive. Located towards the center of the state, Draper is in prime location to work with the Beauts, and to easily traverse the other three NWHL cities.
"Having traveled a lot with my kids for dance, hockey and lacrosse, a three-hour trek is actually average," Draper explained. "I usually make it back to Buffalo for Sabres games four or five times a year, and I try to make as many alumni functions as possible."
ONE HOUR TO GO!

Our coaching staff is going through some last minute #2017NWHLDraft prep! pic.twitter.com/Z6q1HoLpSk

— Buffalo Beauts (@BuffaloBeauts) August 17, 2017
The Beauts have eight road games scheduled for the 2017-18 season, plus a neutral site "home" game in Rochester. In regards to his personal life, the schedule actually works quite well for Draper.
"The Beauts schedule is interesting to me in that they play away games in the Boston area where my oldest daughter lives and works, in Connecticut where my son goes to prep school, and in the Newark area – an hour or so away from Lafayette College – where my middle one attends college. While my focus will be on the team and its goaltenders, I'll be able to also spend a little time with my kids on these weekends."
Draper's Role With the Beauts
Two of Buffalo's goaltenders from last season are returning for 2017-18. Kelsey Neumann and Amanda Leveille are the top duo between the pipes. The Beauts also have a rookie in Mercyhurst grad Julia DiTondo. Leveille went 4-2-0 in nine games last season for Buffalo, and posted a .890 save percentage. While Neumann did not see game action last year, it will be a completely different story for this coming season. Neumann and Leveille will likely split much of the action. It will be interesting to see where DiTondo fits in and what she might look like between the pipes. Leveille and Neumann are household names for Beauts fans. DiTondo is the "new kid" that fans are waiting to get to know.
ICYMI: Two of the four players we signed yesterday are Buffalo natives and @nicholsghockey alumni! #DefendTheCrown https://t.co/gQ4F6iKNch pic.twitter.com/8jPgGb7iBB

— Buffalo Beauts (@BuffaloBeauts) July 22, 2017
Draper comes to the team, not as a goaltending coach per say. Rather, a goaltending consultant is more the terminology that fits what his role will be with the team.
How Draper Envisions It Will Work
Draper's job involves more the mental aspects of the game. For someone who was a professional goalie for 17 seasons, he brings a wide range of experiences and knowledge. Having played college hockey himself at the University of Vermont, overseas in Finland, and in each of the major North American professional leagues during the 1990s and beyond, Draper knows the goaltender's role better than most. Including what it means and feels to be one.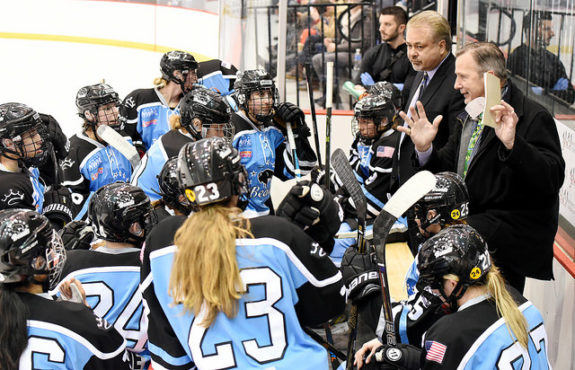 "My role is really more of a consulting role than a coaching role. While I expect to be on the ice with the goalies at times, my understanding is that the Beauts will have someone on the ice with them for most practices. It will be my job to attend games, look at videos and coordinate practices. I also see my role as a mentor, much like I did when the Sabres brought me back in 1998 to work with Marty Biron."
Draper went on to say, "In other words, it'll be my job to talk to the goalies, go over situations, what they're thinking at different times in the game. Such as after goals, what they're seeing on the ice, and how they react to those specific situations. It'll be my job to set goals with each one of the goaltenders and get them to the best of their abilities. They have all had success at different levels, so there's no reason why they cannot continue to have success at this level."
Getting to Know His Players
Leveille and Neumann have endeared themselves to the fans of the NWHL. Hockey fans throughout the world know their antics as "McLevman". As serious and as solid they are in competition, both can be fun-loving characters off the ice. Deservedly so, Neumann was the recipient of the NWHL's Foundation Award for her work off the ice in promoting the game, encouraging youngsters, and being attainable to fans. Who they are as goaltenders combined with who they are as people makes them unique, as it would any goaltender. Draper can tap into that.
DiTondo is in a much different situation. While everyone knows and is comfortable with Leveille and Neumann, DiTondo is very much a part of the team too. She will need to find her niche. DiTondo is certainly a capable, talented goaltender from her time at Mercyhurst, but she needs the opportunity to prove herself in the NWHL and with the Beauts. Time will give her that opportunity. Draper is here to make that opportunity as promising as it can be.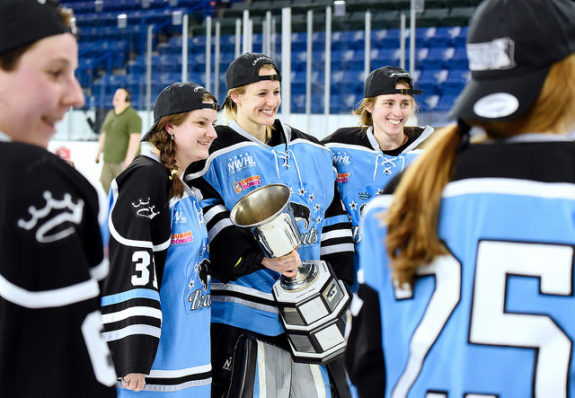 "First and foremost, I have to get to know these girls," Draper said. "All I really know about them is what I have seen online. I don't know their personalities, what makes them tick, what gets them to play their best hockey. My approach has always been very simplistic in nature. I don't over complicate any drills or situations. That's how I will approach all goalies, whether they are rookies on the team or seasoned veterans."
Getting out Onto the Ice With the 3 Goalies
Keep in mind that Draper is very much in tune when it comes to three or more goalies jockeying for the crease. During the 1991-92 NHL season, Draper was part of Sabres goaltending duties that were split into thirds almost equally. Draper himself would play in 26 games for Buffalo, while goalies Clint Malarchuk and Daren Puppa appeared in 29 and 33 respectively. The 1992-93 season was even more clogged. Buffalo tried to discern which goaltender would have them poised for a long playoff run. Draper got into 11 games in a season that was shared with Puppa (24 games), Fuhr (29) and Hasek (28).
Suffice it to say that Draper has keen insight into situations such as these. One thing is for certain, he knows that it can work. What Draper seems to be looking most forward to is getting onto the ice with three goalies who want to compete, want to learn, and want to better themselves.
"I know the girls are anxious to get on the ice. One day after it was announced that I joined the team, they had already reached out to Coach Muni to try and find some time where we can step on the ice and start working. It's always fun to work with athletes that don't mind putting in the time and the hard work."