For the first time in nearly 40 years, the Detroit Red Wings will play hockey inside of a brand new building. The Wings' new barn, Little Caesars Arena, is an impressive state of the art facility that celebrates the team's historic past while also looking forward to the franchise's future.
The new structure, which will be shared with the NBA's Detroit Pistons, features all the bells and whistles that the Red Wings' previous home, Joe Louis Arena, was desperately lacking. However, unlike its predecessor, "The Joe," one thing that LCA has yet to establish is housing a winning and championship contending club.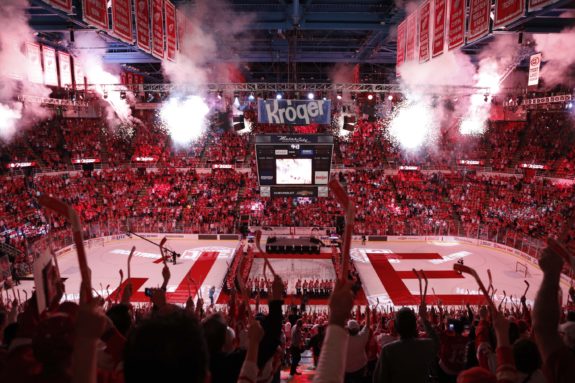 The city of Detroit's newest downtown building will provide a huge boost both financially and aesthetically to an area undergoing a major facelift. The completion of the arena and its surrounding structures, known as The District Detroit, brings to life the vision of late Red Wings and Tigers owner, Mike Ilitch. The Wings were one of the NHL's most successful organizations during Ilitch's tenure but with so many questions and uncertainties surrounding the team and its front office, can they impress on the ice in 2017-18 underneath their stunning new roof?
Red Wings Eventually Must Win
It sounds like an obvious statement but if the team struggles out of the gate in 2017-18, the new arena and all of its wonderful amenities may help curb fan's disappointment, but not for long. Being an Original Six team and one of the most successful franchises over the last 25 years has created a high-level of expectation from fans in Detroit.
General manager, Ken Holland, is in the final year of his contract with the team and is currently facing the most pressure and criticism he's ever encountered during his career. If Holland's plan/roster fails to produce any fruitful results next season, it wouldn't be surprising to see him replaced or forced to take another job somewhere else within the organization.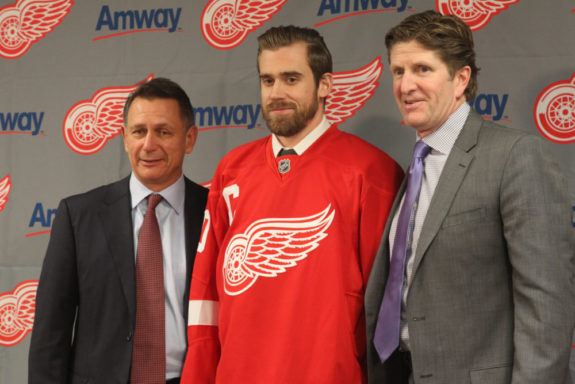 Detroit is a working class, blue-collar town filled with residents who take tremendous pride in their city and its rich history, despite what the mainstream media may have you believe. If the Red Wings flounder during their inaugural season at LCA, it's hard to imagine fans wanting to spend their hard-earned money on unavoidable increased ticket prices that come with any new arena. In order to keep the loyal middle-class hockey fans in the seats on a regular basis, this team is going to have to win.
Wings Have the Talent to Succeed
Despite the team's dismal and disappointing 2016-17 season, there are still reasons for optimism heading into next year for Detroit. Some of the club's younger and more promising prospects, such as Dylan Larkin and Anthony Mantha, are beginning to come into their own.
Other players such as Tyler Bertuzzi and Evgeny Svechnikov are quickly moving up the organization's depth charts and will be soon ready to compete for full-time roster spots. Both players have already appeared in NHL games with the Wings and could see more ice time in 2017-18.
However, it will be the team's more experienced group of players that will need to step up next season and rebound back to productive form if the Wings want to achieve success in 2017-18. Justin Abdelkader, Darren Helm, Riley Sheahan, Petr Mrazek and Danny DeKeyser are all names with sizeable contracts who need to live up to their price tag and time on ice.
If the Wings can generate more sustained productivity from their veterans and combine it with a resurgence from their prospects, the team should at least have a decent shot at competing for a playoff position next spring.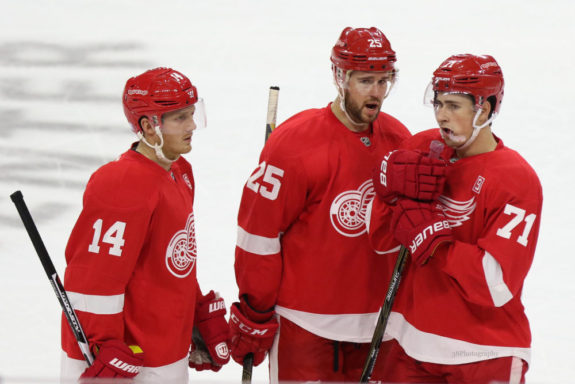 Ultimately, Little Caesars Arena is going to be an amazing facility and home for the Red Wings for many years to come. Both fans and players should be excited about what the new building has to offer. Even the smallest features, such as cup holders, will provide a more enjoyable experience for spectators, not to mention the stunning 5,100 square foot scoreboard that will hang over center ice.
All the LED displays and improved bathrooms won't mean much unless people are willing to spend money to go to games on a regular basis. For that to happen in 2017-18, the team is going to have to be much more thrilling and exciting to watch than they were in 2016-17. Detroit has the pieces to put together a winning puzzle, it only remains to be seen if it can be accomplished.
Left handed hockey fanatic, born and raised in Erie, PA. Currently residing in Nashville, TN. Proudly covering the Detroit Red Wings.