Now that the ink is dry, the Detroit Red Wings should take note of the contract that was recently agreed to between the Columbus Blue Jackets and budding star Alexander Wennberg. Why? Because Dylan Larkin and Anthony Mantha will need new deals next offseason, and they're both due for a hefty raise.
Last week, I dove into how Larkin, Mantha and others will cause Detroit's salary cap troubles to continue unless preventative measures are taken. With Wennberg's new contract announced, the Red Wings can start to build their case for keeping Larkin and Mantha's new pacts to reasonable amounts.
Before comparing the three young players on the rise, let's first take a look at what Wennberg has done to earn his new contract.
Blue Jackets' Next Star
Wennberg was taken 14th overall in the 2013 NHL Entry Draft – six spots ahead of Mantha. After playing the 2013-14 season in Sweden's top league, Wennberg made the transition to the North American game and caught on early with the Blue Jackets. Since then, he has steadily increased his point totals in his three seasons with Columbus. And now, the young center is primed to break out.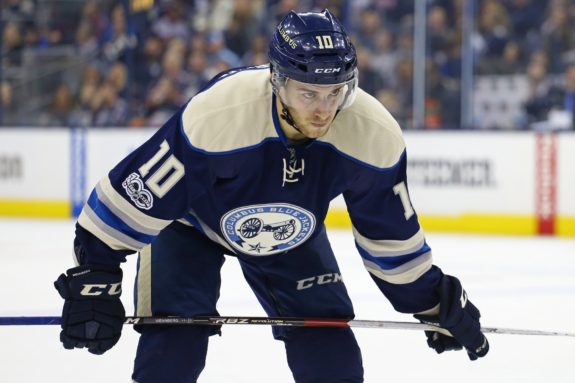 The Hockey Writers' lead Blue Jackets journalist Mark Scheig thought the new deal was excellent for both sides and had this to say about Wennberg:
Columbus locked down potential 1C at great cap hit. Even if we've seen Wennberg's peak, it's a great contract. The team clearly believes in him giving him six years. He's a dynamic playmaker who's great in transition and can find open players in stride. He needs to be less predictable moving forward. If he can add deception to his game while shooting more, he's a potential star.
Though he plays a different game than Detroit's two young stars, the production among the three is similar. And what better way to negotiate contract value than finding analogous players.
Comparing Wennberg, Larkin & Mantha
The 2017-18 season will be the third year of NHL action for Larkin and Mantha, and Wennberg just completed his third NHL campaign. Here's how the three stack up in terms of all-situation points per game thus far in their careers:
| | | | |
| --- | --- | --- | --- |
| Player | Year 1 | Year 2 | Year 3 |
| Alexander Wennberg | 0.29 | 0.58 | 0.74 |
| Dylan Larkin | 0.56 | 0.40 | TBD |
| Anthony Mantha | 0.30* | 0.60 | TBD |
*Mantha played 10 games during the 2015-16 season. Wennberg and Larkin saw full-time duties during their first season of NHL action.
The three had similar freshman and sophomore NHL campaigns, but Wennberg's third season truly set him up for his pay day. His 59 points, with room for growth, gave Columbus the confidence to decree that their former first round pick developed into the player they envisioned. Larkin and Mantha have the opportunity to do the same for the Red Wings. If the pair can step up in year three and show signs of an even brighter future, Detroit should pay them accordingly.
Wennberg's production and contract are great markers for the year to come. Can Larkin and Mantha contribute roughly 60 points in a full season of NHL action? If so, they should be paid a similar amount as Wennberg. If they do not develop at the same pace as the Blue Jackets' pivot, then they should be paid less this time around. It's a win-win for the Red Wings, contractually speaking.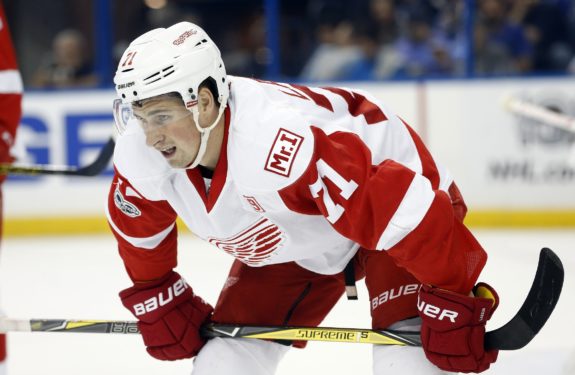 The truth is that the Red Wings need Larkin and Mantha to produce at the same rate—if not at a higher rate—than Wennberg. With Pavel Datsyuk gone and Henrik Zetterberg on his way out, these two need to become the next generation's leaders. They'll also be paid handsomely at some point, so Detroit needs to plan accordingly. Having Wennberg as a team-friendly comparable just helps to make that task easier in the short term.
With that in mind, how often do you see Michigan look to its southern neighbor for guidance? It's acceptable in this case. Strange times, people.
How do you think the Detroit Red Wings will handle Larkin and Mantha's new contracts? Comment below with your thoughts.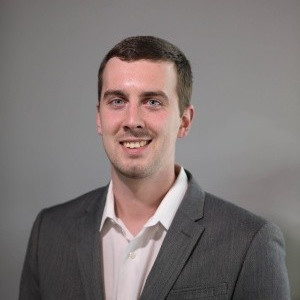 Tony Wolak is based in the Washington D.C. area and covers the Detroit Red Wings for THW. As a former junior and college hockey player, Tony has a unique perspective on Red Wings topics.