As we creep closer and closer to the start of the NHL season, fans will take stock of their teams, predict their chances for success and eventually, many will begin to plan their fantasy rosters. The key to any good fantasy league is offense and the key to wins in the NHL is your stars being your stars and getting scoring from unlikely places.
With that in mind, it's time to take a look at a handful of potential 30-goal scorers you may pass by at first glance. Why? Because they've never done it before.
These are players who may be considered good by NHL standards but haven't quite reached that 30-goal mark. These could be players that, until this season, haven't broken out in terms of offensive production, but something suggests they could. These could also be players right on the cusp of 30 but just need that little extra incentive to get them over the hump. Finally, these could be players that will shock who haven't yet hit 30.
Here are the top candidates to be your next 30-goal scorers in the NHL.
Jonathan Drouin
Last season Drouin scored 21 goals. It was his best season in the NHL to date, but the Tampa Bay Lighting felt it best to move on from his contract and sent him to the Montreal Canadiens. The Lightning got a great defensive prospect, but in Montreal, Drouin has the ability to have a breakout year (if you don't consider last season a breakout performance).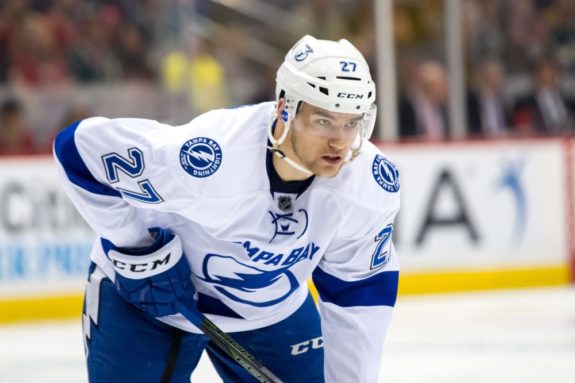 The Habs are banking on this being a huge year for Drouin and he'll get all sorts of opportunities. The fact that he's a French Canadian star in a city where being French is a huge asset means he could do extremely well or face immense pressure. In either case, Drouin seems to thrive under both situations.
He'll be a huge addition to Canadiens power play and has the skill and ability to take over a game. This is exactly the type of player Montreal needed.
William Nylander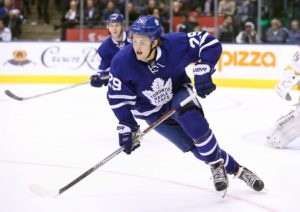 Having just come off of 22 goals and 61 points in 81 games as a rookie, it seems like the Maple Leafs are only finding out what Nylander is capable of. After a huge season in Toronto and with the team fully committed to the young players on the roster, Nylander is a cornerstone piece for the Maple Leafs and they'll be itching to see him provide even more offense than he did last season.
With a team that has Auston Matthews and Mitch Marner, it's easy to overlook Nylander but the future center will get lots of time on the wing with Matthews and that's only good news for the dynamic forward. Nylander is a possession machine and playoff performer. He's not the kind of player who should be forgotten.
There is some speculation that Nylander may be just as important to the team as Matthews.
Jack Eichel
You wouldn't think with all the contract talk about Eichel getting a deal in the neighbourhood of $8.5-$9 million per year that he hadn't scored 30 goals yet, but this should be the season he does it. He doesn't seem concerned that he's not got a new extension done with the Sabres and that could be because he plans to knock it out of the park.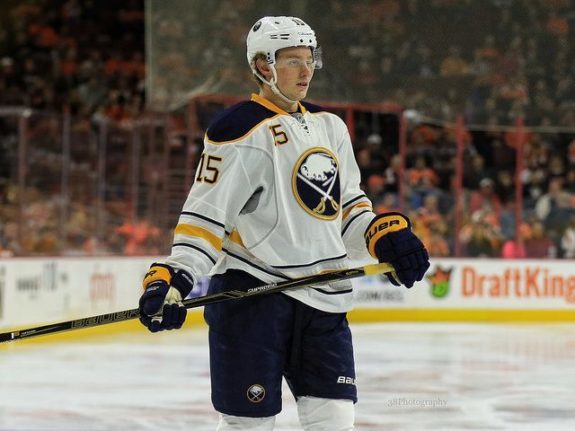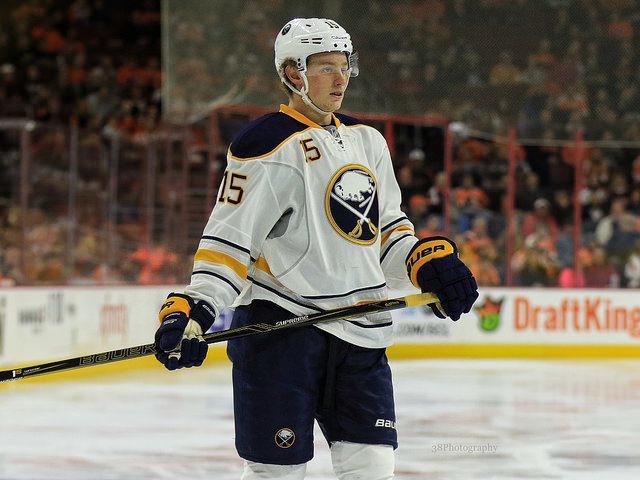 Remember, Eichel scored 57 points this past season in only 61 games. At the pace he set in 2016-17, he'll break 30 goals easily and likely 75 points. He's playing for a new deal and as a guy who's been overlooked since day one (drafted the same year as Connor McDavid), he's got a never-ending chip on his shoulder and the feeling is, he works just that much harder than everyone else trying to prove he's just as good.
He's had two 24 goals seasons already. Reaching 30 should be a cakewalk and that's not something you often here in the NHL these days.
Taylor Hall
Something has to give for Taylor Hall. A fantastic offensive player, Hall took a step back in his first season in New Jersey but drives possession like few in the NHL. He seems to be a bad luck charm as the teams he plays on consistently perform poorly in the NHL standings, but his less-than-stellar 2016-17 season along with the team's lack of success just give him something to prove. With a team in New Jersey that is slowly coming together, Hall is one of the focal points on offense and he's going to be looked to as a veteran even though he's still only played seven seasons in the NHL and is only 25 years old.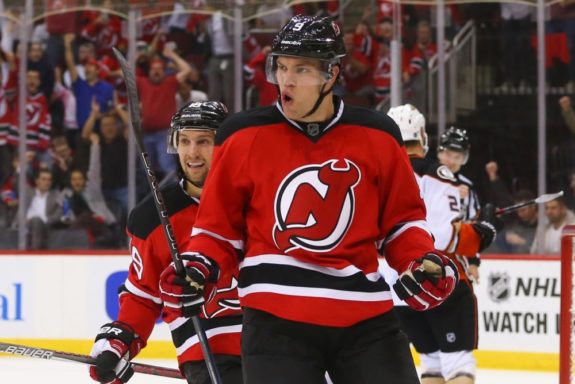 Despite team losses, his individual resume is stellar as he has five 20-plus goal seasons and two campaigns where he scored 27 times each. Hall will be looking for an opportunity to play with some of the New Jersey's top young stars and it could mean good things for him moving forward. If the team has some success, look out for Hall who might get a major individual boost from it.
The key for Hall is to stay healthy and that's not always been the story of his career.
Jake Guentzel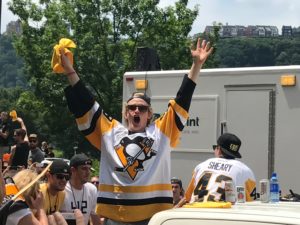 The reason the Pittsburgh Penguins won the Stanley Cup in 2016-17 was not because of Sidney Crosby or Evgeni Malkin. It was because of players like Jake Geuntzel who came out of almost nowhere as a third-round selection and took advantage of an opportunity presented when a clearly injury-ravaged Penguins team needed players to step up.
An offensive weapon in the AHL, he stepped into the NHL and scored 33 points in 40 games. He found immediate chemistry with Crosby and in the playoffs he showed his goalscoring prowess as he tallied 13 goals in 25 games.
Statistically, he's a 33-goal scorer over an 82 game season so it will be close and he'll need to stay injury free, but he can pot 30 goals under the right circumstances. Crosby will need to be a contributor here.
Marcus Johansson
The fact that the Washington Capitals gave up on Johansson in order to keep T.J. Oshie could prove to be a huge mistake. For New Jersey, they've grabbed a player who has had two 20-plus goal campaigns in the last three seasons and is going to be a primary force behind what the Devils hope is a much better offensive output.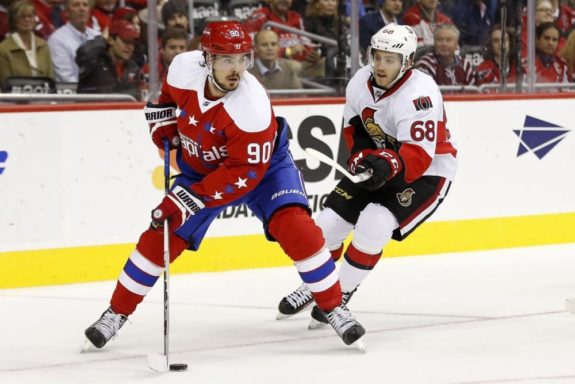 Johansson may be our 30-goal long shot, but if he doesn't hit the mark, it won't be due to a lack of opportunity. He'll be looking for a shot to play with first-overall draft selection Nico Hishcier and potentially provide some mentorship along the way. It could be the perfect scenario for Johansson.
Aleksander Barkov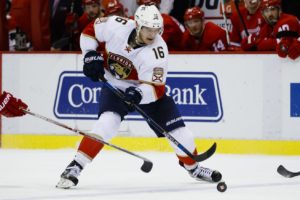 Unless you watch the Florida Panthers on a regular basis, it's hard to explain just how good Aleksander Barkov is. A big hulking center, he's the catalyst for the Panther's offense and it's not a matter of if Barkov scores 30 goals, it's when he scores 30 goals.
His two-way game is amazing, he's powerful and almost impossible to knock off the puck and his last two seasons were 21 and 28-goal campaigns in under 70 games. If he stays healthy, he could be a top-10 scorer in the NHL and if the Panthers hope to make the playoffs, it will have to be on the back of Barkov who looks fit enough to carry the load.
Leon Draisaitl
He was one goal shy of 30 in the 2016-17 season and next to Connor McDavid, Leon Drasaitl was the Edmonton Oilers best offensive weapon. Having just signed an eight-year contract extension worth a whopping $8.5 million per season, the pressure to produce even more offensively than he did last year is immense.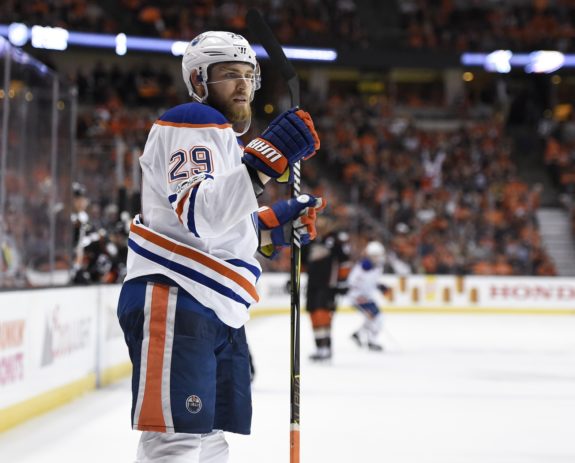 A top-ten scorer in the NHL last year and likely to play alongside McDavid again for a chunk of the 2017-18 campaign, Draisaitl has the ability to hit 40 goals if the pace he set at the end of last year is any indication of what he's capable of.
His playoff performance for the Oilers was better than McDavid's and that alone is simply astonishing. Bank on Draisaitl hitting 30 goals and expect more.
Other Notables to Watch For
If you're looking for other names to consider reaching the 30-goal mark, consider Jakob Silfverberg from the Anaheim Ducks, Sebastian Aho from the Carolina Hurricanes, Mitch Marner from the Maple Leafs and both Kyle Turris and Mark Stone from the Ottawa Senators.  None of these players have hit the 30-goal mark in their careers, but all could based on the way their games are progressing.
In the NHL last season there were 26 different 30-goal scorers. Led by Sidney Crosby, Auston Matthews and Nikita Kucherov, there should be room for many more additions. Will all of these players hit 30? Probably not. Can they?
Absolutely.