Happy September, Vegas Golden Knights fans. This is the month. Finally. Our favorite local team today, tomorrow, and forever, is finally hitting the ice. We're just over two weeks out from Vegas meeting Vancouver in preseason action. Twelve days later, we get to see the team ourselves at T-Mobile Arena. Yes, this season I intend to take preseason hockey entirely too seriously.
I hope you'll join me. Let's learn to love this team together. For the uninitiated, let's first learn this team, period. Erik Haula is up next on our Golden Knights introductions, and he's among one of the more intriguing young players on the team.
Sure, it's uncertain whether locals are going to be able to watch the Golden Knights on television this season. And I know we all want those sweaters to be available for purchase. They're coming. We'll not let these hurdles dampen our enthusiasm for the NHL's 31st franchise.
So get familiar with the roster. This guy is talked about less than many of his peers, but he may end up being the straw that stirs the drink. Is that going too far? Probably. Let's say Haula's going to play an important role in this team's infancy. Read up.
How Did Haula Get Here?
He's an NHL Expansion Draft pickup and he didn't come alone.
When the Minnesota Wild released their protected list prior to the draft, it did not include the names Matt Dumba and Marco Scandella. That's a pair Minnesota would have preferred to protect but was unable to due to the limited protection slots available.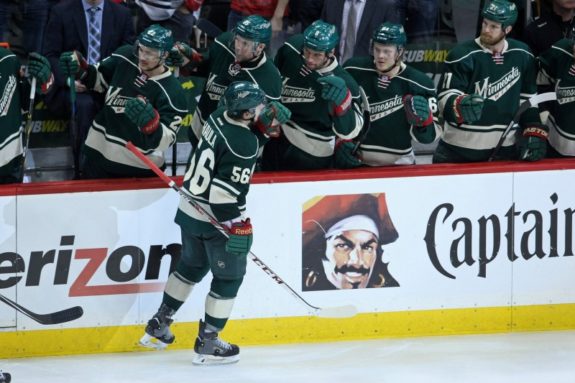 Wild general manager Chuck Fletcher and Knights GM George McPhee found a solution. In exchange for drafting Haula, Fletcher would also include 21-year-old forward Alex Tuch and a third-round pick in 2018.
McPhee cranked out plenty of deals around the expansion draft in June. He certainly did more winning than losing, but this is agreement looks mutually beneficial. At 25 years old Haula is one of the more proven commodities on the inaugural Golden Knights roster.
Haula was a seventh-round draft pick of the Wild in 2009. Three impressive seasons with the University of Minnesota followed before he elected to forego his senior year for professional dollars.
He started with the Iowa Wild but it didn't take long for Haula to get called up to the big club. He spent much of that first season bouncing back and forth between Iowa and Minnesota. By 2014 he was in the NHL full-time.
In that first full season, Haula contributed seven goals and seven assists. The next year those numbers grew to 14 and 20, respectively.
In his final season, before his relocation to Sin City became official, there was some regression. Haula tallied 15 goals and 11 assists in 72 games.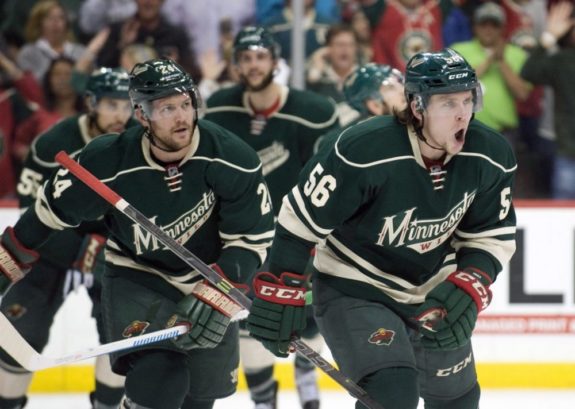 It's fair if those numbers rolling back give Knights fans pause. It's easy to argue that he's been unable to realize his full potential in Minnesota. At times he looked like an integral part of the Wild offense; at other times he looked like a fourth-line player and nothing more. Vegas is going to provide more opportunities for Haula than he would have received with his old team. That statement might be growing redundant, but it's true for more players on the Golden Knights roster than not.
Where Does Haula Fit In?
So with that said, what kinds of opportunities are we talking about?
Vegas isn't particularly deep at the center position, and that certainly works to Haula's benefit. Top-line honors will go to KHL product Vadim Shipachyov. That's not up for debate. After that take your pick. The options are not particularly bad, but you're not going to find guys that fill up the stat sheet.
That's to say the pick to center lines two through four for the Golden Knights is of little consequence. Haula fits anywhere in there. The future of the position in Vegas is Cody Glass. The Golden Knights spent the sixth overall pick in this summer's NHL Draft on the 18-year-old out of Winnipeg. His time will come. It won't come next month.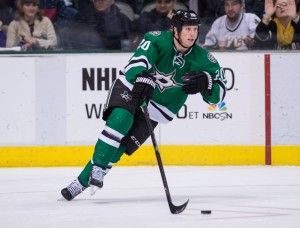 Cody Eakin is likely Haula's top challenger on the Knights' second line. Flip a coin with these two. They're both 26 years old. They both stand about six feet tall. They both weigh about 190 pounds. They're both coming off seasons in which they took a step back from their efforts during the 2015-16 campaign.
So why would it be Haula on the second line? Let's first acknowledge that Eakin's drop-off last season was more significant. Injuries and suffering productivity meant he was on the ice for only 60 games last season. He scored just three goals, down from 16 the prior season, while his assist total fell from 19 to 9.
That aside, Haula's speed and versatility are enviable. Consistent play on the offensive end is an issue. Last season he tallied 15 goals and 11 assists in 72 games but endured a drought stretching the entire month of March in which he failed to find the back of the net and picked up a single assist. Avoiding stretches like that will go a long way towards determining his place on the Vegas depth chart.
Three years and $8.25 million is what is left on Haula's contract. Many players on the inaugural Golden Knights roster could find themselves involved in trade talks come next year's deadline. Haula is no different. I'm guessing he's here for awhile though. Buy the jersey.