In the past two summers, the losses for the Detroit Red Wings as a team and franchise have been significant on and off the ice.
First, in April of 2016, it was Pavel Datsyuk leaving one year before his contract expired to go to Russia to play for SKA St. Petersburg, effectively retiring from the NHL. Two months later, Gordie Howe passed away at the age of 88, leaving behind a legacy that speaks for itself.
In February of this year, Mike Ilitch, the owner of the franchise since 1982, passed away. In April, the 25-year playoff streak that included 1557 combined wins between the regular season and postseason came to an end.
To top it off, 2016-17 was the last season at Joe Louis Arena, the home of the Red Wings since 1979 and site of the 1997 and 2002 Stanley Cup championship celebrations.
Zetterberg Passing the Captaincy Soon
In two years, team captain Henrik Zetterberg will be the latest loss, as he will likely retire after 2018-19. His retirement opens a void in Red Wings leadership that rarely has to be passed on. Since 1982, there have been just four different Detroit captains. Danny Gare wore the "C" for four seasons, Steve Yzerman for 19 seasons, Nicklas Lidstrom for six, and Zetterberg for what will be seven campaigns.
By the time "Z" hangs the skates up, there will be plenty of candidates on the current roster that could take on the "C." In this week's edition of The Grind Line, The Hockey Writers' Red Wings coverage team picks their next captain of the team taking experience, future performance, and other factors into consideration.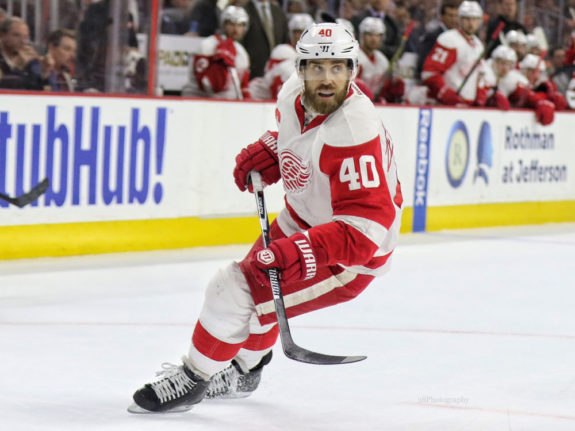 Griffin Schroeder
Dylan Larkin
This wouldn't be Red Wing-like today, but in two years, the philosophy will change.
By the summer of 2019, Larkin will be 23 and have four seasons under his belt. The former Under-16 Belle Tire captain will be hitting his stride as a top performer on the team bouncing back from 2016-17's sophomore slump of a campaign, making it a distant memory. He'll also be going into 2019-20 with a top six spot at center after a few years of grooming under Zetterberg and Frans Nielsen.
A Waterford native, Larkin will follow the organization's recent theme of hometown talents, being the standout among all of them. Danny DeKeyser, Luke Glendening, Justin Abdelkader and Luke Witkowski each have roots in Michigan. Having a young, homegrown captain amongst them that grew up a fan of the franchise is a marketer's dream. It also sets up a tremendous storyline down the road if he can be the one to lead Detroit out of their upcoming rebuild sooner rather than later.
Larkin Ahead of Other Candidates
In terms of other candidates, there are some with tenure that would be solid short-term wearers of the "C." Trevor Daley will be 36 and in the last year of his contract, but has two Stanley Cups to his name and could be a stabilizing option. Nielsen, likely to still be in the top six, could be considered despite a brief Red Wing tenure as a 35-year-old with the way he carries himself on and off the ice.
Abdelkader will be 32 entering his tenth season as a Wing, and under the current philosophy would likely be the next in line. However, a rebuild breeds young blood, and those new faces are usually the ones that bring the team back to glory.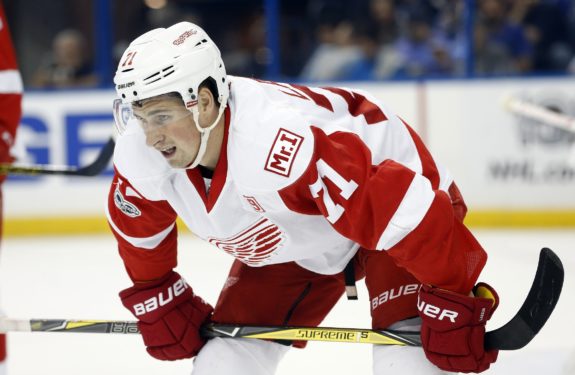 It's fitting that one of them accepts the captaincy to usher in the new era.
Larkin's captaincy will draw yet another parallel to Yzerman, who was named captain before the 1986-87 season. Prior to Yzerman's acceptance, the team missed the postseason 13 of 16 times. Going into '19-20, the Wings will be three years removed from the Stanley Cup playoffs and will need a young leader to bring them back.
That will be Larkin.
Tony Wolak
Dylan Larkin
If Zetterberg stays true to his word and hangs his skates up in two years, the Red Wings will be in a world of trouble.
That was also said near the end of Steve Yzerman and Nicklas Lidstrom's careers. 
Contrary to belief, Detroit will transition smoothly, just as they did in years prior. They have a talented prospect pipeline that will be ready to take on the NHL's best just as the last chapter in Zetterberg's NHL career ends.
Leader of The Next Wave
A new cast including the likes of Vili Saarijarvi, Joe Hicketts, Evgeny Svechnikov, Tyler Bertuzzi and others will arrive just in time to collectively carry the Wings back to respectability. It is a transition that can be thought of as the progression from Rogue One: A Star Wars Story to Episode IV: A New Hope, with Larkin the leading the charge of a new alliance.
The U.S. National Team Development Program alumnus will not have the same experience that Zetterberg and Lidstrom had when they received Hockeytown's captaincy at 32 and 36 respectively. However, he will be the right choice to captain the Red Wings for the next decade or so when the time comes. Niklas Kronwall will be gone. Abdelkader will be declining. Apart from those two and Larkin, no one jumps out as captain material.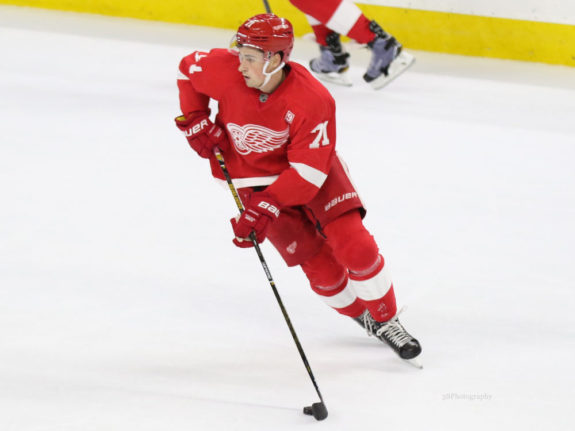 "D-Boss" plays the game with passion and leads by example on the ice. He has the correct attitude for a captain and the commitment to give it his all at both ends of the rink night in and night out. That is an incredible quality to see from a 21-year-old.
On account of his leadership and room to grow, Larkin is the correct selection for where the team will be in two years and Detroit will ultimately choose him to carry their organization forward.
John Curran
Justin Abdelkader
Like Griffin and Tony, I share the belief that Larkin possesses all the skills and qualities to someday become the captain of the Red Wings. He may very well be given that title further on down the road. However, when Zetterberg walks away from Hockeytown in two years as he intends to do, Abdelkader's jersey will be stitched with the captain's patch, especially if Ken Holland is still Detroit's general manager.
After all, the Ilitch family, despite the end of the playoff streak and 2017-18 being the last year of his contract, is said to have 100 percent confidence in Holland.
Track Record of Veteran Investment
While Abdelkader would not be this writer's choice, the current front-office will favor selecting Abdelkader over Larkin given the track record of investing in veteran leadership with lucrative contracts to prove it.
Abdelkader is far from being at the same talent-level as Yzerman, Lidstrom, and Zetterberg but he has the essentials to be a Red Wing leader in the present. The tenure and grit have been rewarded with a sizable contract cap hit and term. Being a Michigander doesn't hurt his cause either.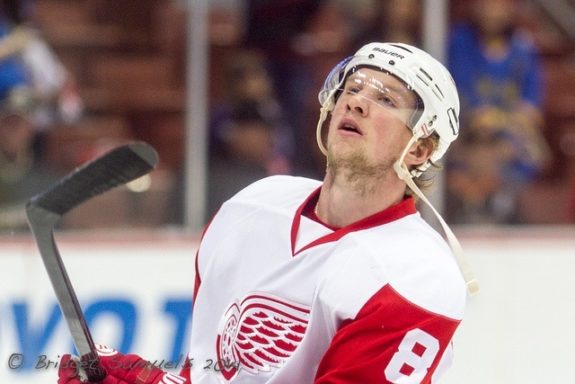 If Larkin can come into his own and fully evolve into the player that the Red Wings hope he can be in the next two to three years, he may be able to make a case for the captain job. Until Larkin is ready to take on that level of NHL leadership, Abdelkader will play the bridge-captain role.
Who do you think will be the next captain of the Red Wings? Comment below with your selection.
Griffin is a Junior at Northwood University in Midland, Michigan pursuing a Sports and Entertainment degree. His passion of writing began when Detroit Red Wings captain Henrik Zetterberg was out for the season in 2014 and he wanted to give his thoughts. Griffin comes from LastWordOnSports.com where he had the role of "associate editor" and wrote nearly 300 articles over three years for their hockey department.