A lot of things went right for the Boston Bruins in 2016-17. The B's smoothly transitioned to a new coach, saw a breakout season for Brad Marchand, and returned to the postseason for the first time in three years.
On the flip side, a lot of things went wrong for the Bruins last season. Boston struggled with consistency throughout the season, sustained some key injuries in the final stretch of games, and were ultimately booted from the playoffs in just six games.
While plenty of guys were aboard for the up-and-down ride, very few players understood the struggle as much as Matt Beleskey.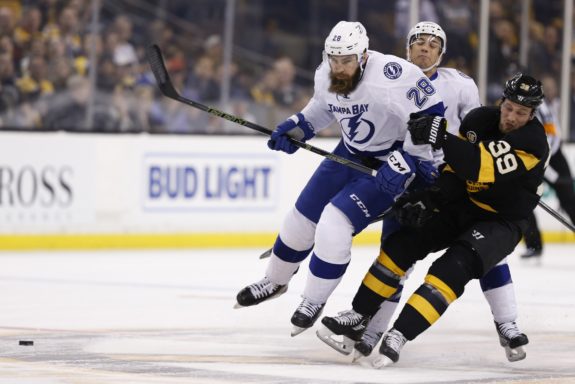 Beleskey's Struggles
When the Bruins inked then-27-year-old Beleskey to a five-year, $19 million deal in 2015, they were taking a chance on a player who they believed could fit their style of play nicely. Having just come off of a couple increasingly-productive seasons in Anaheim, it looked as though Beleskey was being molded into a dangerous big-bodied power forward, similar to the likes of Milan Lucic, who was a fan favorite in Boston for years.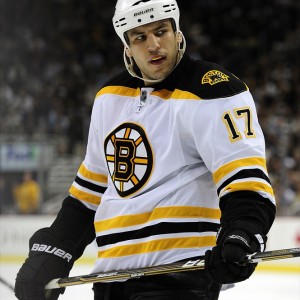 While it was clear that Beleskey wouldn't make up for all of the production that the Bruins had lost with Lucic (Beleskey's .47 points per game from 2013 to 2015 paled in comparison to Lucic's .64 points per game over the same time span), they hoped he could bring a similar pace and continue to build on his production totals from the year prior.
In his first season with the Bruins, Beleskey gave the team about what they expected. The six-foot-tall left-winger appeared in 80 of 82 games in his first season in black and gold, tallying 37 points while racking up 65 penalty minutes. His production total wasn't stellar in his first season, but it wasn't bad, either.
Then, 2016-17 rolled around. Last season was a very forgettable one for Beleskey, who struggled with injuries and production throughout the course of the campaign. When it was all said and done, the Windsor, Ontario native took the ice 49 times, tallying a dismal eight points.
Bounce Back Key for Bruins & Beleskey
When Beleskey and Jimmy Hayes came to Boston on the opening day of free agency in 2015, it was inevitable that the two would be compared to one another throughout their Bruins careers. So, when the B's decided to part ways with Hayes back in June — despite the fact that he still had another year on his contract — it was understandable that a number of heads turned toward Beleskey, who faced similar (although less severe) struggles last season.
However, when the 2017-18 season rolls around, Beleskey will be with the Bruins, and he'll have a lot of work to do to prove that the Bruins shouldn't give him the Hayes treatment. After all, the Bruins still owe Beleskey $11 million over the next three seasons, and with a number of exciting forwards coming through the system, Beleskey will need to earn his spot.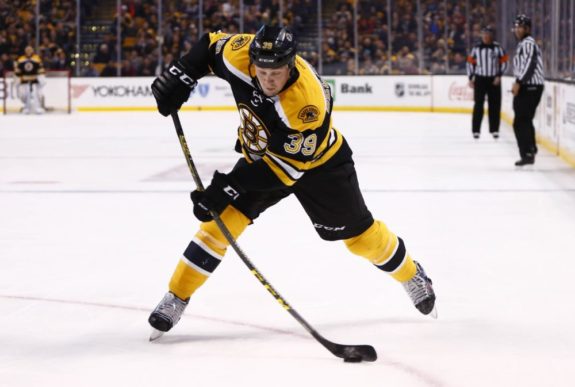 That being said, the 29-year-old may be in a good position to do just that. In fact, there are a number of reasons to believe that Beleskey could have a solid bounce back season for the Bruins.
Above all, a healthy season would go a long way, especially for a player of Beleskey's style. The winger struggled to stay healthy last season, which makes playing a rough-and-tough style very difficult. Beleskey is at his best when he's punishing opponents in the offensive zone, and a lingering injury can really inhibit a player's ability to do that. So, a healthy Beleskey should lead to a bit more production.
On top of that, Beleskey has trimmed up a bit since last season, according to CSNNE's Joe Haggerty.
'I tried to change a lot of aspects in my training,' Beleskey said, per CSNNE. 'I tried some new stuff with my diet and I hope it's going to pay off here. Nutrition-wise I just tried to simplify what I eat and really stick with it. Seven or eight years ago you might have needed a couple of extra pounds, but not anymore. The team showed confidence in me this summer, so I just need to repay that confidence and keep working hard.'
Finally, the Bruins should have a bit more flexibility with their lineup this season, since they have a number of youngsters looking to make their way onto the NHL scene. Guys like Anders Bjork, Danton Heinen, and Jake Debrusk will provide some internal competition, while also allowing B's head coach Bruce Cassidy to play with the lineup if a player or unit is struggling.
Changing With the Game
Beleskey's struggles can partially be attributed to the injuries he dealt with last season, however, it would be narrow-minded to say he shouldn't be held accountable for notching just eight points in 49 games. Part of the issue for Beleskey, like many players across the league, is keeping up with a game that is becoming younger and faster.
Players like Beleskey, who traditionally rely on aggressive physical play, have struggled to hold down consistent roster spots in today's NHL, where speed and slickness are valued more than ever before.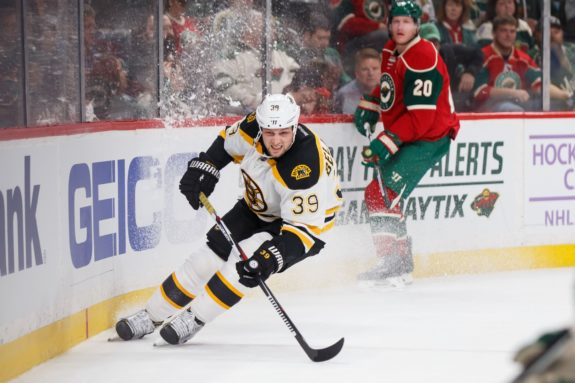 Beleskey and his colleagues aren't doomed — they just need to adapt. There's still room in the game for big-bodied players like Beleskey. In fact, players who have mastered the art of aggressiveness in today's NHL can be extremely effective, since it can counter the speed threat of opposing players. But, they need to realize that today's power forward has to be able to keep up.
The good news is that Beleskey seems aware of that. As previously mentioned, he's worked on slimming up a bit this summer and seems to be focused on building up his speed to keep up with today's game. If he can do that, then it's very reasonable to think that a revamped Beleskey could do a lot for the Bruins this season.
At the end of the day, 2017-18 could be the biggest year of Matt Beleskey's career. After starting to make a name for himself in the first few years of his career, Beleskey's production and health took a huge hit last season. Now, it's time to see whether or not last season really was just a series of unfortunate events, or an unfavorable indication of a player who is bound to bust in an ever-changing league.