Surrounded by family and friends at Thanksgiving, before most of us gorge on turkey, cranberry sauce, and stuffing, we pause and let others know that we're thankful. Buffalo Sabres forward Kyle Okposo couldn't wait until November.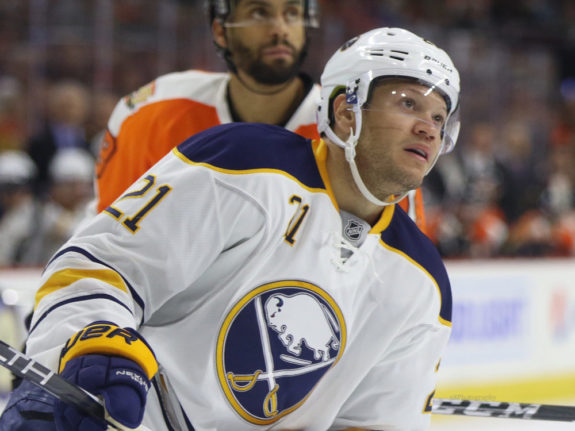 The hard-working Sabres winger couldn't wait to express his thankfulness for his return to health and the support that he received during his mysterious illness at the end of last season. After working and consulting with concussion experts, Okposo is confident he can play at 100 percent intensity again.
Thankful for the Support
Okposo spoke with reporters this week stating, "It meant a lot, it was a tough situation, a tough road and I'm just happy to be back and happy to be able to play again at a high level."
He was overwhelmed by the outpouring of support: "There's been so many groups of people that have shown their support," Okposo said humbly. "The hockey community is a tight-knit group and I'm thankful to be part of it. When something happens to you and you're going through a tough time, the support that you receive is pretty tremendous and I think it says a lot about the character we have in this game."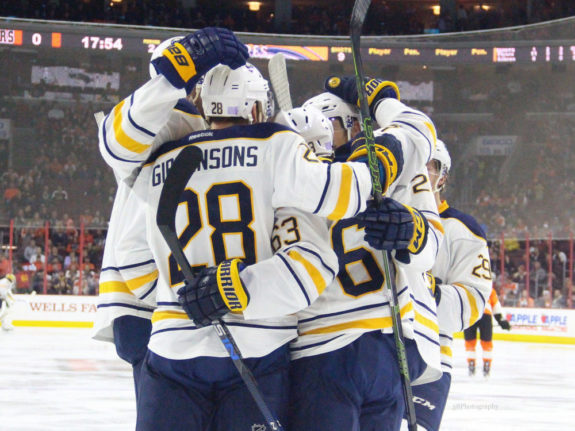 Though he struggled through some dark times, he had such a positive, support team around him–his family, the team and the amazing hospital staff–that he knew he was going to pull through.
The Road to Recovery
After roughly two months of being sidelined, the ten-year NHL veteran said he turned a corner in May. "I started to feel pretty normal again and just day-to-day activities seemed to be easy again. I just felt clear and now I feel really good."
Now, he's happy to continue playing the game he loves so much. This summer, he played in a scrimmage league in Minnesota. He skated a lot more than usual, since he wanted to get back on the ice and start to get his timing back.
"It was nice to just play hockey again. I'm healthy and feel great!" he said.
Okposo's Illness
Okposo disclosed the illness in an article on NHL.com. The complication arose from medication he was taking last season as well as a possible concussion sustained during a normal play in practice.
"It was just a hard bump," he explained. "In fact, the play was so common that I sort of just brushed it off without thinking much of it. But in the ensuing days, my mood began to change. I didn't notice, but the people around me did. By the time we were playing our game against Florida on March 27, I had been having trouble sleeping for a couple of days already. My senses for some reason were worsening with each passing day. I thought I was just overtired."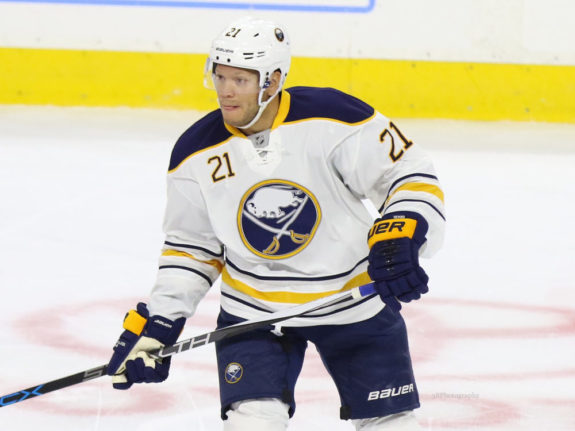 According to the 29-year-old, the medication he took to help him sleep caused a "negative reaction," leading to rapid weight loss. "At one point, I weighed less than 200 pounds," Okposo wrote. "I haven't weighed that little since I was 17. Now, the initial thought was a possible concussion."
He was admitted to the Neuro Surgical ICU at Buffalo General Medical Center, the medical ward that deals with neurological injuries such as strokes, concussions, trauma and tumors. He was then diagnosed with a condition that causes severe disorientation, confusion and behavioral changes.
Once off the sleep medication, he began to stabilize. It's all behind him now: "I know I can play and not worry about hitting my head, which is a major hurdle for someone who's dealt with this. If I didn't feel 100 percent right now, that probably wouldn't be the case."
Looking Forward to Success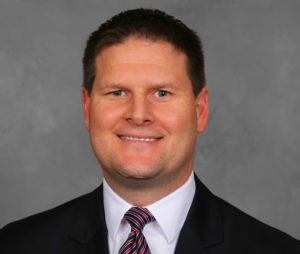 Okposo believes Jason Botterill and Phil Housley are going to be part of a winning culture–something that he wants badly. "Jason has a clear vision for where this organization wants to go," said Okposo confidently. "What he did over the summer was good for our squad. I'm looking forward to the season."
The winger scored 19 goals along with 26 assists in 65 games last season. Entering the second year of his seven-year, $42 million contract with the Sabres, he knows he's looked at as a leader.
[miptheme_quote author="Kyle Okposo" style="text-center"]I'm going to continue to do the little things on and off the ice to lead by example. Obviously our team is in a bit of a new direction. I'm going to lead in any way that I can.[/miptheme_quote]
Okposo helped bring the Isles out of their playoff drought and is determined to go deep with the Sabres. "Winning here is something that I want badly. I said at my opening press conference that I came to the Sabres because I think we have a chance to win the Stanley Cup, and I really believe that. I think Jason and Phil are going to be a big part of it. I can't wait to be back with the boys next month to get this going. Thank you for all the well wishes, prayers and support! It has meant more than you will ever know!"
Jeff has been covering the NHL for over a decade for various sites. He's been with The Hockey Writers as a lead Sabres writer three years, while also writing a satire column called "Off the Crossbar."