---
Hockey fans are rejoicing, with NHL rookie games starting tonight and some of the league's most intriguing prospects participating in showcase tournaments throughout the weekend.
That includes the Young Stars Classic, hosted by the Vancouver Canucks in Penticton, British Columbia. The four-team tournament also features the other Western Canadian clubs in the Calgary Flames, Edmonton Oilers and Winnipeg Jets. This is the seventh edition, dating back to 2010, though 2012 was cancelled by the lockout.
#Canucks Young Stars tournament schedule pic.twitter.com/97bruCXBgG

— Jeff Paterson (@patersonjeff) June 22, 2017
This tournament has witnessed Connor McDavid's debut for the Oilers — along with fellow first overall picks Taylor Hall and Ryan Nugent-Hopkins before him — but the Young Stars has also served as a coming-out party for lesser-known prospects over the years.
Who could forget Vladimir Tkachev's performance in 2014, when the pint-sized Russian dangled and dazzled his way into the highlight-reels and nearly earned a contract from the Oilers — only to have league headquarters rule he wasn't eligible to be signed. Tkachev went back into the draft and was, somewhat strangely, passed over by all 30 teams in 2015, including Edmonton.
For those curious, Tkachev is currently lighting up the KHL and could still be a poor man's Artemi Panarin if he returns to North America as a free agent.
That is just one example of under-the-radar prospects — so-called "sleepers" — emerging from the Young Stars.
I've already previewed 10 of the top prospects to watch at this year's tournament — a list of household names, mostly first- and second-round picks — but here are 10 of the most intriguing prospects attending the 2017 Young Stars Classic:
NOTE: This list was tougher to compile since prospects are intriguing by nature, regardless of where they were drafted or whether they were even drafted at all. This list could easily have been 20 deep — it does end off with a half-dozen honourable mentions — and thus involves some personal preference, but not to worry Jets' fans, your prospects will be getting a lot more love on this list.
1) Spencer Foo — RW, Calgary
Next to New Jersey's Will Butcher, Foo might have been the most sought after NCAA free agent this summer. He was apparently torn between the Battle of Alberta, deciding to sign with the Flames over his hometown Oilers. Foo will be hard-pressed to crack Calgary's opening-night roster, but a strong showing at the Young Stars as one of the older prospects in Penticton — he's already 23, more than five years older than others — would give him a running start heading into training camp. It worked for Edmonton's Drake Caggiula last year.
Foo is somewhat similar to Caggiula in his size and skill-set — known for his speed and stickhandling ability, while improving on his finish and developing into a goal-scorer over the course of his college career. Foo broke out last season, racking up 62 points (26 goals) in 38 games for Union College after consecutive 25-point campaigns (11 and 12 goals).
2) Josh Healey – D, Calgary
Also 23 and from Edmonton, but deciding to sign with Calgary as another coveted NCAA free agent this summer, Healey is a hard-nosed defender known for his big hits and aggressive approach despite being a bit undersized by NHL standards — listed at six-feet tall and 195 pounds.
#Flames D prospect Josh Healey on his love of hitting: "Some guys want to score goals or make a sick play, I just want to blow some kid up."

— Darren Haynes (@DarrenWHaynes) July 4, 2017
Unlike Foo, Healey wasn't heavily pursued by the Oilers due to their defensive depth in terms of left-handed prospects, but the Flames are even more stacked on the back end. Healey would have to outshine top prospects Rasmus Andersson, Oliver Kylington and Juuso Valimaki — not to mention more seasoned types like Matt Bartkowski, Brett Kulak and Tyler Wotherspoon — in order to stick in Calgary. Healey will more likely start his professional career with AHL Stockton, but he has a unique skill-set that could be of use to the Flames in the future.
3) Tucker Poolman — D, Winnipeg
Continuing the trend of NCAA prospects turning pro, Poolman was a Winnipeg draft pick back in 2013, a fifth-rounder who turned 24 in June and should be close to NHL-ready following three seasons at the University of North Dakota. Considering he's six years older than some of the 2017-drafted prospects in Penticton, Poolman should be a standout at the Young Stars and use that confidence boost as a springboard to the Jets' training camp.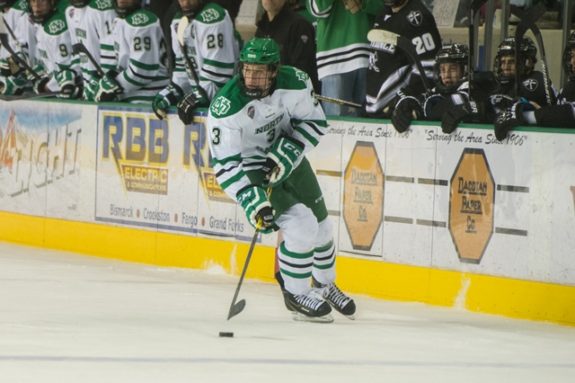 Poolman will be calling Winnipeg home this winter one way or the other, but he'll probably start the campaign with AHL Manitoba, barring pre-season injuries, since Winnipeg is already six deep on defence at the NHL level. Poolman would be better served playing a top-pairing role for the farm team than sitting in the press box right out of the gate. That said, Poolman might already be better than depth defenders like Ben Chiarot and Julian Melchiori. He definitely has more upside.
4) Mason Appleton — C/RW, Winnipeg
Yes, another NCAA debutant, Appleton could be this year's spotlight stealer since he'll play a prominent role on a mediocre Jets' roster at the Young Stars. Winnipeg is icing, by far, the weakest lineup on paper, but Appleton may be able to step up as an offensive catalyst in Penticton — perhaps alongside Michael Spacek and Jansen Harkins or Skyler McKenzie, a trio of WHL products.
Appleton is used to being a go-to guy for a bad team, having led Michigan State University in scoring last season with a modest 12 goals and 31 points in 35 games. That was still seven more points than his nearest teammate and 13 more than the third- and fourth-leading scorers for Michigan State. Throw Appleton on an AHL line with fellow NCAA alums Kyle Connor and Jack Roslovic and the 21-year-old sixth-round pick from 2015 might really shine.
5) Sami Niku — D, Winnipeg
I told you the Jets' prospects would be getting more love here, with Niku the first non-NCAA prospect on my 'most intriguing' list. He's pretty foreign to me, but Garret Hohl is extremely high on Niku and thinks he could see NHL time this season — perhaps ahead of Poolman. That would be a similar success story to Markus Nutivaara, a fellow Finnish defenceman and seventh-round pick from 2015 who surprisingly played 66 games for the Columbus Blue Jackets as a rookie last season.
Niku is a smooth-skating puck-mover who finished seventh amongst defencemen in Finland's top league last season, producing 27 points (five goals) in 59 games. He also won world-junior gold two years ago as a teammate of Jets star Patrik Laine. Turning 21 next month, Niku could be the sleeper of all sleepers at this year's Young Stars — drawing some favourable comparisons to another Sami from Finland, that being Sami Vatanen.
6) Matthew Phillips — RW, Calgary
Here's a kid that I'm much more familiar with, from watching him rip up the WHL as one of only five 50-goal scorers in that league last season. For those who haven't heard of Phillips, a sixth-round pick in 2016 by his hometown Flames, he's tiny — not small, but tiny . . . even compared to his idol Johnny Gaudreau. Listed at 5-foot-7 and a "bulked-up" 155 pounds coming off another summer of training, Phillips does have big game and the 19-year-old is quickly becoming a legitimate prospect for Calgary despite his size.
#Flames prospect Matthew Phillips on his 50-goal year in Victoria and his stint with the @AHLHeat! pic.twitter.com/Yhdx0iWdT5

— Calgary Flames (@NHLFlames) June 16, 2017
Phillips also put himself on the radar for Canada's world-junior team by scoring a couple goals and impressing in general at last month's Summer Showcase tournament. Assuming he picks up where he left off with WHL Victoria and is among the league's leading scorers again, Phillips should earn another invite to Canada's selection camp in December and might just make the cut as a long-shot.
Phillips looked a little out of place at last year's Young Stars — perhaps a bit intimidated or overwhelmed at times — but look for him to fit right in and possibly even stand out in Penticton the second time around. He could totally be this year's Tkachev! So could his Calgary teammate Andrew Mangiapane.
7) Ostap Safin — RW, Edmonton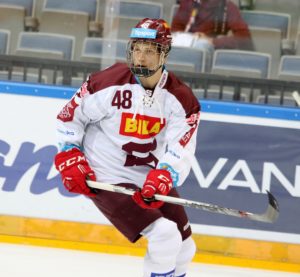 At the opposite end of the size spectrum, Safin is listed at 6-foot-5 and 191 pounds — a budding power forward who underachieved statistically in his draft year but could explode this season as a first-year import with QMJHL Saint John. Safin has a ton of offensive upside and the big Czech winger could certainly benefit from making the transition to North America, especially if he ends up flanking Joe Veleno — a top-10 or potentially even top-three prospect for the 2018 draft.
In saying that, Safin is only 18 years old and he could very well look like a fish out of water in Penticton this weekend as so many freshly-drafted prospects often do at the Young Stars. He's a project, but the Oilers will be excited to see what Safin's capable of in his debut on this stage.
8) Kirill Maksimov — RW, Edmonton
Ditto here, with Maksimov in much the same boat as Safin — also making his maiden voyage at the Young Stars as another good-sized and skilled winger who only turned 18 in June. They are cut from a similar cloth in terms of skill-set too, and the Oilers are obviously hoping to hit on at least one, if not both — selecting Safin in the fourth round of this year's draft (115th) and Maksimov with their next pick in the fifth round (146th).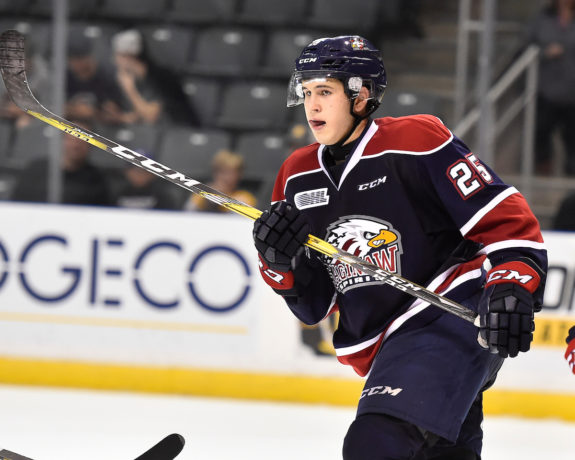 Maksimov is of Russian descent and represents that country internationally but was raised in the Toronto area, and seemed to hit his stride midway through his draft year after being traded from Saginaw to Niagara in the OHL — scoring 15 goals (22 points) in his final 29 regular-season games last season. Maksimov was also a goal-a-game scorer in the playoffs — with four in four — and he'll be relied on to continue sniping in Niagara this fall. First, he'll try to find the back of the net in Penticton and make another positive impression on Edmonton's brass.
9) Michael DiPietro — G, Vancouver
If the Canucks are good at drafting one thing, it's goalies, and DiPietro could prove to be another steal as a third-round pick this year — the third netminder taken in 2017. He'll be overshadowed at the Young Stars by teammate Thatcher Demko — one of Vancouver's top prospects — but DiPietro deserves his share of the spotlight too. He did, after all, backstop OHL Windsor to a Memorial Cup championship on home ice this spring, defeating the high-powered Erie Otters in that tournament final.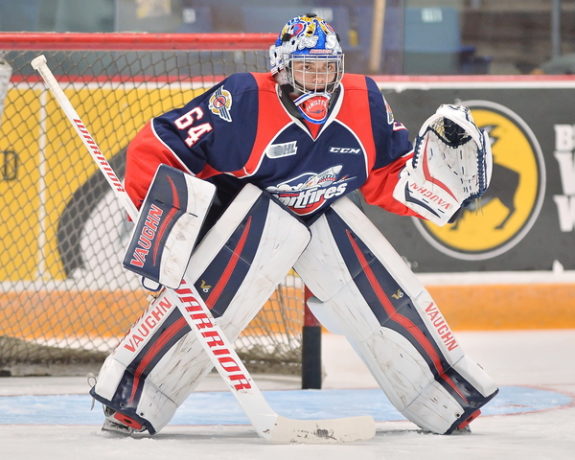 If DiPietro was a couple inches taller, he might have been the first goaltender selected in June's draft — potentially a first-rounder like 6-foot-4 Jake Oettinger — but DiPietro, at an even six-feet tall, is considered "undersized" by today's standards. For what it's worth, Demko is also 6-4. But what DiPietro lacks in height, he makes up for in athleticism and determination, which he'll try to display in Penticton.
10) Joseph Gambardella — C, Edmonton
Last but not necessarily least, let's go with one more college free-agent signing. Gambardella could be this year's Caggiula, at least at the Young Stars — especially since he seemed to click with Kailer Yamamoto at Edmonton's development camp in July. They could form a dynamic duo in Penticton, similar to Caggiula and Jesse Puljujarvi's instant chemistry at last year's tournament.
Gambardella wasn't as high-profile of an addition as Caggiula was last summer, and he's not expected to stick with the Oilers out of training camp. However, Gambardella did produce 52 points (18 goals) in 41 games during his fourth and final NCAA season with UMass Lowell (University of Massachusetts Lowell). He's also turning 24 in December, so Gambardella could be one of the more dominant forwards at the Young Stars. The real test for him will come back in Edmonton, starting next weekend, but Gambardella is most likely destined for AHL Bakersfield to start his pro career.
---
Honourable Mentions
Adam Ruzicka — C, Calgary
D'Artagnan Joly — RW, Calgary
Dmitri Samorukov — D, Edmonton
Kole Lind — RW, Vancouver
Jonah Gadjovich — LW, Vancouver
Griffen Molino — F, Vancouver
Those six, with the first five being 2017 draft picks and Molino another NCAA alum, should also be intriguing to watch throughout this year's Young Stars Classic. Of course, there could always be other prospects — including some auditioning on free-agent tryouts — who come out of nowhere to steal the show. That's what makes these tournaments so much fun for fans, media and even team personnel as the puck drops on a new hockey season. Let the games begin!
Larry Fisher is a senior writer and head scout for The Hockey Writers, having been an at-large contributor for THW since August 2014. Fisher covers both the NHL and the WHL, specializing in prospects and NHL draft content, including his annual mock drafts that date back to 2012. Fisher has also been a beat writer for the WHL's Kelowna Rockets since 2008, formerly working as a sports reporter/editor for The Daily Courier in Kelowna, British Columbia, Canada from 2008-2019. Follow him on Twitter: @LarryFisher_KDC.