---
Hockey is back! Hallelujah!
Rookie camps are beginning and some of the NHL's top prospects will be participating in showcase tournaments starting this weekend.
That includes the Young Stars Classic, hosted by the Vancouver Canucks in Penticton, British Columbia. The four-team tournament also features the other Western Canadian clubs in the Calgary Flames, Edmonton Oilers and Winnipeg Jets. This is the seventh edition, dating back to 2010 when the Oilers iced a lineup highlighted by Taylor Hall — their first of four first overall picks between 2010 and 2015. Nail Yakupov was the only one of those four not to play in the Young Stars since the 2012 tournament was cancelled due to the lockout. Ryan Nugent-Hopkins (2011) and Connor McDavid (2015) also wore Edmonton colours in a game for the first time in Penticton.
This year's tournament lacks that kind of star power, partly because those Canadian clubs are improving in the standings and thus picking lower in the entry draft, but also because some teams aren't sending their best talents this time around.
The Oilers are leaving Jesse Puljujarvi back in Edmonton for the start of main camp next week, though the fourth overall pick from 2016 already dominated at last year's Young Stars. After splitting his rookie season between the NHL and AHL, with limited offensive success at the highest level, Puljujarvi was still eligible to return to Penticton. Edmonton will also be without Tyler Benson (again), as the second pick of last year's second round is still recovering from the sports hernia injury that ended his draft plus-one season in January.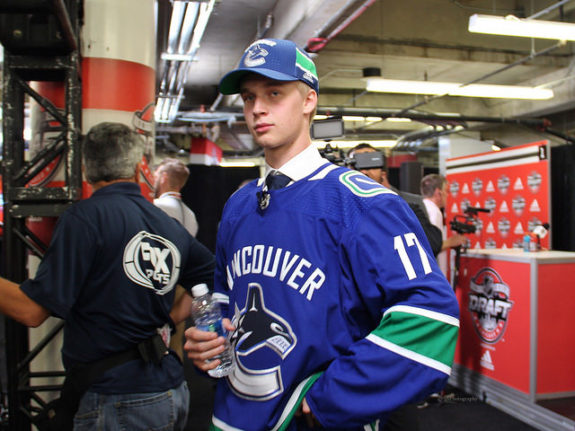 The host Canucks are in the same boat without two of their top forward prospects in Elias Pettersson, this year's fifth overall pick whose season has already started in Sweden, and his running mate there from last season, Jonathan Dahlen, who was acquired from Ottawa at the trade deadline (for Alex Burrows) and was planning to make his Vancouver debut in Penticton but was recently ruled out after being diagnosed with mononucleosis.
The Jets weren't able to bring Patrik Laine, last year's second overall pick, to the 2016 tournament since he was busy playing for Finland at the World Cup, and Winnipeg decided against bringing back Kyle Connor and Jack Roslovic for a second Young Stars. Strange, in a sense, but those two are in a similar position to Puljujarvi as NHL roster contenders and perhaps Kevin Cheveldayoff feels the pair of 2015 first-round picks and former NCAA standouts have nothing to prove at a prospects tournament.
For whatever reason, and more than one reason, Winnipeg is sending its "B" team — also without this year's first-round pick Kristian Vesalainen (already playing in Finland), second-year pro Brendan Lemieux (ended last season with an injury and may still be hurt), college prospects like Erik Foley, Dylan Samberg and Johnathan Kovacevic (all ineligible due to NCAA rules), plus Chase De Leo and goaltender Eric Comrie (both surpassed the 100-game limit of pro experience). Still, Connor, Roslovic and Lemieux, if healthy, could have been bound for Penticton again.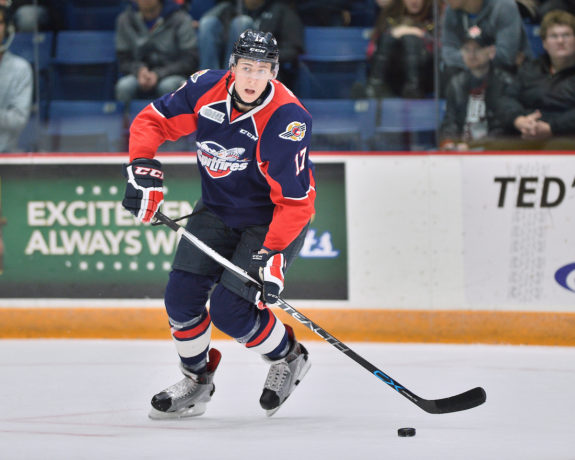 Instead, the only first-round pick on Winnipeg's roster this year will be big defenceman Logan Stanley (18th in 2016), but he was drafted more for his size than his skill and his stats don't necessarily scream top prospect. So, apologies in advance to Jets' fans, for the glaring absence of Winnipeg prospects on this particular list.
Without further ado, here are 10 top prospects to watch at the 2017 Young Stars Classic:
1) Olli Juolevi — D, Vancouver
With Pettersson preoccupied in Sweden, that leaves Finnish defenceman Juolevi with the distinction of being the highest-drafted prospect at this year's Young Stars — the fifth overall selection from 2016. Juolevi is coming off a somewhat underwhelming draft plus-one season, which saw his stat-line essentially flat line with the OHL's London Knights — he matched his 42-point total from his draft year, scoring one more goal (10) in one more game (58) — while captaining Finland to a disappointing ninth-place finish at the world-junior tournament. Juolevi will, apparently, be handing that "C" over to another prospect on this list despite the likelihood of returning for his third WJC in 2018.
Interesting note from @benkuzma on @OilersNow today saying he can see Olli Juolevi playing this season w/ Turku where Sami Salo is coaching.

— Aaron Schmidtke (@aaronschmidtke) September 7, 2017
In a re-draft, Vancouver might be more inclined to pick a half-dozen other prospects over Juolevi, including his former London teammate Matthew Tkachuk and the likes of Jakob Chychrun, Clayton Keller, Mikhail Sergachev and Charlie McAvoy, or even somebody like Tyson Jost or Alexander Nylander.
So Juolevi has a lot to prove this season in helping Jim Benning justify that pick, and it all starts in Penticton.
2) Brock Boeser — RW, Vancouver
To the contrary, Boeser is trending nicely — he's considered a strong candidate to crack the Canucks' roster after scoring four goals in a nine-game audition to end last season — and he would likely go quite a bit higher in a re-draft from 2015. Boeser was the 23rd overall pick, but most GMs would take him over Jake DeBrusk (14th), Zach Senyshyn (15th), Denis Gurianov (12th), Jakub Zboril (13th), Lawson Crouse (11th) and Evgeny Svechnikov (19th) as of today. Possibly even a few more, and perhaps bumping Boeser up into that 12-15 range.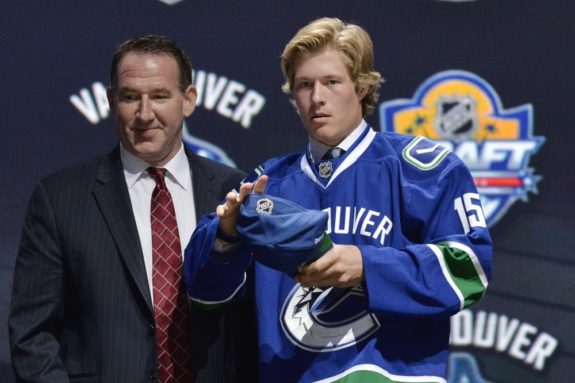 Vancouver's last-minute signing of Thomas Vanek means Boeser won't be gift-wrapped a top-six spot this season and he might even start the campaign with AHL Utica, but the future is bright for this sniper. Truth be told, Boeser can probably learn a thing or two from Vanek.
3) Kailer Yamamoto — RW, Edmonton
Arguably a top-10 talent in this year's draft class, certainly in terms of offensive skill, Yamamoto fell into Edmonton's lap at 22nd overall because he's small — listed at 5-foot-8 and 153 pounds. Yet, Yamamoto won't be the smallest prospect in Penticton — that honour will go to Calgary's Matthew Phillips for the second year in a row (5-7, 155).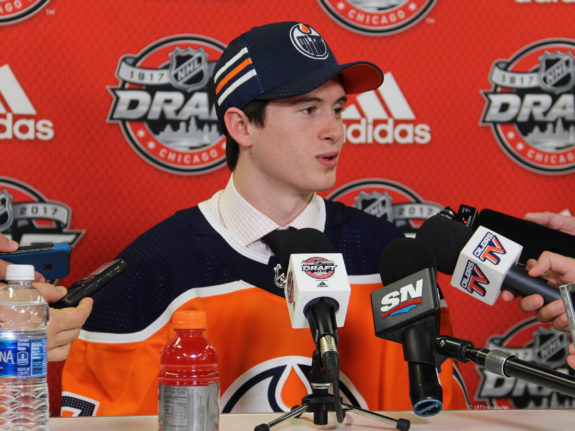 The Oilers are hoping Yamamoto can develop into their version of Johnny Gaudreau (5-9, 157) and perhaps be flanking McDavid or Leon Draisaitl as early as next season, if not this fall. Yamamoto is a long-shot to stick with Edmonton, but he should stick out in Penticton for more than just his slight stature. And assuming he's sent back to WHL Spokane, Yamamoto should be among the leading scorers in Canadian junior hockey this season and also be a standout for the defending gold medal-champion Americans at the world juniors.
4) Juuso Valimaki — D, Calgary
The highest pick from this year's draft (16th) on display at the Young Stars, Valimaki is more of a project and won't be rushed to the NHL by Calgary. The Flames can take their time with this good-sized Finn since their NHL blue-line is already loaded and their prospect pipeline is producing a steady stream of talent too. That includes a couple Swedes, Rasmus Andersson and Oliver Kylington, and a surging American in Adam Fox. Andersson will also be at the Young Stars and probably should be on this list, while the other two are ineligible — Kylington for games played and Fox being an NCAA product.
Juuso Valimaki has been named captain of the 🇫🇮 #WJC squad! https://t.co/5VtMQBkrit

— Calgary Flames (@NHLFlames) August 5, 2017
With Mark Giordano, Dougie Hamilton, T.J. Brodie, Travis Hamonic and Michael Stone locked into the top-five spots on the NHL roster, Valimaki's stay at training camp could prove shorter than most of his draft peers. It's unlikely he'll get into any regular-season games and may not even play much in the preseason since the likes of Brett Kulak, Matt Bartkowski, Tyler Wotherspoon, NCAA signing Josh Healey, Andersson and Kylington are all seemingly ahead of Valimaki on the depth chart in competition for that sixth spot.
Valimaki will most likely be returning to the WHL for a third season with Tri-City — he nearly doubled his point total there last season, going from 32 to 61 (seven goals to 19) — but the Young Stars is going to be Valimaki's chance to shine in his first professional experience.
5) Mark Jankowski — C, Calgary
While Valimaki will be among the youngest prospects at this year's Young Stars — turning 19 in October, a week after Yamamoto's 19th birthday (Sept. 29-Oct. 6) — Jankowski will be among the oldest, turning 23 next week before Calgary's training camp commences. Considering that age discrepancy, Jankowski should be a man amongst boys in this tournament.
A late-bloomer who has been developing slowly but steadily – drafted 21st overall by Calgary way back in 2012 — Jankowski is coming on strong now and the Flames are said to be high on his chances of cracking their opening-night lineup. For that to come to fruition, obviously Jankowski will need to be productive in the preseason but especially at the Young Stars. Jankowski should be striving to be the best player on the ice every time he suits up in Penticton.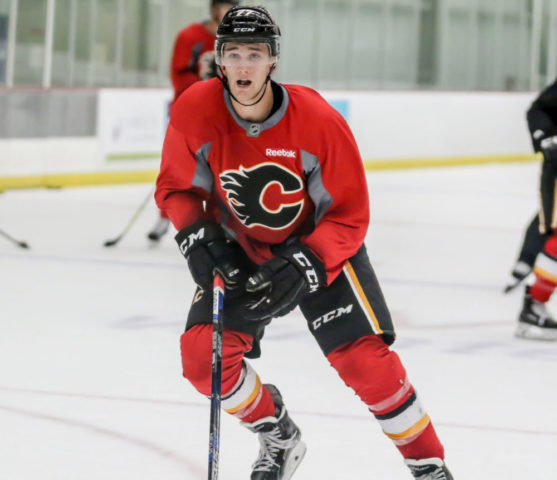 In all honesty, Jankowski probably shouldn't be in Penticton. With Puljujarvi, Connor and Roslovic skipping the Young Stars, Jankowski doesn't need to be there either. Statistically, those four are coming off comparable campaigns, with similar numbers at the professional level. Starting with Jankowski, he racked up 56 points in 64 AHL games, with 27 goals. Connor scored 25 goals and finished with 44 points in 52 AHL games (prorated to 31 goals and 54 points in 64 games). Roslovic was more of a playmaker than a goal-scorer, with 48 points in 65 AHL games (including 13 goals). Puljujarvi had a smaller sample size since he spent the most time in the NHL, with 28 points in 39 AHL games (12 goals), which prorates to 46 points over 64 games (20 goals). In terms of total games at the professional level, Jankowski has played 73, Connor 72, Puljujarvi 67 and Roslovic 66. And remember, Jankowski is turning 23 next week while Connor and Roslovic are both 20 and Puljujarvi only turned 19 in May. So, yes, Jankowski is still eligible for this tournament, but fans of the three opposing teams could argue that he has no business being in Penticton.
6) Ethan Bear — D, Edmonton
The reigning WHL defenceman of the year is turning pro this season and will be ticketed for AHL Bakersfield. Bear and fellow graduating WHL defender Caleb Jones — his potential partner on Edmonton's farm team — have displayed plenty of promise for the Oilers as potential steals in the fifth and four rounds of the 2015 draft, respectively.
Bear fits a potential need for the Oilers' future in the form of a power-play quarterback. Expect to see him playing that role for the rookie squad in Penticton after racking up 70 points in 67 regular-season games (28 goals), plus 26 points in 17 post-season games (six goals) for WHL Seattle despite suffering a broken hand in this year's playoffs.
Jones may be the better all-around blueliner between them, a better skater for certain, but he probably doesn't have as much pure offensive upside. By comparison, Jones put up 62 points in 63 regular-season games (nine goals), then 10 points in 11 post-season games (two) for WHL Portland.
Both 20 and born only a few weeks apart (both in June), Bear and Jones were on rival teams last season and will eventually be competing against each other for NHL opportunities, but they should be fun to watch as teammates, if not partners, at the Young Stars.
7) Thatcher Demko — G, Vancouver
Often called the second-coming of Cory Schneider — both are Boston College alums, with similar numbers and career paths — Demko should take over the Canucks' crease in time and should be the top goaltender at this tournament. He'll be 22 in December, so Demko could be close to NHL-ready despite only having one professional season under his belt with AHL Utica.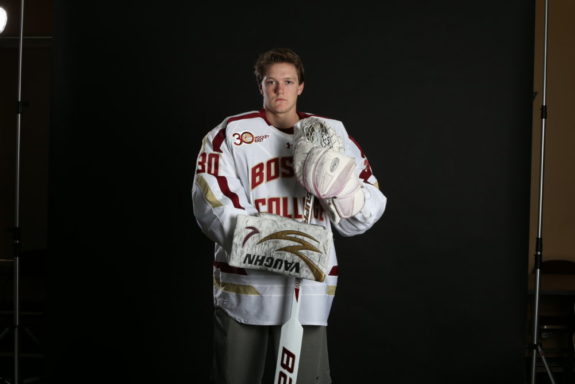 If Jacob Markstrom and/or Anders Nilsson struggle or get hurt this season, Demko could steal the spotlight in Vancouver. For now, he'll have to settle for the spotlight in Penticton. And he'll probably have to tolerate a question or two about Schneider as well, since they even share a striking resemblance in terms of physical appearance, size and playing style. This cloning of sorts is good news for the Canucks, as long as they don't let Demko get away.
8) Tyler Parsons — G, Calgary
Don't tell Parsons, or Edmonton's Dylan Wells, that Demko is the No. 1 goalie at this year's Young Stars. Parsons backstopped Team USA to world-junior gold in a shootout victory over Canada in January and also backstopped OHL London to a Memorial Cup championship two seasons ago. As far as accomplishments go, Parsons might actually be No. 1, though Demko earned his share of NCAA accolades too.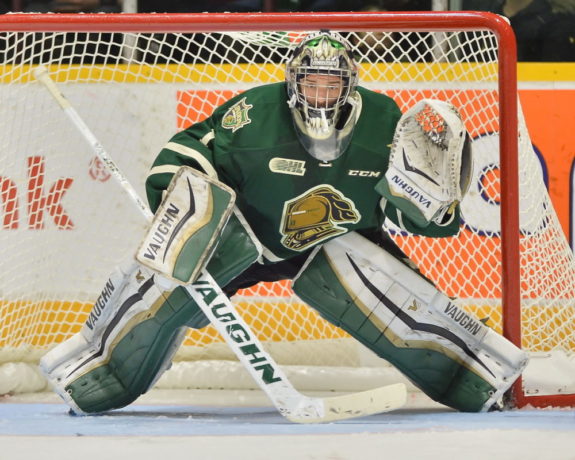 Parsons is only turning 20 this month and his landing spot for this season is still a bit up in the air. The Flames are almost as deep in goal as they are on the blue line — NHL depth notwithstanding, with Mike Smith and Eddie Lack serving as placeholders for the future. Parsons is good enough to play in the AHL as a rookie pro, but Calgary already has 23-year-old Jon Gillies, another top prospect from the NCAA, and David Rittich, a 25-year-old Czech entering his second season in North America, destined for the Stockton Heat. It's an embarrassment of riches between the pipes, with the possibility that Parsons will end up splitting time in the ECHL with fellow second-round pick Mason McDonald, a 21-year-old QMJHL grad who made his pro debut at that level last season.
That would be quite the tandem for the Kansas City Mavericks, and their internal competition will start in Penticton. Parsons could also be returned to junior for a fourth season with London, as an over-ager, but he's probably too good for the OHL at this point and ready for a new challenge. First things first, do his best to outshine McDonald, Demko, Wells and all the others at the Young Stars.
9) Dillon Dube — C, Calgary
These last two spots are definitely debatable. Some will argue Spencer Foo belongs on this list over Dube as a top prospect for the Flames, but I find Foo more intriguing right now. Spoiler, that's a separate list. A case could be made for Andersson over Dube as well — again, Andersson is deserving of being on this list — but Dube has elevated his game to the status of a top prospect with his showing for Canada at the world juniors and his performance for Kelowna in the WHL playoffs.
Projected as a potential first-round pick in last year's NHL draft, Dube dropped to the end of the second round before getting selected 56th overall by his hometown Flames. That fueled his fire and Dube overcame an early-season injury to beat out higher-profile Kelowna teammate Nick Merkley (a first-rounder from 2015) for a spot on Canada's roster, then demonstrated an ability to play a 200-foot game during that under-20 tournament. Dube returned to Kelowna and dominated at times in the second half of the season, especially in a first-round playoff series win over rival Kamloops that saw Dube stand out as the best player on the ice.
Word is, Dube tweaked an injury at Canada's summer showcase last month, so he may not be 100 per cent healthy at the Young Stars, but assuming he suits up for the Flames in Penticton, Dube should be able to make more of an offensive impact than he did as a debutant at last year's tournament. He'll be a more confident player with and without the puck this time around, with the lofty goal of sticking in Calgary for at least a nine-game audition to start the regular season. For that to become a reality, Dube would have to really light it up in Penticton and carry that success over to the preseason.
Realistically, Dube should be back in Kelowna, where he'll be counted on as an offensive catalyst — expected to rank among the WHL's leading scorers — while also representing Canada again at the 2018 world juniors in Buffalo.
10) Ziyat Paigin — D, Edmonton
This spot probably coulda (shoulda?) went to Winnipeg's Stanley — considering he is a first-rounder and Paigin is a seventh-rounder — but the almost-as-big Russian is a better skater with a harder shot and should be more pro ready with three KHL seasons already under his belt. Paigin is 22 years old and, as mentioned with Jankowski, those age and experience advantages should help him stand out at the Young Stars — perhaps outperforming Bear and/or Jones among Edmonton's defenders.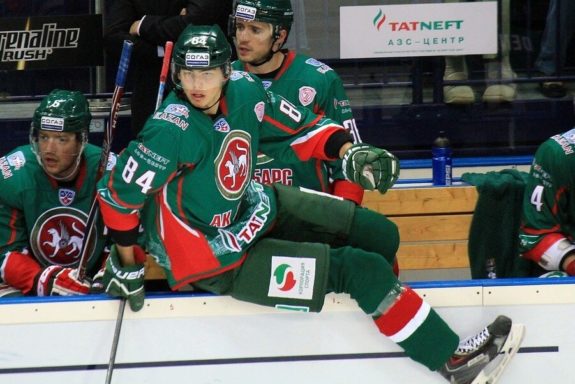 In saying that, Andersson also deserves an honourable mention — as much or more so than Stanley — and could emerge as the best blueliner at this year's tournament. Paigin could have been a good fit on the list of intriguing prospects too, along with Foo, but blame my occasional Oilers' bias for going with Paigin here. Let it be known, though, that Paigin is a top prospect and he could become a household name in North America by season's end. He might end up spending as much time in Edmonton as he does in Bakersfield, especially if the Oilers don't end up signing Cody Franson to round out their NHL defence in the coming days.
Larry Fisher is a senior writer and head scout for The Hockey Writers, having been an at-large contributor for THW since August 2014. Fisher covers both the NHL and the WHL, specializing in prospects and NHL draft content, including his annual mock drafts that date back to 2012. Fisher has also been a beat writer for the WHL's Kelowna Rockets since 2008, formerly working as a sports reporter/editor for The Daily Courier in Kelowna, British Columbia, Canada from 2008-2019. Follow him on Twitter: @LarryFisher_KDC.