The Calgary Flames and forward Sam Bennett have agreed to terms on a 2-year deal worth $3.9 million, the team announced Wednesday. Bennett was among nine restricted free agents still looking for a new deal heading into the 2017-18 season prior to inking this extension – a deal that will pay him $1.95 million in each of the next two seasons. This deal comes after Darren Dreger reported Bennett could hold out and play overseas just one day prior to the extension due to a gap in contract talks.
.@CortexBusiness Transaction Alert: The #Flames have signed Sam Bennett to a two-year deal! Details ~ https://t.co/LCHYXMlVbc pic.twitter.com/m7lhvvRhQK

— Calgary Flames (@NHLFlames) September 6, 2017
The 21-year-old Bennett was selected fourth overall in the 2014 NHL Entry Draft after Aaron Ekblad, Sam Reinhart and Leon Draisaitl. While both Ekblad and Draisaitl have already signed huge eight-year extensions with their respective teams (and Reinhart still has one year remaining on his entry-level deal), Bennett hasn't yet lived up to the expectations of a top-five pick. Still, Bennett will be 21 years old for the entirety of the 2017-18 season and he'll have a chance to finally catch his stride with the Flames on this current bridge deal. Especially with the team planning on using him at center to start training camp.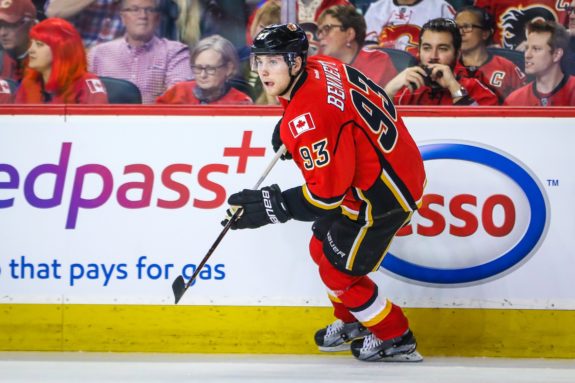 In his first taste of NHL action, Bennett played in one regular season game with the Flames at the end of the 2014-15 season and notched an assist before scoring three goals and four points in 11 postseason contests. In his first full year with the Flames in 2015-16, Bennett scored 18 goals and 36 points in 77 games and showed some of the ability that led to him being taken so high in the 2014 Draft. Unfortunately, the Holland Landing, Ontario-native wasn't able to follow up on his rookie season as he scored only 13 goals and 26 points in 81 games in 2016-17. It wasn't the production that anyone was hoping for, but that doesn't mean that Bennett can't find his groove in the near future with the Flames.
Bennett Needs to Do More to Justify a Big Contract Extension
While every young player would love to sign a huge extension at 21 years old that could allow them to sign another big deal after, that isn't always the way things work out. Bennett has all the talent in the world and could become a star in the NHL, but the Flames are going to need their young forward to prove that before they commit in dollar value and in years. Fortunately for Bennett and the city of Calgary, however, the two sides were able to agree on a bridge-deal that would let the former lottery-pick prove he can develop into a top-tier player.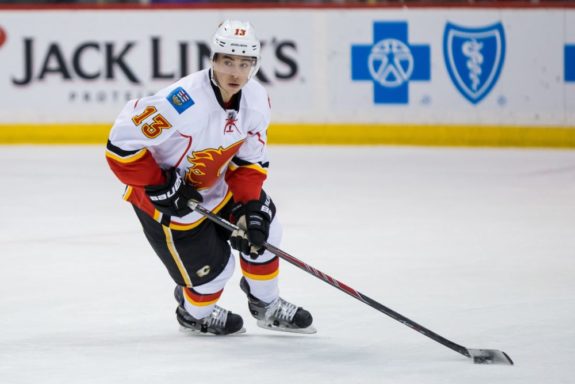 The Flames are putting together one of the best young teams in the NHL with the likes of Sean Monahan, Johnny Gaudreau and Matthew Tkachuk (among others) at forward, as well as Dougie Hamilton, T.J. Brodie and newly-acquired blueliner Travis Hamonic on defense – and that doesn't even mention the veterans on the team like captain Mark Giordano. If Bennett can join the likes of his fellow teammates and become a real force in the NHL, the Flames could make a push for the second round of the playoffs next season – something they failed to do after losing in four games to the Anaheim Ducks in 2017. Bennett did score two goals in four games against the Ducks, for what it's worth, however, and he could look to build on that as he aims to rebound from his 2016-17 regular season.
Brandon Share-Cohen has covered the NHL and various professional sports for six years. Working with The Hockey Writers, Brandon works extensively on covering the Boston Bruins in addition to his role as the News Team Lead.