Welcome to mid-August – the dogs days of summer. With the free agent frenzy gone and training camp still weeks away, it's a dull time in the world of hockey. And, without NHLers headed to the Olympics in February, we don't even have the luxury of arguing over which superstars have earned the right to don their nation's colors next year.
So, any speculation to pass the time must be pointed towards the approaching NHL season. Today we'll take a look at Brad Marchand, who, following a pair of breakout seasons for the Bruins, could be one of the most watched players in the Eastern Conference next season.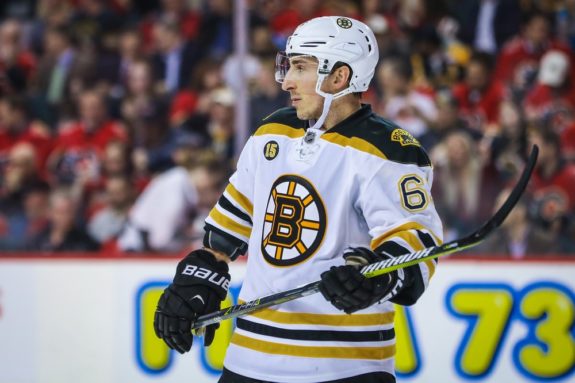 Last season, Marchand missed the 40-goal mark by one goal but remained one of the NHL's deadliest scorers with 85 points. Will the Little Ball of Hate hit the mark next season? Besides offensive production, what else does Marchand have to offer the Bruins? Let's take a look.
Marchand's Scoring Breakout
Heading into last season, all eyes were on Marchand, who was coming off of the strongest campaign of his career in 2015-16. That season, Marchand surpassed the 60-point plateau for the first time, notching 61 points in 77 regular season games.
With the spotlight on him, the left winger lived up to the hype (and then some) last season, scoring 39 goals while adding 46 assists for 85 points in 80 games, pushing him above the point-per-game mark for the first time.
Marchand's offensive success last season can be attributed to a number of things, but one number that particularly stands out is his shooting percentage. Two seasons ago, Marchand scored on 14.8% of his shots, good enough for 39th in the league. Last season, #63 brought his shooting percentage up to 17.3%, which tied him with Sidney Crosby and Evgeni Malkin for 10th best in the league.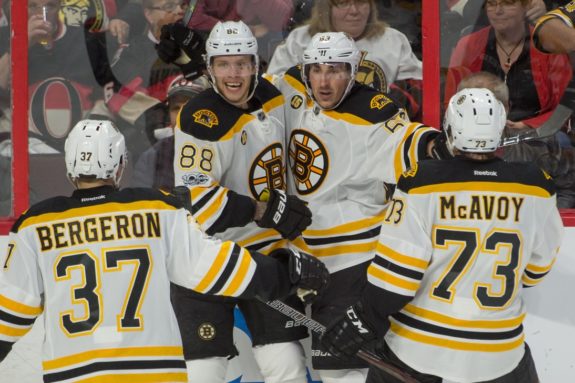 What's more surprising, however, was his uptick in assists last season. The 29-year-old nearly doubled his assist total from the year prior last season, tallying 46 assists (as compared to the 24 from 2015-16). The most impressive part of this increase is that last year was a quieter year for Marchand's partner in crime, Patrice Bergeron. Marchand's trusty center got off to a very slow start last season, and, despite finding his game, finished the season with 21 goals – 11 fewer than the past season. Yet, Marchand still managed to boost his assist total dramatically.
Of course, Marchand can thank David Pastrnak (who, I might add, has yet to ink a new deal with the Bruins) for many of those assists. Pastrnak had a breakout season of his own last year, making up for Bergeron's slow start.
Next Season's Production
So, how will these numbers translate into next season?
Well, things look good for the Canadian winger heading into next season. For one, Marchand has established himself as an elite scorer. His talent alone will be enough to make him one of the league' deadliest top-line wingers.
On top of that, though, Marchand will have an entire season with Bruins head coach Bruce Cassidy's system, which was noticeably more aggressive than ex-head coach Claude Julien's. If next season's style looks anything like we saw from Cassidy last season, then the Bruins will be a more offensively-minded team than in year's past, which should be good news for the winger.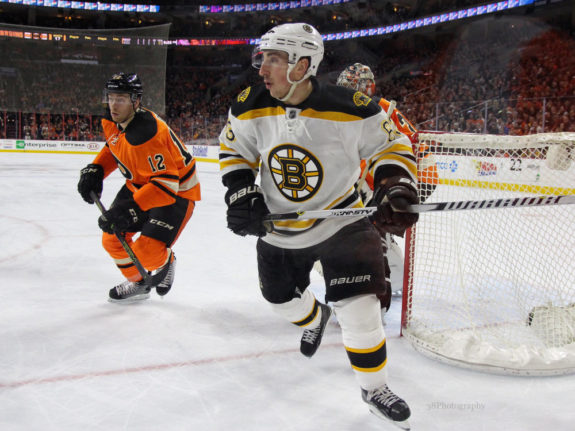 And, if Cassidy decides he'd like to keep Pastrnak on the opposite wing, then Marchand will have another dangerous scorer coming off of a breakout season to work with.
For these reasons, I expect Marchand to flirt with the 40-goal mark next season. And, if Pastrnak produces at a similar rate as last season, and Bergeron finds a bit more consistency in his production, it wouldn't be outrageous to think Marchand could land in the upper 80's as far as point go.
Leadership
Of course, hockey is about more than scoring goals. In the past, Marchand has made it clear that he wants to be a leader in the Bruins dressing room. He can do that a number of ways.
For one, Marchand can continue to improve his defensive game, which has gotten noticeably better over the past few seasons.
With one of the greatest defensive forwards in NHL history alongside him, you'd hope Marchand could mold himself into a top-tier two-way forward, and he's been doing just that. In fact, last season, Marchand finished 12th in Selke Trophy voting (given to the league's top defensive forward). If Marchand wants to lead, he needs to continue playing a big role on both ends of the ice.
Finally, we must address the elephant in the room: discipline. Over the course of Marchand's career, the winger has had issues playing clean hockey. The constant chip on his shoulder is part of what makes him a great player, but he's had trouble remaining on the correct side of the line in the past. In fact, his suspension at the end of last season is probably what kept him from reaching 40 goals.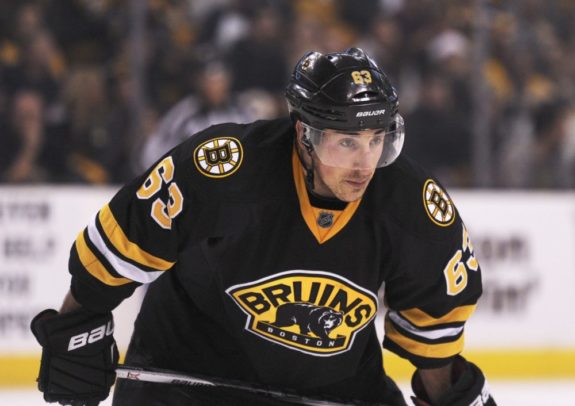 Here it is, plain and clear: Marchand needs to move past the dirty play. Especially with his production now, Marchand is too valuable to the Bruins to be missing games for undisciplined play.
The good news is that Marchand's penalty numbers have been on the decline. Despite logging a considerably larger amount of ice time in each of the past three seasons, Marchand's penalty numbers have decreased (95 PIMs in 2014-15, 90 in 2015-16, 81 in 2016-17). The Bruins need Marchand on the ice as much as possible. And, as a member of Boston's penalty-killing unit, losing him to the sin bin does extra damage.
But, until Marchand can prove he's past his antics, it'll be tough to consider him a true leader, despite what his stats might say.
All in all, though, Marchand is in the position to become a leader for the Bruins. If he can keep his cool on the ice, and continue to produce at an elite level, then Marchand could finally fill the shoes that have been waiting for him.
Cam is a Broadcast Journalism student at the University of Maryland. He's the Boston Bruins Beat Writer at The Hockey Writers, and is an avid college hockey fan. Find him on Twitter @CamHasbrouck!