It's been over a month since negotiations began and the Boston Bruins have yet to sign David Pastrnak to a contract. The 21-year-old is fresh off his first full NHL season, and it sure was an impressive one.
Pastrnak's 2016-17 campaign featured 34 goals and 70 points in 75 regular season appearances. He topped off the year with two goals and two assists through six games against the Ottawa Senators in the playoffs.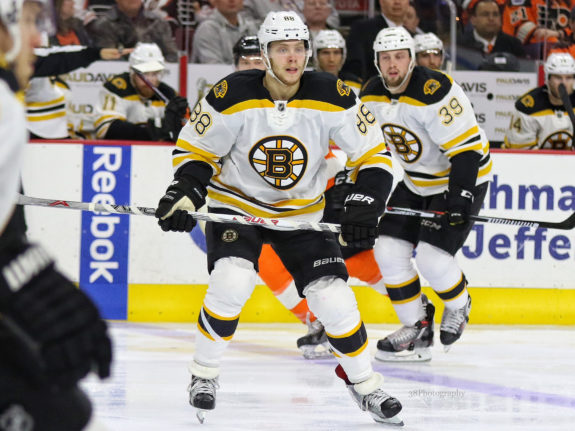 No. 88 has a knack for creating offense, registering 262 shots on goal last year alone. He is a gifted skater who is a saint in the neutral zone and sniffs out open ice between the hash marks. His active stick ensures that he won't be a liability defensively, enabling him to grace the ice for the opening face-off night after night.
All of this adds up to a big payday for Boston's most promising forward. While many believe his contract will total around $36-million over six years, the details of that deal are likely the reason for the hold-up. With lockouts so plentiful in the NHL, players and their representation are all about the details. They want to ensure that they can get as much money guaranteed to them as possible.
Another reason could be that both parties have yet to agree on a number. While GM Don Sweeney would obviously like to get Pastrnak for as cheap as possible, the Czech-native could believe himself to be worth more than $6-million per year.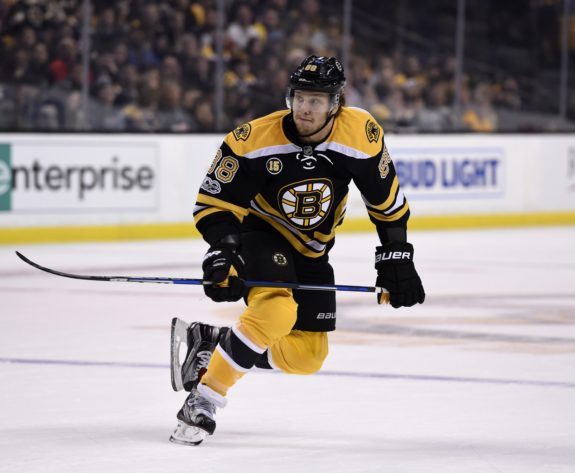 The forward could also be looking for a shorter contract. While $6-million a year would be fair after one strong showing, Pastrnak will likely be worth more than that in just a handful of seasons. He may be looking for something closer to $7-million per year if he is going to be locked up for six or more years.
Regardless, the delay in Pastrnak's re-signing is hampering the Bruins roster. Sweeney needs to make sure he signs No. 88 before he can bring in other pieces, especially if those pieces come with hefty price tags.
Forward Needs
What could the Bruins be looking to add? For starters, there seems to be a gaping hole on David Krejci's wing. Fans in Boston are excited to see rookies make their debut this season, but it is unlikely that any of them will be top-six forwards just yet.
With that in mind, the Bruins should look for a veteran that has another year or two in the tank. One that can mentor the products of Providence who doesn't lack a scoring touch. This would allow Krejci can do what Krejci does: rack up the assists.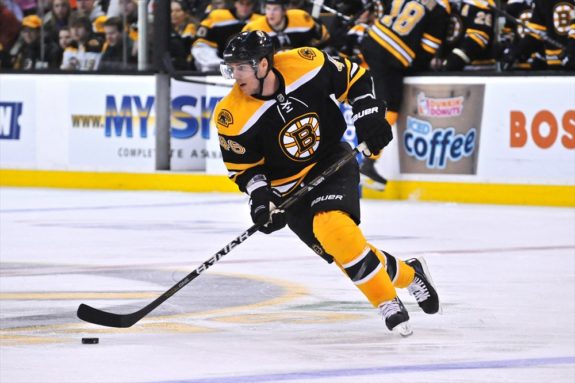 Sweeney could have made a splash in free agency for such a player if Pastrnak was under contract. Since he is not, the Bruins don't know just how much cap space they have to work with. Guys like Jarome Iginla, Jaromir Jagr, and Thomas Vanek should remain on Sweeney's radar if Pastrnak is reeled in soon.
There is also the option of bringing in a gifted goal scorer via trade. With players like Ryan Spooner and Frank Vatrano's futures in Boston unclear, they could be included in a package to land a top-six forward. However, the salary cap remains difficult to manage without one of your team's best players on the roster.
Sweeney could also look to add a fourth-line forward. While there is plenty of talent brewing in Providence, it is unclear just how many players will see time in Boston this year. The Bruins could be in need of a grinder to round out the roster.
There is also the possibility of a player like Drew Stafford being re-signed. He definitely did not disappoint after being acquired by Boston at the end of last season and could return to the team in a bottom-six role.
Tuukka's Backup
Another hole in Boston's roster is in the backup goalie position. Anton Khudobin took on the role last year with a record of 7-6-1 across 16 appearances. He finished the season with a save percentage of .904 and a goals-against average of 2.64.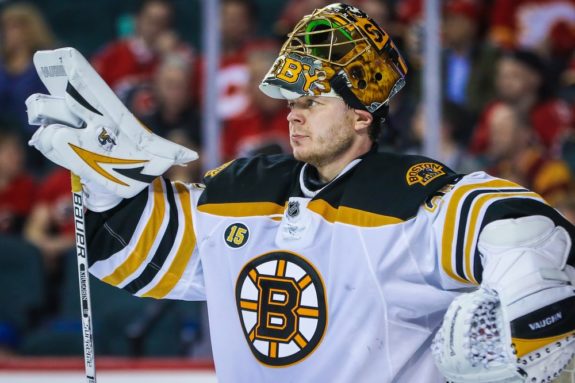 Providence goaltenders Zane McIntyre and Malcolm Subban will be fighting for a chance to fill the void. It is more likely than not, however, that neither of them will be able to take on the challenge.
McIntyre appeared in just eight games last year, achieving a record of 0-4-1. He managed to give up 22 goals during that time. He looks to improve upon a save percentage of .858 and a goals-against average of 3.96 during his next call-up.
Meanwhile, Subban has appeared in just two NHL games throughout his career, making just 16 saves on 22 shots. A goals-against average of 5.81 is not going to meet the criteria of a backup goalie.
Neither goaltender seems to fit the bill, so free agency or trade may be the route Sweeney is forced to go to find a suitor.
In any case, the first item on the docket is nailing down Pastrnak. Boston's agenda this season is less of a checklist and more of a step-by-step guide to glory. Once Pastrnak's contract is fleshed out, Sweeney can look to improve other portions of the roster.
I cover the Boston Bruins and NCAA Hockey here at The Hockey Writers. Born and raised 10 miles north of Boston, I developed a love for the game of ice hockey at a very young age. There's really nothing better than this sport, though steak is a close second.