It is a Wednesday night as folks in Buffalo make their commute home. The Isobel Cup champions, the Buffalo Beauts, are giving a public showing of their trophy to the community and have set up shop in a Dunkin Donuts on the northernmost reaches of the city. It is slated to be a 2-hour showing for a meet and greet with some of the players and a chance for fans to say "hello" to Isobel. I grab a decaf coffee, find a seat in a corner and begin to observe.
Six of the Beauts are seated at a table in the center of the restaurant with Isobel and some nifty handouts that include autographed photos of the team's on-ice celebration after they won the championship, Dunkin Donuts Frisbees and some NWHL headbands. Corinne Buie, Emily Janiga, Kelsey Neumann, Harrison Browne, Jacquie Greco and Jordyn Burns, along with Krusher the Beauts' mascot are all there to greet the fans. Smiles on their faces, looking sharp in their jerseys. They take the time to greet each individual who comes through the autograph line. Each player is gracious and upbeat; proud to have brought the Cup home to Buffalo. It is said sometimes that in great moments there is a visible glow on the faces of those partaking. That radiance is apparent on these players from having become champions, and they are most willing to share it.
Heroes For Young Girls
I begin to notice the individuals or small groupings that have come to meet the players. Perhaps most obviously the next generation of young girls who have an interest in hockey are there. Girls anywhere from the ages of six up to fourteen. One of whom is an elite varsity high school goaltender, even though she is a seventh grader, who I recently had the privilege of interviewing. They are here for their heroes, and there is a sense that a torch is being passed. A few of the girls are even allowed to hold Isobel for a photo or raise the trophy over their heads while being flanked by the Beauts.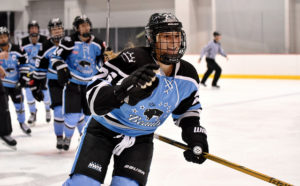 But then there are also less obvious guests who are present. Maybe these folks are not as much in awe, but they step forward to offer sincere congratulations and to express gratitude. I see senior citizens who marvel at the idea of a professional women's hockey team; some of whom never even knew of the National Women's Hockey League until they stopped to grab a coffee.
I stop to shake hands with a fellow hockey writer who has brought his young son to say hello to the team. He knows better than I do what a warm atmosphere this has become and how hard the players have worked for a moment like this.
Comprising A Community
There are a wide variety of ethnic groups and people of different races as well who have gathered in the restaurant. Isn't that what hockey is supposed to do anyway? Bring people together as such? It is nice to see that for at least two hours there are no differences – these are just hockey fans.
There are also college students who stop by. Entire families too with moms, dads, kids, grandparents. Some of the players' parents have made an appearance as well. People come and go after having taken their photos and received their autographs. This Dunkin Donuts' manager comes out to thank everyone for attending, especially the Beauts. He makes sure that everyone has received their free donut for the night, and encourages people to take extra – he has plenty.
Measuring The Immeasurable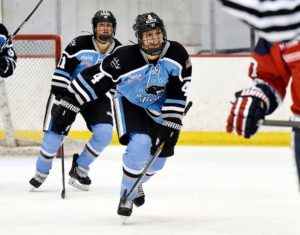 Beauts rookie forward Emily Janiga, the leading goal scorer throughout the Beauts playoff run stops over and has a seat with me. We chat about how nice this evening's gathering was, and I formally express my appreciation that she brought a championship back to our hometown (Janiga and I are both from the Buffalo region). I chat with some of the other players too as the night winds down.
Putting my jacket on and heading out the door, it dawns on me that this is the greater good that a championship team brings to any city. Save percentages, goal differentials, player heroics, game-winning goals – those are what typically get spoken about when it comes to winning teams. But the dividend of being a positive influence for a community, especially for young women who now have heroes right in their own backyard, is immeasurable. Yet somehow the Buffalo Beauts have managed to capture that which cannot be measured through their accomplishment on the ice.
In a small donut shop in Buffalo, the city's professional women's hockey team has wrapped its arms around and embraced its community.