The Kitchener Rangers are one of the OHL's most storied franchises. They play out of the old Kitchener Memorial Auditorium; a loud, old-school arena with plenty of charm and plenty of seats.
Those fans have had the chance to cheer on some greats, such as former NHL forward Derek Roy, long-time Rangers' defenceman Andre Benoit and the ever-popular forward Mike Richards.
The offence was plentiful,  but the goaltending was just as solid. Kitchener has seen some incredible goaltenders come through their system.
In this series, we have taken a look at the top three goaltenders from Windsor, Sarnia, Flint/Plymouth, Saginaw, and Sault Ste. Marie. In this latest installment, we take a look at the top three goaltenders in Kitchener Rangers history.
#3– John Gibson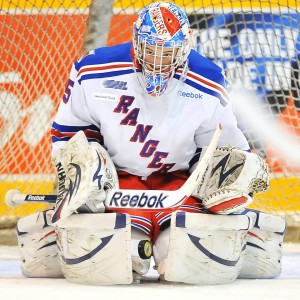 It's difficult for a goaltender to come to a new team, and a new league, and dominate.
In the 2009 OHL Draft, the Rangers selected John Gibson, but he had commitments to the US National Development Program. His numbers in 2010-11 with the USNDT were outstanding – goals-against-average of 2.38 with a save percentage of .926 in 17 games. The potential for greatness was certainly there.
Gibson was drafted in the second-round of the 2011 NHL Draft by Anaheim, who promptly signed him and sent him to Kitchener.
Coming into the OHL, all eyes were on him with the Rangers. He joined goaltender Frank Palazzese as a duo in net. In 2011-12, he had a GAA of 2.75 and save percentage of .928.
During the post-season, he was nothing short of a wall. In 16 games, he had a GAA of 2.67 and save percentage of .938. The Rangers lost to London in the OHL Western Conference finals, but he was a key reason for their success.
The 2012-13 season saw much of the same. His GAA dropped to 2.41 and his save percentage held steady.  It earned him an OHL Second-Team All-Star nod. The playoffs saw Gibson lead the Rangers into another battle with London in the semi-finals. They lost, but Gibson wasn't the reason.
Giving a top three spot to a goaltender who played in just two seasons isn't easy. However, Gibson's play more than earned him a spot. He was brilliant for the Rangers and came as advertised. Without him, it's tough to say how far they would have gone in the post-season. For these reasons, he deserves the nod as the third-best goaltender in Kitchener Rangers history.
#2 – David Belitski
Playing in hundreds of OHL games is not common, but it's special if you can do it.  David Belitski showed the Kitchener Rangers he was a rare breed; playing over 200 games as a goaltender.
He jumped into the OHL for the 1993-94 season and was thrown into the fire. Playing in 51 games, he put up a GAA of 4.29. The Rangers usually found a way to win, though, as he racked up a 25-15-3 record.
In 1994-95, the Rangers rebuilt and scored the second-fewest goals in the league (216), just ahead of London (210). Belitski's numbers stayed steady. He didn't go anywhere, though. This was his team.
The next season, Belitski hit his stride with a GAA of 3.30, 27 wins and a save percentage of .892. Kitchener dropped their GAA by an entire goal-per-game and nearly doubled their wins (18 to 35) from the previous season. In the playoffs, they defeated Barrie before losing to Detroit in the quarter-finals. Belitski was named a third-team all-star goaltender.
Finally, in 1996-97, he maintained his standards and got the Rangers into first place in the Central division with 34 wins and 78 points. The Rangers had a bye in the first round, defeated Sarnia in seven games in the quarter-finals but finally lost to Oshawa in the OHL semi-finals.
Since leaving hockey, Belitski has become a goaltending instructor in Toronto. Check out this video from his school:
Belitski took his team from the depths of the league to fighting for an OHL title, all while maintaining a level of health that's almost unheard of in the modern era. For these reasons, Belitski deserves to be named among the greats. He's our number two all-time Kitchener Rangers goaltender.
#1 – Scott Dickie
The name "Scott Dickie" has become synonymous with Kitchener Rangers hockey and for good reason. The crease at the Kitchener Memorial Auditorium belongs to him.
He came to the Rangers for the 1999-00 season and was under the tutelage of G Reg Bourcier. Dickie only saw action in 16 games, but his GAA of 3.97 and save percentage of .906 grabbed your attention.
In 2000-01, Dickie took over the net. In 60 games, he dropped his GAA to 3.18, raised his save percentage to .912 and won 24 games, too. The Rangers' offence wasn't there, though, and the team missed the post-season.
Dickie improved his totals again in 2001-02, dropping his GAA below three, maintaining a save percentage around .910 and winning 29 games. It helped Kitchener get into third place in the Midwest division. Unfortunately, they lost to Guelph in the first round.
It was just the start for the Rangers, though. In 2002-03, Dickie hit career-highs; a GAA of 2.59, save percentage of .914 and an excellent 30-7 record. The Rangers 188 goals against were second-fewest only to Plymouth (174). Their 46 wins and 100 points were good for first in the league.
In the post-season, Dickie got past Sault Ste. Marie, Guelph, Plymouth and Ottawa to win the OHL title. Dickie was lights-out in the 2003 Memorial Cup, leading goaltenders with a 2.25 GAA and save percentage of .911.  Check out this video of Dickie and the Rangers during that incredible 2002-03 season, including the Memorial Cup:
Dickie wasn't big, at 5'10" 190lbs, but he developed into an all-star goaltender who brought his team to the biggest stage in junior hockey. You couldn't have asked for much more.
This is a title that Dickie deserves – top goaltender in Kitchener Rangers history.