The OHL has a long history of outstanding goaltenders. They have been leaders, walls in the crease and puzzling to the league. Selecting a Top 10 list of goaltenders would be a very difficult task. Instead, we changed things up.  In this series, we will look at the OHL's Western Conference and examine the Top 3 goaltenders in each team's history.
The first team is the Windsor Spitfires.
Storied History in Windsor
Founded in 1975-76, the Spitfires have become a staple both in the community and in the league. They have sent numerous talents to the NHL including D Ed Jovanovski, F Steve Ott and F Adam Graves.  While they have had some outstanding forwards and defencemen, the team has developed some incredible goaltending.
Here is a look at the Top 3 goaltenders in Windsor Spitfires' history: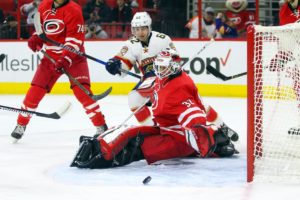 #3 – Michael Leighton
The Spitfires have had some impressive goaltenders over the years, such as Pat Jablonski, Peter Ing and a host of others. It's tough to vote against Leighton as the number three selection, though.
Leighton was drafted by the Spitfires in the third-round of the 1998 OHL Draft. He split time during the 1998-99 season with veteran Ron Vogel before taking over the crease in 1999-2000.
The Philadelphia Flyers saw his potential and took him in the sixth-round of the 1999 NHL Draft. From that point forward, Leighton only improved.
In the two seasons that Leighton was in charge, from 1999-2001, his numbers were among the elite. He had a goals-against average of 3.12 in his second regular season. In the playoffs that year, he equaled his G.A.A. in 12 games and had a save percentage of 0.922.
The 2000-01 season in Windsor was his best. He played in 54 games, dropped his GAA to 2.73 and his save percentage went up to .910. He was just as lethal in the playoffs.
Leighton was a fan favourite in Windsor and became the benchmark for future goaltenders. The Spitfires passed the torch on to Cory Campbell and Ryan Aschaber following Leighton's departure. It was several years, however, before another goaltender could fill Leighton's skates.
Since leaving the Spitfires, Leighton has dressed for several NHL teams and is shuffled between Carolina and their AHL-affiliate in Charlotte. Here is a video of him wearing a GoPro during the 2016 AHL All-Star Classic:
#2 – Michael DiPietro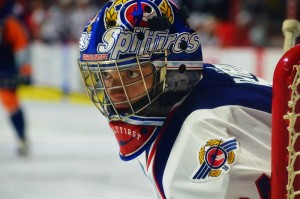 During the 2015 OHL Priority Selection, the Spitfires used their second-round pick to select the Amherstburg-native. He was advertised as a young goaltender with NHL potential. In just under two seasons, DiPietro has been a big part of Windsor's transition from last place to a contender.
DiPietro was supposed to be brought along slowly. He worked with two veterans, G Michael Guigovaz and G Garrett Hughson, along with fellow rookie Mario Culina, throughout the first half of 2015-16. By the end of the season, though, DiPietro was the go-to guy. He finished with a G.A.A. of 2.45 and a save percentage of 0.912.
The 2016-17 season has been even better. His G.A.A. of 2.18 and save percentage of 0.925 rank among the best in the league. DiPietro also has six shutouts, breaking the Spitfires' single-season record. Those shutouts gave him eight for his career, also a team record.
DiPietro's strong play has earned him a spot in the discussion of the best goaltenders in team history. While he's only 17-years-old, he has the poise and skill of a veteran and few have taken control of the crease like he has. There was a lot of hype before he hit the ice for the Spitfires in 2015 but he has lived up to it.
Here is a clip of DiPietro and Spitfires' coach Rocky Thompson during his rookie season:
#1 – Andrew Engelage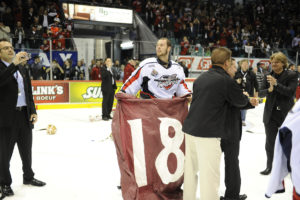 When the Windsor Spitfires were sold in 2006 to Warren Rychel, Bob Boughner and Peter Dobrich, there was a lot of player shuffling as they tried to get the best roster they could. A 13th-round pick by Windsor in 2005, Engelage became a constant in net for the club in 2006-07. While he had a variety of back-ups, the crease belonged to the tall, lanky goaltender out of Oshawa.
In 2007-08, Engelage posted a G.A.A. of 2.57 and a save percentage of 0.908 in 40 games. He improved those totals in 2008-09 with a G.A.A. of 2.35 and a save percentage of 0.914. What's more remarkable was his workload, playing in 54 games that season and another 20 in the playoffs. His play earned him the nickname "The Rock" among fans at the old Windsor Arena.
Here is a clip of Engelage, and former Spitfires' captain Mickey Renaud, talking about their draft rankings in Nov. 2006
Engelage became a force in net during the team's run to the 2009 Memorial Cup in Rimouski. While he wasn't the most stylistic goaltender, he got the job done. He was a key factor in the Spitfires' 4-1 win over Kelowna in the final game of the Memorial Cup. His 2.58 G.A.A. led all goaltenders in the tournament.
Engelage's consistency throughout his time as a Spitfire, combined with his cool nature, hard work and leadership, created an elite goaltender. Since his time in the OHL, Engelage played in the ECHL and AHL before moving on to Europe. This season, he is playing for Bofors IK in Sweden.
In the end, Engelage was the complete package and a big part of the Spitfires' build and run towards the 2009 Memorial Cup. This is why Engelage deserves the title of best goaltender in Spitfires history.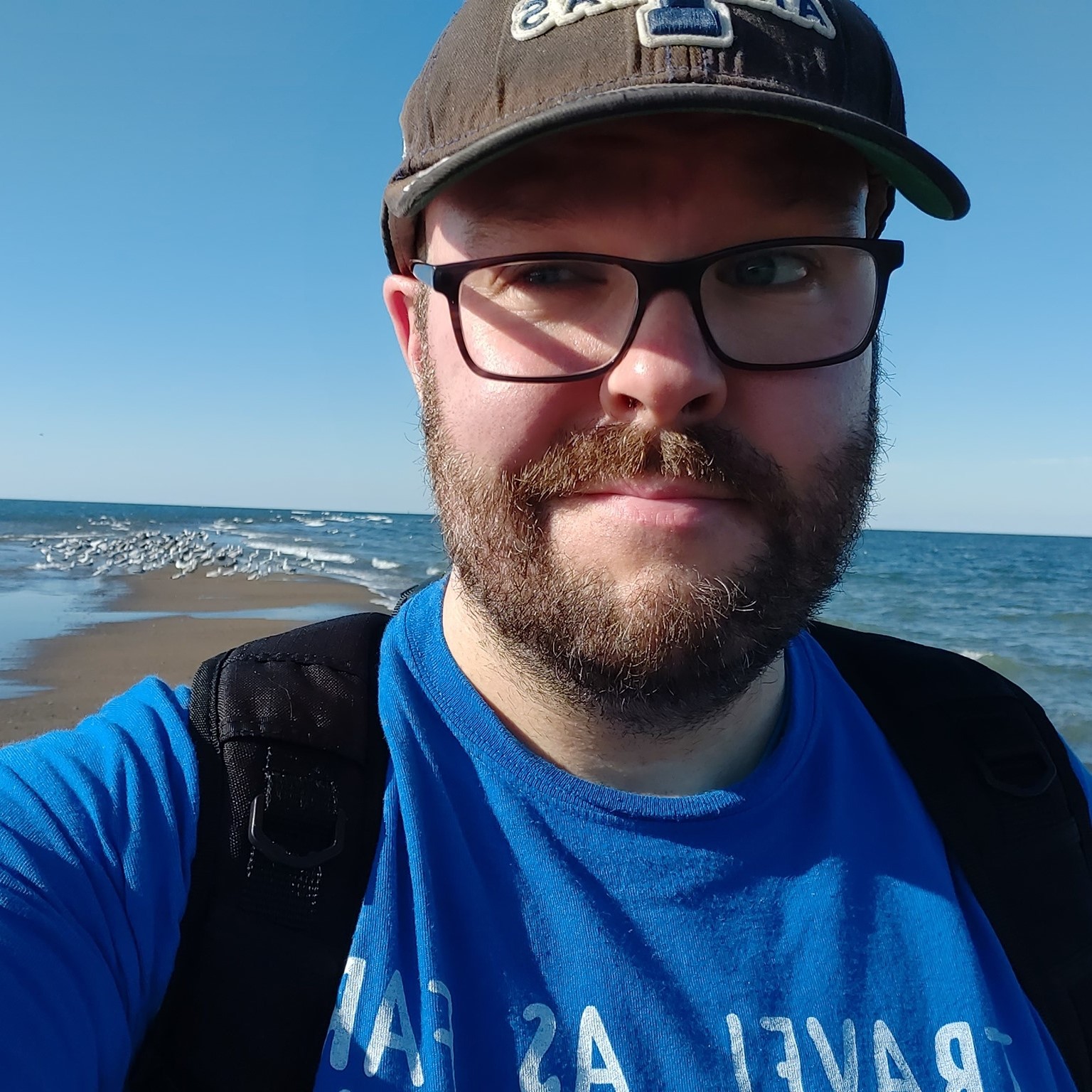 A nearly life-long resident of Windsor, ON, I graduated from St. Clair College (Journalism) and University of Windsor (Communications) and have attended Windsor Spitfires' (and OHL) games for 30-years. My areas include multimedia journalism and photography.