When the Windsor Spitfires drafted goaltender Michael DiPietro in 2015, they were looking for stability in net. Not only did they get that but now they have a goaltender who is breaking team records.
With a shutout against the Saginaw Spirit on Feb. 2, DiPietro recorded his eighth career shutout. He surpasses former Spitfires' goaltender Andrew Engelage, who had seven from 2007-09 with Windsor.
The shutout was also DiPietro's sixth of the season. For a single-season, DiPietro's six shutouts surpasses Engelage, who had five during the 2009 Memorial Cup run, and Anthony Guadagnolo, who had five in 2005-06.
Here is a list of DiPietro's shutouts to this point.
2015-16 season:
Dec. 11, 2015 @ Sarnia – 3-0 W – 29 saves
Jan. 7, 2016 v. OS – 5-0 W – 30 saves
2016-17 season:
Oct. 20, 2016 v. Kingston – 2-0 W – 25 saves
Dec. 8, 2016 @ Barrie – 3-0 W – 21 saves
Dec. 10, 2016 @ Sudbury – 6-0 W – 31 saves
Dec. 11, 2016 @ North Bay – 3-0 W – 24 saves
Jan. 19, 2017 v. Ottawa – 4-0 W – 31 saves
Feb. 2, 2017 v. Saginaw – 4-0 W – 22 save
Here are some highlights from the Saginaw game that broke the record:
Local Product Eager to Learn
Before the 2015 OHL Priority Selection, the Spitfires swung a deal with the Sudbury Wolves to acquire the 23rd overall pick, which was the first pick in the second round. Windsor already had the 39th overall pick from Barrie, but they had a target in mind. When the 23rd pick came up, the Spitfires made no hesitation and selected DiPietro out of Sun County Panthers Minor Midget.
He came onto the team advertised as a local young goaltender who had incredible potential. The team brought him along slowly, having veterans Michael Guigovaz and Garret Hughson playing with DiPietro at points during the first-half of the 2015-16 season. Every challenge that DiPietro was handed, though, he took the reigns and asked for more. He wasn't giving up the crease without a fight.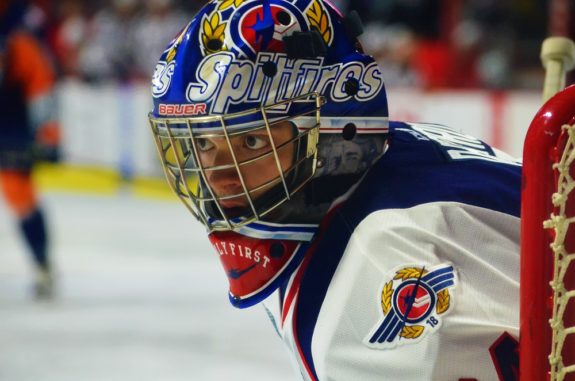 By the start of the second half, he outlasted both Guigovaz and Hughson, who found other teams. DiPietro split time with free-agent goaltender Mario Culina, who came in from Sault Ste Marie of the NOJHL in the off-season. While he was only 16-years-old, DiPietro was more than willing to take on all comers.
It has brought a sense of calm to both the players and the fans. You know when you hear DiPietro's name announced as the starter, you're in for a good night at the rink.
Young Man Ready for Smashing Career
The 2016-17 season is a big one for DiPietro. Not only is it his NHL Draft year, but it has been his to run with. He's taken full advantage, posting a goals-against-average of 2.09 and a save percentage of 0.927, both of which are improvements on last year. Both of those statistics also lead all OHL goaltenders.
DiPietro is currently ranked seventh among North American goaltenders for the upcoming 2017 NHL Entry Draft, and is the highest ranked goaltender in the OHL. Out of the six goaltenders rated above him, four are playing in the USHL, one is in the WHL and one is playing College hockey. DiPietro had a chance to showcase his talents at the 2017 CHL Top Prospects game in Quebec City on Jan. 30. Here is a clip of him making a big save during that game:
Windsor has 18 games remaining on the schedule and there's little doubt DiPietro will be the goaltender for the majority. He has a chance to further separate himself from the pack and could easily do it. The OHL record for shutouts in a season is 10 by Mark Visentin for the Niagara Ice Dogs in 2011-12.  Jordan Binnington of Owen Sound is third on the list with seven in 2012-13.
When Engelage graduated to the pros, Spits fans were hoping another goaltender could come in and repeat his performance. It has taken seven seasons but that player has arrived. DiPietro is the goaltender fans deserve and he's proving every game that he has a very bright future.
His name is going to go into the record books as one of the greatest goaltenders in Spitfires' history and rightfully so. He truly has become the king of the crease.