The Hockey Hall of Fame is the pinnacle of ice-based achievement. Only the best get in, immortalized for all time in downtown Toronto. Believe it or not, Roberto Luongo will be 38 at the end of this season (don't YOU feel old). And, believe it or not, there is a strong argument to be made for his inclusion in this hallowed shrine of the hockey world.
A Lot of Rubber
As of this writing Luongo sits at 450 wins, good for fifth all-time in National Hockey League history. He should catch Curtis Joseph (454) and Ed Belfour (484) before his career is over, placing him third. He should finish up third all-time in games played, as well. His 47 wins in 2006-07 is the second-best single-season mark ever recorded.
With one shutout so far this season, Luongo has 73 for his career, which rankings eighth in the annals of the NHL. And his best season, save percentage-wise, was the 2003-04 campaign, when he posted a .931 in 72 (!!!) games behind an abysmal Florida Panthers squad. That .931 mark is the sixth-best season total in league history for a starting goaltender (25 or more games played).
That's all certainly a good start to building Luongo's Hall of Fame credentials.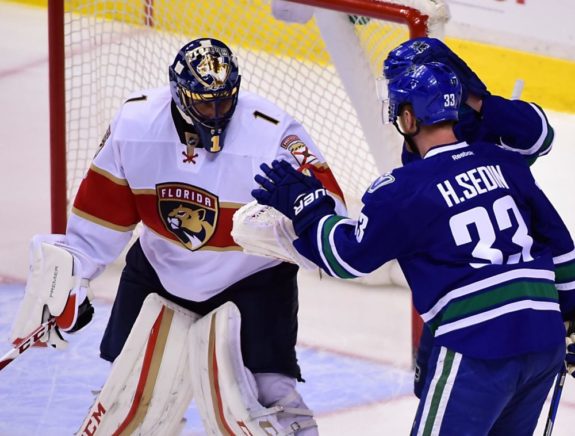 Luongo holds the top two slots for most shots faced (2,488 over 75 games in 2005-06 and 2,475 over 72 games in 2003-04) and shots saved (2,303 in 2003-04 and 2,275 in 2005-06) during a single NHL season. For reference,  both of those totals equate to nearly 35 shots faced per night. In terms of career shots faced and career saves, he is solidly in second place – and still has a shot at catching Martin Brodeur – in both categories.
As impressive as these numbers are, it is important to note that Luongo has posted them despite spending nine of his 18 seasons with the Panthers – and one more with the bottom-feeding New York Islanders. For the uninitiated, until very recently, the Panthers were, nearly every single season, the NHL equivalent of a steaming pile of garbage (now, they're merely mercurial and dysfunctional).
This means Luongo put up some of the best stats in league history while playing behind some historically bad teams. How he didn't get the Vezina Trophy in 2003-04, after dragging that moribund Panthers team to some semblance of respectability and professionalism and is beyond me — he finished third in voting, behind Martin Brodeur and Miikka Kiprusoff.
A Window Closed?
Which brings me to an uncomfortable point: Roberto Luongo has never won a major NHL award, missing out on the Vezina (three nominations), Lester B. Pearson (two) and Hart (one) trophies on every opportunity. He has only been selected to an NHL end-of-season all-star team on two occasions, in 2004 and 2007, and both times to the NHL Second All-Star Team.
He hasn't won a Stanley Cup, either. The closest he's come, so far anyway, was 2011, during his tenure backstopping the Vancouver Canucks. The Canucks lost in seven games to the Boston Bruins, with Luongo being blamed for much of the defeat.
True, 20 goals allowed in seven games is not a brilliant stat. But he also had two shutouts in the series, not to mention the fact his team scored a grand total of eight goals in those seven games — for those of you counting at home, that's about 1.14 goals per game, which would be bad enough if we were talking about soccer, let alone the highest-scoring team in the NHL.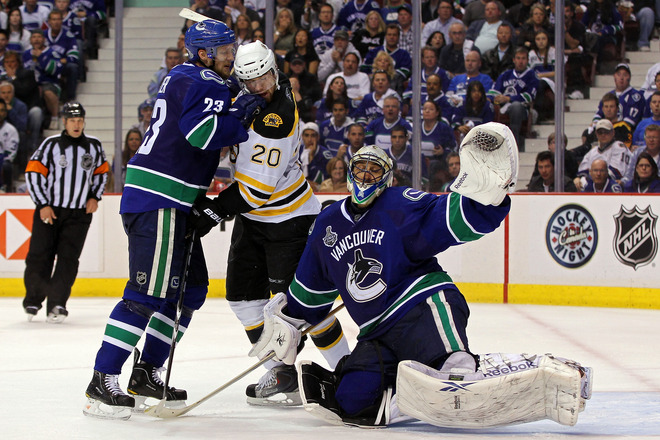 There was nothing at all wrong with that Canucks team — they won the President's Trophy that season. They simply got sucked into playing the chippy, physical game of an otherwise inferior Bruins team. Nevertheless, Vancouver proceeded to systematically dismantle a championship-calibre squad, a process which included deciding to trade Luongo…before trading his batterymate Cory Schneider, instead…before trading Luongo anyway.
As for the Panthers, they are laying the groundwork for a competitive team for years to come, but how many meaningful years Luongo has left is a mystery – certainly not many more as a starter. It is entirely possible that his Cup window has closed.
CuJo Comparable
Now, in a 30-team league, it seems unreasonable that the absence of Stanley Cups and major awards are considered detrimental to one's Hall of Fame suitability. However, a worrying comparable for Luongo with regards to this issue is Curtis Joseph. Joseph is not in the Hall of Fame, but Ed Belfour is, along with the two goaltenders ahead of him in the all-time wins department, Martin Brodeur and Patrick Roy. However, these last three goalies all won Stanley Cups and Vezina Trophies, with the odd Calder and Conn Smythe thrown in for good measure.
Joseph is fourth all-time in wins, but, as with Luongo, never won any major awards and never won a Stanley Cup. Like Luongo, Joseph played on some pretty decent teams (St. Louis Blues, Detroit Red Wings) and some pretty abhorrent ones (Edmonton Oilers, Toronto Maple Leafs). Also, like Luongo, Joseph made the often-overmatched teams in front of him look almost worthy of playing in the NHL.
Joseph might get into the Hall one day, but there is certainly no guarantee. Given his inexplicable reputation (thanks for that, Vancouver) for never quite being good enough – compared to Blues, Oilers and Leafs fans' adoration of Joseph, Luongo might never make the cut.
International Stalwart
But it's not as though he's not decorated. He was the starting goaltender for Canada in the 2010 Olympics, taking over from an inconsistent Brodeur halfway through the tournament. Backed by Luongo, Canada won the gold medal in overtime after taking the long way to the final, surviving a major scare from the Slovaks along the way.

Additionally, though Brodeur started the championship game of the 2004 World Cup of Hockey – the last World Cup without made-up teams, Luongo started the crucial semi-final game against Slovakia, with Brodeur sidelined with an injury. Canada was badly outplayed by the Czech Republic – outshot 40-24 – but Luongo was spectacular, holding the fort long enough for Vincent Lecavalier to win the game for Canada in overtime.

A second gold medal at the 2014 Sochi Olympics in a backup role, along with starting roles in Canada's gold medal wins at the 2003 and 2004 World Championships, cement Luongo's legacy as a clutch performer.
Luongo a Legend
Whatever the Hall of Fame voting results, Roberto Luongo will live on forever in the hearts of hockey fans. Not only does he have an already legendary, ever-improving body of work, but he is also one of the few hockey players that lets a personality shine through the athlete veneer. We should all feel blessed to have watched this man play so well for so long. We should now hope and pray that his career is immortalized as a nod of recognition to his fantastic achievements.
Peter Ferrell covers the Florida Panthers and Toronto Maple Leafs, with a side of jersey and logo (over)analysis, for The Hockey Writers.