Another week, another team that new fans of the Vegas Golden Knights need to be watching. The Carolina Hurricanes may not be on the radar of Vegas fans, but they should be. As the trade deadline approaches and the playoff picture becomes clearer, we'll get a better idea of which players will be exposed to this summer's expansion draft. Youth, vets, offense and defense, there are plenty of names for desert hockey fans to watch. Here are four.
Joakim Nordstrom
Ultimately, this is who I think Carolina will expose and Vegas will select. It's the logical move for the Hurricanes. Once you add the obvious names to the protected list, you're left with a group that includes Brock McGinn and Phillip Di Guiseppe. Potential is the deciding factor here, with Carolina rolling the dice on their younger options. Nordstrom has yet to prove himself to be more than the bottom six forward Chicago traded away in 2015.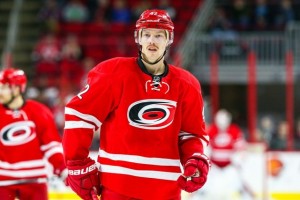 He isn't much of a dynamic scorer, and he'd be a low risk-low reward pick by the Golden Knights. Carolina appears to be losing interest in the 24-year-old, as his ice time saw a steady decline in the month of January.
He wouldn't be an exciting pick, but if Vegas could get the Nordstrom that scored 10 goals and 24 points last season, they can feel satisfied that they've added a player that's solid on the penalty kill with a little upside.
Eddie Lack
There will be no shortage of decent goaltending options when June's expansion draft comes around, and there's certainly a possibility that Lack is the net minder Vegas elects to go with. He's not a number one guy in Carolina, and he likely wouldn't be with the Golden Knights. As Vegas constructs its roster, Lack could be the guy they need between someone like Ben Bishop and a prospect like Linus Ullmark.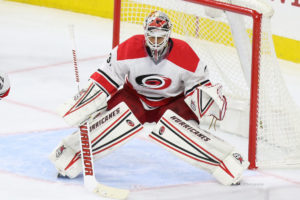 Carolina's probably not thrilled with their current goaltending situation, and you could make the argument that Lack should be protected over Cam Ward. I have a feeling, though, that Lack's disappointing 2016 coupled with his concussion early this season that sidelined him for all but two games means he's the one that gets exposed.
Keep an eye on Lack the rest of the way. He just wrapped up a two-game AHL stint to get NHL ready. Ward's 2.57 GAA this season, 23rd in the league, means Lack has the rest of the season to earn a spot on Carolina's protected list. That said, while it looks unlikely, there's the possibility that Lack's dealt before the Feb. 28 trade deadline. If that happens Vegas fans have my permission to stop watching him.
Lee Stempniak
So far, Stempniak has played just well enough this season to be an attractive piece to other teams at the trade deadline, and not attractive enough to force Carolina's hand for protection ahead of the expansion draft.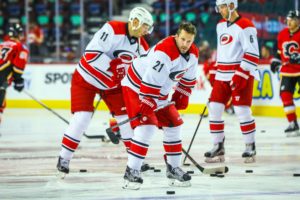 The best bet right now is that he's traded. That would mean that the Hurricanes are disappearing from the Eastern Conference playoff picture. If you think he sticks around long enough to be left off of this summer's list that means you think Carolina is going to make a postseason push.
If he is left unprotected and Vegas calls his name the Golden Knights will be the 11th NHL franchise on his resume. He's scored nine goals and 24 points through 49 games this season, after recording 51 points split between the New Jersey Devils and Boston Bruins in 2015-16. Stempniak is a bottom-six forward who has been with seven teams since 2014. He wouldn't be the future of the Golden Knights, but if they decided to pick him up, they'd get a strong veteran presence for the $2.5 million he's owed next season.
Ryan Murphy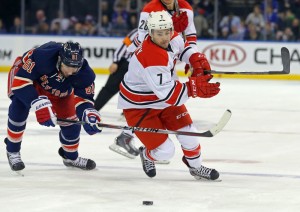 Keep an eye on Klas Dahlbeck and Matt Tennyson as well, as this is a pretty close race. Tennyson may have played well enough this season to get his named added to the protected list. The Carolina blue line is top heavy, and the Hurricanes will need the last part of this season to determine who they'd like to expose.
Dahlbeck is better defensively, Tennyson is better offensively and Murphy has not proven himself proficient enough to be retained over either one. Certainly, that could change before the end of the season. Even so, it looks like there will be better options for the Golden Knights on the blue line in June.
Keep an eye on him, though. Vegas general manager George McPhee has said in interviews that he wants a fun, fast team that can score a lot of points. If he can get his muscle elsewhere, he may take a shot on the 24-year-old score-first defenseman.