Brad,
It wasn't too long ago that you were establishing yourself as an NHL-caliber player. After proving to the Bruins organization that you had a special offensive prowess with Providence in 2008 and 2009, the team decided it would be best to give you a shot with the NHL club. Your first season with the varsity squad would certainly be a memorable one.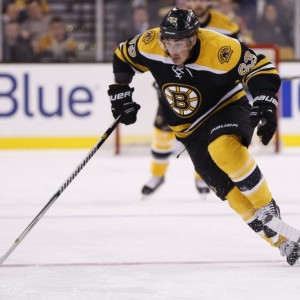 In 77 games with the Bruins, you notched 41 points, solidifying your spot on a very competitive roster. In your first taste of the playoffs, you brought your A-game. In 25 playoff games, you scored 11 goals, ten of which were at even strength, and tacked on eight assists. Oh, and you finished it off by lifting Lord Stanley's Cup above your head as a rookie. Not a bad way to kick off your NHL career.
Two-Way Talent
Since then, you've established yourself as a core player for the organization. Your offensive abilities have taken off, leading you to a career-high 61 points last season. You have a natural knack for finding the back of the net; your 14.93 career shooting percentage is third among all active players, ahead of guys like Sidney Crosby.
Meanwhile, you've polished your defensive game to become a top of the line two-way forward (that's what happens when you sit on Patrice Bergeron's wing for years, right?). You've now become a premier NHL player, one that Claude Julien can throw out to score a game-winning goal, or to kill off the biggest penalty of the game.
However, as you've developed into one of the most valuable players in Boston, one question mark has anchored you down – discipline.
Playing with an Edge
Look, I understand the type of game you play. You broke into the league as a scrappy forward, and you're one of the best in the league when it comes to getting under the opposition's skin. That's all great. You've found a very specific niche to identify with, and it's led you to quite a bit of success so far.
But the line that you walk is a very thin one, and you too often find yourself on the wrong side of it. Let's look at your track record for a moment.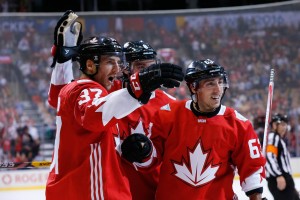 A few years ago, when the antics really started to emerge, you were a hot-topic in the Boston media. With the organization falling from its place of grace, and trade rumors flying around, people began questioning whether your talent was worth the lack of discipline on the ice.
And then, something kind of cool happened. A new Marchand walked into the doors of training camp prior to last season. The news reports were pleasantly surprised to see an extra jump in your step, and you made it very clear that you wanted to serve as a leader for a club that you had long-since established a prominent role with. Maybe you had taken the media's speculation to heart. Maybe you decided on your own that it was time to mature your game a bit. There's only one person who knows that, and it's you.
Either way, Bruins fans were impressed with the guy in 63 last season. You took on a leadership role of sorts for the team and posted the best numbers of your career. But at the end of the season, there was one dark spot – the unnecessary low hit you made on Mark Borowiecki of the Senators.
https://twitter.com/myregularface/status/681995394729943040?ref_src=twsrc%5Etfw
Since then, things have been a bit better. We've spent more time celebrating your goals, and less time cringing about iffy plays. I, like some fellow writers that I know, would even have gone so far as to say that you recognized your value to the team, and put those kinds of things behind you.
And then the calendar turned to 2017. Already in 2017, we've seen a couple of plays that were pretty unreasonable. There was the trip on Niklas Kronwall that cost you $10,000 on January 24th, and then a similar incident a week later in Tampa Bay.
Long story short, your play hasn't matured as much as we thought it did, and that's an issue. To put it bluntly, you're just too important to this Bruins team to risk taking yourself out of the lineup with those types of plays.
A Plea for the Future
Look around the locker room. You aren't a rookie anymore. You're in the middle of your seventh full season with the Bruins. You're the team's top producer, you just earned your way to the first All-Star Game of your career, and you're a guy that younger players can look up to. You've become a top-flight two-way forward while developing one of the best scoring touches in the game.
But all of that gets ruined when you slew-foot somebody. When you cross the line, you negate the skill that you've spent your entire life building, and more importantly, you severely hurt the team that you've represented your entire career.
I'll sum it up like this. Playing with an edge is fine. When you do it the correct way, you're better than anybody at being the under-your-skin producer. That's why former President Barack Obama called you "the Little Ball of Hate" during that White House visit six years ago. But you have to recognize that you're dancing on a very thin line, and the city of Boston needs you to remain on the correct side of it. Play the game the way you do best. Just do it right.
Sincerely,
Concerned Bruins fans everywhere.