Saturday afternoon's game between the host Montreal Canadiens and Washington Capitals isn't technically a case of two teams going in opposite directions. It's a case of one that's surging (the Metropolitan-leading Caps) and one that's basically in a holding pattern, just treading water (the Atlantic-leading Habs).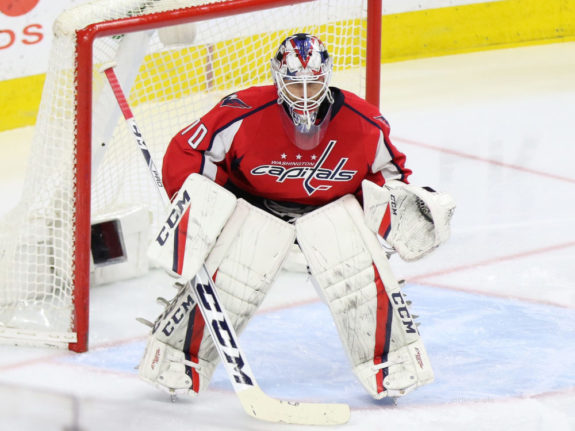 It would seem the Caps got a head start on their New Year's resolutions, by starting a nine-game winning streak on December 31. Since that date, they are 14-2-1 overall. The Canadiens have meanwhile, made a bad habit of exchanging wins and losses for essentially a month now.
Since returning from a successful 4-1-2 road trip in early January, the Habs are a less-than-impressive 5-6-1, a streak of mediocrity that coincidentally started against their opponents today.
---
Montreal Canadiens vs. Washington Capitals
Bell Centre – 1:00 p.m. EST
Broadcast channels – SN, RDS, CSN-DC
2016-17 Season Series: 
December 17:  Canadiens 2 – Capitals 1
January 9: Capitals 4 – Canadiens 1
Washington Capitals – 34-11-6 – 74 Points
Road Record: 14-6-5
Hot Players: Alexander Ovechkin, Evgeny Kuznetsov, Nicklas Backstrom
Key Injuries: None
Projected lines:
Forwards
Alexander Ovechkin – Nicklas Backstrom – T.J. Oshie
Marcus Johansson– Evgeny Kuznetsov– Justin Williams
Brett Connolly – Lars Eller – Andre Burakovsky
Daniel Winnik– Jay Beagle – Tom Wilson
Defense
Karl Alzner – John Carlson
Dmitry Orlov – Matt Niskanen
Brooks Orpik – Nate Schmidt
Starting Goaltender
Braden Holtby
Montreal Canadiens – 30-15-7 – 67 Points
Road Record: 18-5-3
Hot Players: Andrew Shaw
Key Injuries: Brendan Gallagher
Projected lines:
Forwards
Max Pacioretty – Philip Danault– Alexander Radulov
David Desharnais – Alex Galchenyuk – Andrew Shaw
Artturi Lehkonen – Tomas Plekanec – Paul Byron
Jacob de la Rose – Torrey Mitchell – Brian Flynn
Defense
Alexei Emelin – Shea Weber
Nathan Beaulieu – Jeff Petry
Nikita Nesterov – Andrei Markov
Starting Goaltender
Carey Price
---
Game Notes
[miptheme_dropcap style="normal" color="#222222″ background=""]1)[/miptheme_dropcap] While the Capitals skated away with a decisive win the last time these two teams met on Jan. 9, the night truly belonged to Alexander Ovechkin, who tied Maurice Richard in career goals scored (544). It might be head coach Barry Trotz's turn to show up a Habs great in Montreal, as he's tied with Dick Irvin for the sixth-most coaching wins (692) in history entering tonight's game.
[miptheme_dropcap style="normal" color="#222222″ background=""]2)[/miptheme_dropcap] This is the rubber match of the team's three-game season series, with each side having won one up to now. The road team has won each matchup as well.
[miptheme_dropcap style="normal" color="#222222″ background=""]3)[/miptheme_dropcap] Capitals forward Justin Williams, who missed Wednesday's 5-3 win over the Boston Bruins with a lower-body injury, is expected back in the lineup against the Canadiens. The Capitals had recalled 2014 first-round-pick Jakub Vrana from the Hershey Bears just in case.
[miptheme_dropcap style="normal" color="#222222″ background=""]4)[/miptheme_dropcap] The Habs are running out of excuses for their poor play, as they're now the healthiest they've been almost all season. With the recent returns of Alex Galchenyuk, Andrei Markov, David Desharnais and Greg Pateryn, only Brendan Gallagher (broken hand) remains injured.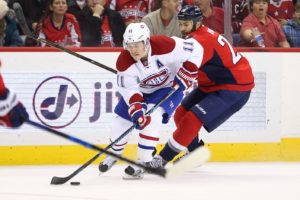 It is admittedly the most critical of the Habs injuries suffered so far this season, but with goalie Carey Price one of the few who have remained (relatively) healthy, the Habs should arguably be doing a better job of capitalizing (no pun intended) on the superstar goalie's prime.
[miptheme_dropcap style="normal" color="#222222″ background=""]5)[/miptheme_dropcap] Today's matinee (1 p.m. start time) is no coincidence, as the Habs traditionally play back-to-back afternoon games on Super Bowl weekend, with the Edmonton Oilers visiting at the same time on Sunday.
---
While the Capitals have been a force with which to be reckoned since the start of the year, there is some hope for Habs fans. Both teams have the same 2-2 record over their last four games, with each having suffered a loss to the New York Islanders, whatever that's worth. What's more of a coincidence is how both teams have scored five goals in each of their two wins, with Montreal's two victories being of the dominant variety.
If you believe in that sort of thing, following their recent trends, the Habs are due for a big win, while the Capitals are coming off a victory and could be in line for a loss. Of course, we are talking about a legitimate Stanley Cup contender here, just to be clear. They're supposed to get up for every game. You would think the same would ring true for the Canadiens.