As crucial as the latest Montreal Canadiens victory over the Dallas Stars was this past week, the injuries the Habs sustained during the contest were arguably even more so.
Both Paul Byron (upper-body injury) and Brendan Gallagher (broken hand) left the game and did not return, leaving the Habs even more shorthanded than they already were. Seven regulars are currently out of the lineup.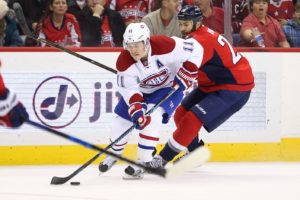 While injuries should never be used as an excuse by any self-respecting NHL team as they are a part of the game everyone endures, they can undeniably help expose shortcomings that would otherwise be covered up. Think what happened to the Habs without Carey Price last year, or even what's happening with Mike Condon right now.
Now with the Ottawa Senators, Condon has played like a competent NHL goalie (at the very least), despite being made to look like a minor leaguer when with the Habs. Ultimately, Condon was hung out to dry one time too many by his teammates on the ice last season, and by Montreal management off it last summer when Al Montoya was signed to replace him.
Such is the nature of a system that relies too much on a single player. When that one player gets injured, filling in by committee doesn't work as well as it otherwise would. With Price now the one Hab who's healthy, they've done an adequate job treading water, but, of the following players, who's the hardest to replace? Here are the top five currently injured Canadiens.
5. Paul Byron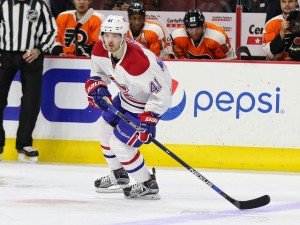 Prior to being injured by a hard Patrick Sharp hit, Paul Byron had been playing over his head for what feels like all season long… and making it look easy. Granted, that may be because he's only 5'8", but his 12 goals in only 39 games were already a career high that had him on pace for 25.
Byron may never end up being a legitimate top-six forward, but he has proven himself capable of playing and contributing anywhere in the lineup in a pinch. Even if he never rediscovers that scoring touch, he will presumably remain a breakaway threat on the penalty kill thanks to his incredible speed.
4. Andrew Shaw
Another victim of a hard hit, this time care of Boston Bruins defenseman Torey Krug, Andrew Shaw had just been getting into a groove before he got sidelined with concussion symptoms.
He had scored three goals and five assists in the nine games leading up to the hit in mid-December, showing signs that his success playing with the Chicago Blackhawks was no fluke. What's more is his "shift-disturber" approach to the game that so successfully gets under opponents' skin fell almost all on Brendan Gallagher's shoulders with him out. What now?
3. Andrei Markov
Last week, Shea Weber retook the team's scoring lead among defensemen. What's more impressive is how Andrei Markov had held onto the title for a while, despite being out of the lineup since mid-December. His offense helped to pace the power play, with eight points coming with the man advantage. His 21 total in 31 games are evidence he has a lot more to give, even if primarily in the offensive zone at this stage of his career, with the toll surgery has taken on each of his legs.
While there's potentially a place for the former top-pairing defenseman on this team as long as he wants one, Jeff Petry has picked up the slack in his absence. As such, Markov earns only the No. 3 spot here.
2. Alex Galchenyuk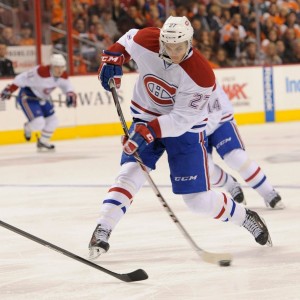 Perhaps surprisingly, especially to fans who religiously follow the Habs and know firsthand how banged up they are, the team is technically the 11th-healthiest in the league.
Of course, "technically" because the measurement in question is the Cap Hit of Injured Players (CHIP). As the metric's name suggests, it adds up the cap hit owed to all active players during the games they've missed to injury.
One of the reasons the Habs are so low on the list? Alex Galchenyuk, who has a hit of $2.8 million despite having put up 23 points in 25 games before he sustained his current knee injury. He's also one of the reasons they had such a great start to the season, having finally established himself in head coach Michel Therrien's eyes as the team's No. 1 center.
Of course, the fact of the matter is, the team's struggles following its hot 13-1-1 start to the season were evident far before Galchenyuk got injured. In fact, with him out of the lineup, the team is a decent 7-3-4 (ignoring how that record indicates they've lost as many times as they've won in that span, of course).
Montreal will no doubt welcome Galchenyuk back with open arms, and, thankfully, the opportunity to do so seems to be rapidly approaching. However, that's not just because he belongs on the team's top line. It's arguably more to do with the fact that he belongs on the team's top four lines because the forwards have been hit incredibly hard by the injury bug.
They're just in such dire need of healthy bodies, in other words. Following the victory over Dallas, now more than ever.
1. Brendan Gallagher
For the second straight season, the Habs will find out what it's like to lose Brendan Gallagher for more than one month with a broken hand. It didn't go so hot the last time around, with his injury almost perfectly coinciding with Price's last season.
Medical update: B. Gallagher underwent surgery last night in Montreal. Fractured left hand. His recovery is expected to be minimum 8 weeks.

— Canadiens Montréal (@CanadiensMTL) January 6, 2017
Of course, the Canadiens ended up missing their superstar goalie more, but Gallagher had been helping to drive the team's offense, by putting up 19 points in the first 22 games of last season before he got injured. It's been a slightly different story this year, with Gallagher struggling to find the back of the net.
He can usually be counted on to flirt with the 25-goal mark but is only on pace for around half that in 2016-17. Nevertheless, like Shaw, he makes his presence known in other ways and unofficially led the team with 1.4 penalties drawn per 60 minutes last season (behind John Scott's 1.6).
The plus side? Gallagher takes a great deal of punishment for his efforts and he could probably use the break, even if it's coming under less-than-ideal circumstances. Plus: The fingers he broke this time around are apparently different than the ones that got fractured last season. Take the good news however you can get it.