One day after the Columbus Blue Jackets saw their remarkable winning streak snapped, a different team from Ohio's capital ended another impressive run. The second-ranked Penn State Nittany Lions brought a 13-game unbeaten streak to Columbus Friday night but saw it end with a 3-0 loss to no. 11 Ohio State.
The Nittany Lions were averaging nearly five goals and more than 48 shots per game entering the Big Ten contest but were shut out for the first time this season as Ohio State goalie Christian Frey made 46 saves in the win.
Different Periods, Similar Scripts
Frey saw plenty of rubber in the first period, partially thanks to two Penn State power plays. With the game scoreless, Dylan Richard appeared to give Penn State the lead on its second power play when he directed a pass into the Buckeye net, but after a review, it was ruled the puck was kicked in and the goal was waved off. The Nittany Lions fired 16 shots on goal in the first, but Frey stopped them all.
"I like [facing] a lot of shots, it kind of gets you in the game," Frey said. "It gets you a feel of the puck early and that's always nice."
Late in the period, the Buckeyes worked the puck to defenseman Drew Brevig on the point. He sent a wrist shot on net that found its way past Penn State's Peyton Jones to put the Buckeyes in front. 
"That's something our coaching staff has been telling us to work on a little bit is just getting pucks to the net quick," Brevig said. "I knew that a guy was coming out on me so I just tried to get it on net quick and it found its way in there."
Penn State continued to create chances in the second, including several odd-man rushes in transition, but could not cash in as Frey made 13 more saves. Like the first period, Ohio State killed two Penn State power plays in the second and scored late in the frame. Off of a face-off in the Penn State zone, Luke Stork pounced on the puck and beat Jones over his shoulder to extend the Buckeye lead to 2-0 with less than 30 seconds to play in the period.
OSU leads PSU 2-0 on Luke Stork's fifth goal of the year, scored with just 27 seconds left in the 2nd. https://t.co/GRSNoNrqXV #GoBucks

— Ohio State Men's Hockey (@OhioStateMHKY) January 7, 2017
Ohio State's defense limited Penn State's chances for some of the third period before Penn State ramped up the offense in the game's final minutes. Frey again was equal to the task, stopping 17 shots in the final frame to complete the shutout. John Wiitala's empty-net goal with 1:44 to play gave the Buckeyes some more insurance as they handed Penn State its second loss of the season.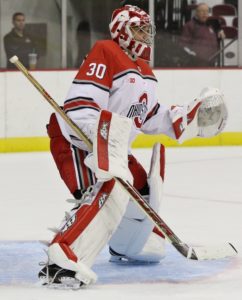 Ohio State blocked 23 shots as the Nittany Lions scored fewer than three goals in a game for the first time this season. Frey's 46 saves were a season high and the shutout was his first of the campaign. Brevig said the rest of the Buckeyes can feed off of that kind of stellar play between the pipes.
"We weren't perfect … we put him in some tough positions and he stepped up for us and that was huge," Brevig said. "I think we all play a little bit more confident and when he's playing like that, we're a tough team to beat."
Buckeyes Bounce Back
The Ohio State win not only ended Penn State's unbeaten streak, it was also a nice response from a poor showing last weekend when the Buckeyes allowed four third-period goals in a 6-3 loss to Miami.
"Certainly you gotta learn from mistakes and we made enough of them last week," Ohio State head coach Steve Rohlik said. "Our guys made a decision coming back on Monday that, you know what, we gotta work harder, we gotta be more committed, we gotta compete harder … We played hard tonight, we scored on some chances and our guy between the pipes did his job."
Ohio State and Penn State are now both 2-1-0-0 in Big Ten play entering Saturday's series finale in Columbus.