All eyes were on the Columbus Blue Jackets Thursday, as they were on the verge of making history with a 17-game winning streak. However, they couldn't get it done and fell victim to five different Washington scorers in a disappointing 5-1 loss to Washington.
Washington moves within five points of the Metropolitan Division lead with 53 points under their belts. However, following the loss, Columbus still sits as the top team in the National Hockey League.
First Period
Washington got off to a fast start, taking a 1-0 five minutes into the first period thanks to the efforts of the Capitals' fourth line. After multiple chances in front and a rebound opportunity for Jay Beagle, Daniel Winnik got hold of a loose puck and roofed it over the glove of Sergei Bobrovsky.
Washington would strike again minutes later on a nice play from John Carlson. Evgeny Kuznetsov found Marcus Johansson flying into the offensive zone, and a speeding Carlson would deflect the puck off his skate to give Washington a two-goal cushion heading into the second period. Despite trailing by two, the Blue Jackets outshot the Capitals 11-6 in the first frame.
Second Period
As the Blue Jackets set out to even the score and ignite their offensive spark, they would find themselves halted by Braden Holtby and the Capitals' defense. And with a little over 13 minutes remaining in the second period, Columbus would find themselves down by three goals.
Nate Schmidt had an impressive drive from the point that was stopped by Bobrovsky, but he scored on his own rebound for his first goal of the season.
Near the end of the second period, the Capitals made matters worse, extending their lead to four. John Carlson jumped on a turnover and passed it to a wide-open Andre Burakovsky in the slot who fired a dart right past Bobrovsky. The Capitals would head into the third with a solid lead, while the Blue Jackets went to the locker room with their heads hanging in frustration.
Third Period
The third period would mark the end of Bobrovsky's night in goal. Justin Williams got hold of the puck and roofed the puck over Bobrovsky's shoulder for the Capitals' fifth goal.
Curtis McElhinney took over, and the Blue Jackets would try to at least leave with at least a goal. Columbus later got a 5-on-3 opportunity, but Braden Holtby stood tall, and a David Savard penalty would cut the man advantage short. They ended up putting eight pucks on net in the third period, but Holtby was able to hang on and take home his fourth shutout of the season.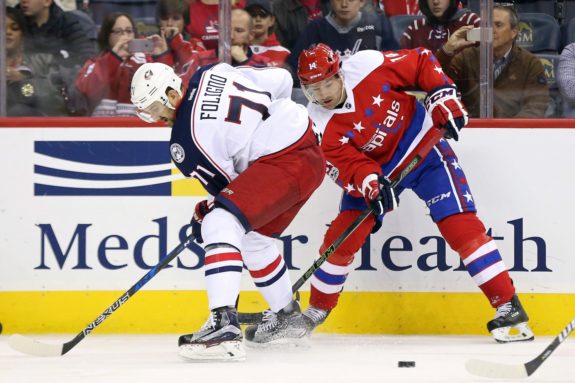 Scoring Summary
First Period
WSH – Daniel Winnik (6) assisted by Jay Beagle and Nate Schmidt
WSH – John Carlson (5) assisted by Marcus Johansson and Evgeny Kuznetsov
Second Period
WSH- Nate Schmidt (1) assisted by Alex Ovechkin and Nicklas Backstrom
WSH- Andre Burakovsky (5) assisted by John Carlson
Third Period
WSH- Justin Williams (11) assisted by Evgeny Kuznetsov
THW Three Stars
Braden Holtby (29 saves)
Nate Schmidt (one goal, one assist)
Andre Burakovsky (one goal)
---
Next Up
Washington Capitals at Ottawa Senators
Canadian Tire Centre, 7 p.m. EST on Jan. 7
Broadcast Channels: CSNMA, TVAS
Columbus Blue Jackets at New York Rangers
Madison Square Garden, 7 p.m. EST on Jan. 7
Broadcast Channels: MSG2, FSOH