Sure, the Montreal Canadiens might have lost defenseman Jeff Petry against the Dallas Stars, but, on the plus side, you would think they're used to it by now.
Of course, on the not-so-plus side, with forward Brendan Gallagher and goalie Carey Price the ones out as well, they're clearly not.
The Last Thing the Canadiens Need
Combined with the ugly 6-2 loss Saturday night, this is really the last thing Montreal needs, with the team 3-7-1 since losing both players in consecutive games in late November.
Granted, I'm stopping short of asking something to the effect of, "how could this possibly get any worse," for fear of the entire team, led by stars Max Pacioretty and P.K. Subban in a conga line, soon slipping and falling on a patch of black ice. They might not have much to spontaneously break into song and dance about now, but best not to chance it, you know?
Not to make light of the situation at hand especially Petry's injury, which looks like it has the potential to be serious, but Montreal has almost entered into dark-comedy territory right now. We're talking Death at a Funeral here.
However, before placing odds on who might be next, it might be worthwhile—at the very least interesting—to debate which player Montreal misses more. Maybe then general manager Marc Bergevin would be able to better assess how to improve his team right about now, if he does intend to go that route.
The Case for Carey Price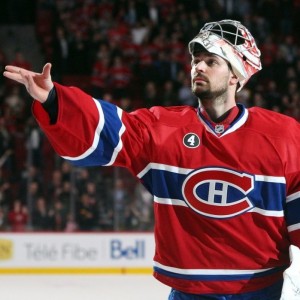 At first glance, it's no contest. Price is the reigning Hart Memorial Trophy winner as the league's MVP. Despite being out for stretches of initially nine games and now 11 more, he still ranks in the top 20 in the league in wins at 10-2. He's only three away from entering into the top 10.
That last bit may seem like an irrelevant statement, seeing as he's still injured and all, but Price is so good he just won an award while on the shelf. Not only that, but it was a pretty prestigious one.
While the team might have weathered the storm the first time he was out, that's not so much the case now. They went an admirable 5-2-2 from late October to late November when Mike Condon first took over the starters' role.
While the loss of Gallagher has clearly impacted Montreal's record without them both, consider this: Of Montreal's eight most recent losses (seven in regulation, one in overtime), the Canadiens had a third-period lead in three of them and were tied in the final frame in two others.
Price would hypothetically have been there to help prevent at least some of those games from slipping away. The Canadiens clearly miss Price more.
The Case for Brendan Gallagher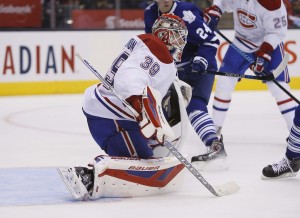 Say what you want about not being able to replace Carey Price, but up until Montreal imploded—as a team—against the Dallas Stars, Condon was doing a decent job.
His current .903 save percentage might not seem like it right now, but, before Sunday, it had been .911… not impressive, but very good for a back-up, and, I think we can all agree, Montreal's new team motto.
Meanwhile, can the same really be said for Montreal's offense? The team is second in the league with 102 goals according to NHL.com, an even average of three per game. However, since both players have been out, they've scored just 19 times… an average of less than two!
Not only that, but Montreal's shooting percentage has been a pathetic 5.4 percent. Considering a generally accepted average shooting percentage is around nine percent (coincidentally 9.11 percent; there's that motto again, "9-1-1; Something to aim for"), that's pretty pathetic.
Montreal may have been shooting above sustainable levels prior to both injuries, but this is mere regression the same way a hurricane is just some water. Something is up, or, more accurately, out, with Gallagher being an unheralded piece of Montreal's offense.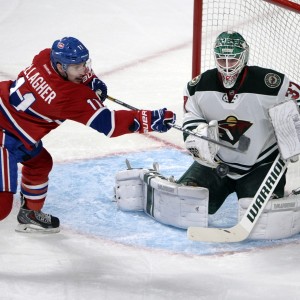 Sure, Gallagher gets into the kitchen of opposing players (and, most importantly, goaltenders). That no doubt helps. However, what most people forget is, prior to his injury, he was essentially on a point-per-game pace with 19 in 22 contests. He also had nine goals, which was just passed by Dale Weise for second on the team (10).
Not to single Weise out or anything, but he kind of epitomizes Montreal's offense as a whole: a strong start followed by a sporadic-at-best present, characterized by a general inability to put the puck in the net despite an incredible amount of glorious chances, at times in front of a yawning cage. And Weise has been getting a lot of those chances on the power play, one that has, coincidentally or not, run as cold as the arctic, going 3-37 (8.11 percent) in the last 11 games.
It may not be Weise's fault (or head coach Michel Therrien's for continually putting him there), but there is no doubt a correlation between the struggling power play and Gallagher's absence. When Therrien is calling up rookie forward Michael McCarron and baptizing him by fire on the first power-play unit in his first game (1:56 time on the ice during the man advantage), it speaks to many problems, not the least of which is desperation to get something going.
Don't forget: This is a power play that is still clicking at 19.3 percent efficiency, meaning at one point in time it was tops in the league… ahh, the memories.
Just Two Players?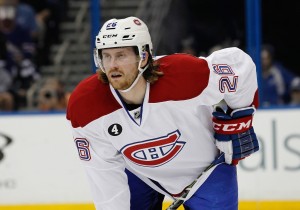 Both Price and Gallagher are obviously missed. However, the misconception is they're just two players. That's technically true, but Price is literally the most valuable player in the league, and Gallagher? He may only be 5'9", but he may even be worth more than an average-sized NHL player due to the fact that his absence affects each and every forward line.
That's 12 total players at once, including the multiple ones Therrien has tried out on the first line with Max Pacioretty to replace him to no avail. So 12 vs. 1? That's pretty clear-cut in favor of Gallagher right there.
It may not, or shouldn't be a competition. It at least isn't one in which anyone wins, that's for sure, especially not the Canadiens. Think of it more as an indication that scoring is the bigger issue right now. If Bergevin were to try and improve his team, that would be where more help is required.
Sure, goaltending remains an area of concern, but is Montreal really going to acquire another goalie when Condon has done all that has been realistically asked of him as a No. 2? What happens when Price comes back? Who would you demote?
More to the point, who would you acquire that could do what Price does?
Meanwhile, if you acquire another forward, you can simply shift them down the lineup. You can forget about screwing up team chemistry too. That's obviously long since gone. Once Gallagher returns, it's almost as if they're going to have to start from scratch as he gets back into the swing of things anyway.
Brendan Gallagher will be with the team on the trip to Washington. Still hope to play on January 1st. DSP will be back Monday or Tuesday.

— Renaud Lavoie (@renlavoietva) December 20, 2015
It of course remains to be seen just how Petry's potential absence will affect the defense, but, as it stands now, Gallagher, even if he's no Price and isn't quite as irreplaceable, is simply more critical to the team's regular-season success. Finding a similar player, one like Daniel Carr, but more experienced, could prove to be beneficial to the team both in the short run, as the Habs tread water awaiting Price's return, and into the playoffs.
Ultimately, the Canadiens may be the only ones lucky enough to have a Price in net, but everyone, including them, can use extra depth up front. Especially now.