LEAFS DAILY:
The Leafs played three games this week – and say what you will about this team – they were three of the most entertaining games all season.  This week the Leafs scored at least four goals in three straight games, and made us forget all about how low goal-scoring has been in the NHL this year.
On Tuesday, the disappointing  Steve Stamkos Show (zero points, one shot) rolled into town, and the Leafs lost 5-4 in overtime to a superior team in an entertaining game – which is really all you can ask for during a rebuilding season.
Next up was the Sharks, and another 5-4 overtime loss.  Again: better team, lots of goals, no quit, and a result that wasn't terrible.
Finally, last night, up against what is probably the deepest roster in league, the Leafs played perhaps their best game of the season and destroyed the LA Kings by a score of 5-0.  Mike Babcock put Nazem Kadri on a line with Michael Grabner and the results were amazing.
The Leafs were out-possessed by the Kings (the NHL's best possession team) but were able to force enough shots wide and block enough of them, that they ended up out-shooting the Kings overall.
Jon Bernier was fantastic, and the Kadri line featured in four of the goals, with Kadri getting two assists, Leo Komarov scoring twice and Grabner netting four points (two and two).
The most impressive thing:  all five goals came at even-strength.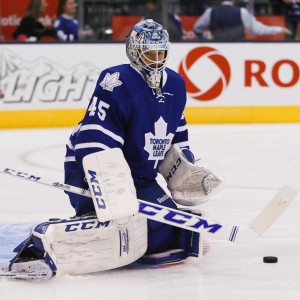 Jon Bernier
After being banished to the minors for a fantastic four game stint in which he went 3-1 with three straight shut-outs, Bernier returned to the Leafs Tuesday against Tampa and promptly returned to the form that got him sent down, allowing five goals to the Lightning and helping to cost the Leafs a winnable game.
This caused Babcock to make frustrated comments after the game and promise the next start to Garret Sparks.  Unfortunately for Sparks, he was injured during the San Jose game and Bernier had to come in as the back-up.
Considering he came into the game down 2-0 in the first period, in the middle of one of the team's worst periods of the season, Bernier's showing against the Sharks was impressive.
A former first-round pick, who – regardless of where his head is at – remains one of the most psychically talented goalies in the NHL, Bernier has experienced first hand the vicious way Leafs fans can turn on a player who doesn't perform.  Because of this, I was extremely happy to see him (perhaps) getting his career back on track with two strong games, including a shut-out against maybe the best team in hockey.
While many fans are frustrated and just want to get rid of him, it's worth pointing that goalies are basically unpredictable and that a goalie who gets run out of one team often ends up revitalizing his career with another (see Dubnyk, Devan).
Sure, Bernier hasn't been very good for a while (and while wins are a horrible stat to judge a goalie by, last night's was his first since last April) but that doesn't mean the rebuilding Leafs should be in a hurry to rid themselves of a player who is so talented.  The fact is, the Leafs aren't a very good team and it's incredibly hard to be the goalie on a bad team in the NHL.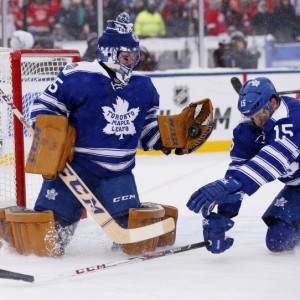 Yes, it is true that Reimer has performed much better in front  of the same team, but that doesn't mean you can discount how difficult it is to play for a team that plays Joffrey Lupul on a checking line, employs Matt Hunwick and Morgan Rielly as a the league's most laughable  "shut-down" pairing, or that considers Roman Polak an NHL player.
Like Todd Gill, Larry Murphy, Brian McCabe, Tomas Kaberle, Dion Phaneuf, Jake Gardiner and Phil Kessel before him, Bernier is experiencing a run as Leaf Nation's go-to whipping boy.  He isn't nearly as bad as people want to make him out to be, but he is a convenient target for a restless fan base stuck with a bad team.
He may or may not be the Leafs' goalie of the future, but he's a talented player and his return to form last night was, for me, the highlight of the Leafs' season so far.  That shutout was a great Christmas present for a guy who probably deserves better than he's gotten this season.
Next Up:
The Leafs have points in five straight games and will be looking to make it seven with a fairly easy pre-Christmas schedule:  They get to play the Avalanche Monday and the Coyotes Tuesday, before getting a little holiday.