LEAFS DAILY:
Once again Steven Stamkos to the Leafs rumours are in full swing, this time because the pending UFA "accidently" "liked" a Tweet about him going to Toronto.  Now, it would have been nice if Stamkos just admitted he thinks it's funny to troll the league's biggest fan base, but of course he blamed it on an accidental push of a button.
While Stamkos claimed it was accidental, and it barely matters anyways, the results were that the last week has been filled to the point of saturation with Stamkos-to-the-Leafs talk. All of which  might be exciting except for one thing: The Leafs should want no part of signing Stamkos as an unrestricted free-agent. 
Stamkos has had a great NHL career so far, and I am not saying he that he is a bad player, but he isn't the player today who once scored 60 goals, and if the Leafs want him, they will have pay him like he is.  Potentially, he will sign the biggest contract in the history of the NHL with a cap hit comparable to Patrick Kane's $10.5 million.
That is just too much to pay for a single player in a cap world.  If he was your own player, and you had a history with him and he was – like Stamkos is to Tampa – the greatest player in franchise history, it might make sense to sign that deal.  For any other team it's a losing proposition because it will be impossible to get value on a such a deal.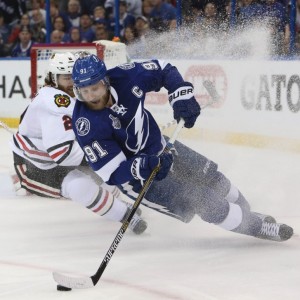 Stamkos is still a great player and likely will be for years. However, he is not the same player he was before the leg injury that cost him the 2013-14 season.  Before that, he was averaging about 2.5 points/60 over five seasons, but after the injury he posted 2 points/60 last season and just 1.3 points/60 so far this season.
I think if you're going to look at making this player the centerpiece of your team for the next seven years, you had better be sure what you're getting.  Make no mistake, he is still a great player, however he isn't as good as he once was, and isn't likely to ever be so again, since, statistically, by the time a player is 26 (as he will be before this season is over) they have usually already had their best season.
Signing Stamkos Is Just Bad Business
Still, even if there was a guarantee that Stamkos could be what he once was, I don't think the Leafs should sign him. Too much salary for one player is just the start. The fact is, with Nazem Kadri, Mitch Marner and William Nylander, the Leafs appear to have more depth at centre than any other position, making Stamkos at least somewhat superfluous.
Just for example, instead of signing Stamkos to a seven year contract worth about $11 million annually, the Leafs could sign Kadri to a deal that paid him $6 million, and still have another $5 million to spend on another player.  Kadri + a $5 million dollar player will be much better than having just Stamkos.
Check their 5v5  stats so far this year:
Kadri:     3 goals, 3 assists, 51.97 CF% , +3.52 Corsi Relative to team, 15.23 TOI/game, 75 shots, +53 scoring-chance differential, 79 individual scoring chances.

Stamkos: 5 goals, 5 assistss, 49.5 CF% , -3.30 Corsi Relative to team, 14.96 TOI/game, 40 shots, -15 scoring-chance differential, 45 individual scoring chances.

(Kevin Hoffman-USA TODAY Sports)
As you can see, you can sign Kadri for probably half the price,  and what you get is a player who, so far this season, has been vastly superior.  Now, I wouldn't suggest that Kadri is a better player or that he will continue to outperform Stamkos, but you have to consider it a possibility. Stamkos has lost his #1 centre job to Tyler Johnson, been relegated to the wing and isn't the same player he once was. In comparison, Kadri is having a way better season and there is nothing other than Stamkos reputation – built on an impressive body of work that predates his broken leg – that would make you take a player who is putting up worse numbers and pay him twice as much.
The other reason to not sign him is simply because if you do it might eventually cost you Nylander, Morgan Rielly or Marner when they eventually need to sign huge deals one day down the road. The Leafs should just be patient for once and not rush into any kind of shortcuts, which is exactly what Stamkos would be.
For once, they should try to develop their own Stamkos.