Turns out Connor McDavid was right after all. Not that there was much doubt in what he said about Alex DeBrincat. But it's scary to think back about how right McDavid was.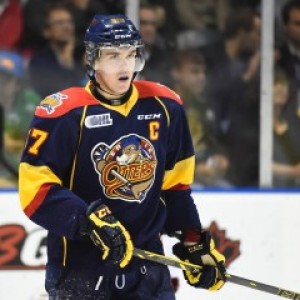 McDavid's Prophecy on DeBrincat
Let's set the scene for you. DeBrincat just scored his 50th goal of his Ontario Hockey League rookie season in a game at Plymouth (Remember them? Long live the Whale). That happened on the second to last game of the regular season. He proceeded to add his 51st goal the next night against a team he's owned over the years in the Niagara Icedogs.
Before the playoffs began, I asked McDavid about DeBrincat's impact. Many, including myself, wondered if this was a direct result of McDavid's brilliance. I mean, it's a fair question to ask, given that DeBrincat was signed as a free agent. Surely someone as good as DeBrincat wouldn't get passed over twice. The answer McDavid gave has stuck with me to this day.
"He's a very good player. He'd have done the same thing without me," McDavid replied.
The look and conviction that McDavid showed while giving that answer is an image that I'll never forget. The answer was full of confidence. My whole view of DeBrincat changed at that moment.
Now honestly, in the back of my mind, I still wondered how DeBrincat would do without the greatness of 97. Could he keep up his goal-scoring rate without someone on his line who averaged almost three points per game?
So what does DeBrincat do at the start of the 2015-16 season? He proceeded to score SIX goals in his first two games of his draft year. SIX! This included a five-goal outburst against the aforementioned Icedogs. If that wasn't enough, two games later against the same team, he scored four more! That's 10 goals in four games if you're keeping track.
Okay, I know what you're thinking. This is a fluke, right? He scored nine goals total against the same team in back-to-back games. Surely this will not keep up. Teams are gonna start taking him out of the game plan. No way will they let him score at will.
In his next 12 games, he scores 15 goals. Okay, now we're on to something. There's something truly special about this DeBrincat kid.
Remember, McDavid was already in Edmonton. Yes, Dylan Strome was back with the Otters after going third to the Arizona Coyotes. There was still good talent on the Otters that may have had a hand in DeBrincat's output.
Wanna know a secret? DeBrincat has produced no matter who he's played with. Let's look at some numbers.
DeBrincat's Good by Himself
Check out this wonderful piece by Kristina Rutherford of Sportsnet on DeBrincat. In it, she shows DeBrincat's numbers while playing with different players. Specifically, she shows his goals per 60 with and without McDavid and Strome. In his first two seasons, there was a drop in production. But the drop off was not as big as you might think.
Then this season, DeBrincat's numbers have actually dipped a little since Strome's return. No matter how you look at this season's numbers, DeBrincat produces no matter who he's with.
Let's go one step further. Before Strome came back to the Otters, DeBrincat's center was 16-year-old rookie Allan McShane. DeBrincat's pace increased. He's only getting better.
How much better is he now? It only took DeBrincat 51 games to get to 50 in 2016-17. He put a huge exclamation mark on it by powering a shot past Jeremy Brodeur Monday in Oshawa. DeBrincat became the first player in the OHL modern era (after 1980) to record three straight 50-goal, 100-point seasons. Dale McCourt was the last player to do it when the league was the OHA.
It's Not About Numbers
DeBrincat's task is far from over. Of everything he has accomplished to this point, there's just one thing that matters to him.
"I'm here to win a championship. That's all that matters to me," DeBrincat recently told me.
He gets it. Not only are the Chicago Blackhawks getting a very good player, they're getting someone who cares deeply about the team he's on. Pretty good return for a second-round pick, wouldn't you say?
That's what's been so remarkable about covering DeBrincat. He is a respectful young man. Despite being passed over multiple times in his career, he never lost sight of the bigger picture. It's not about numbers with him. It's about making himself and others around him better. Add to that, the chip on his shoulder for being passed over many times, and you have a player who will make an impact at the next level.
Congratulations to Alex DeBrincat for achieving his third-straight 50-goal, 100-point season in the OHL. McDavid knew in 2015 how special DeBrincat was. Now we all do too.
From undrafted to historic. DeBrincat will never be forgotten in Erie, Pennsylvania.
I am a fully credentialed writer who covers the Columbus Blue Jackets, Cleveland Monsters and Erie Otters as well as the Ontario Hockey League and NHL Draft. The 2021-22 season will mark eight seasons with the Hockey Writers. I am also the site's Credentials Manager.