In the second part of our Top 3 Western Conference Goaltenders series, we examine the top three goaltenders that have come from the Flint/Plymouth franchise. Flint has only been in the league since the start of the 2015-16 season so we are including the Plymouth franchise in this.
Model of Consistency
The Plymouth Whalers started playing out of the Compuware Sports Arena in Plymouth, MI in 1997. They lasted until the 2014-15 season, after which they moved a couple of hours northeast to Flint.
Prior to their move to Flint, they were one of OHL's most consistent franchises. In 18 seasons in Plymouth, they placed first-or-second in the division 14 times.
Consistency requires good goaltending and Plymouth had plenty of that. We've gone through the years and selected the top three goaltenders in the franchise's history. It wasn't an easy task, though, as the team has churned out some elite goaltenders. Let's take a look.
#3 – Scott Wedgewood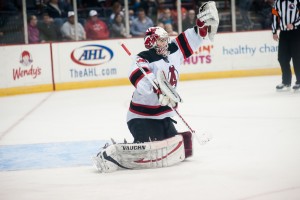 Wedgewood came to the Whalers during the 2008-09 season after being the team's seventh-round pick in 2008. In his first season, he was the back-up to the stellar netminder Matt Hackett. While his GAA was 4.56, the potential was there. He didn't disappoint.
In 2009-10, Wedgewood was groomed by Hackett to be the future. As a result, his GAA dropped to 3.26 and his save percentage was over 90 percent. When Hackett moved on in 2010-11, Wedgewood took control of the crease and didn't look back.
In his final two seasons with the Whalers, Wedgewood had a GAA of almost exactly 3.00 and a save percentage around 91 percent. He won 56 games for the Whalers and led them to two lengthy playoff runs.
After graduating from the Whalers, Wedgewood has gone on to a successful career in the AHL with hopes of moving up to the New Jersey Devils in the near future.  That said, he still has a place in his heart for Plymouth. Here's a clip of Wedgewood during his time in Plymouth talking about pink hair for a good cause and being a Devils' prospect.
[irp]
Wedgewood's consistent success with the Whalers over multiple years has earned him the title as the Whalers' number three all-time goaltender.
#2 – Matthew Hackett
Wedgewood's mentor, Hackett, was nothing short of remarkable during his career.
A fifth-round pick by Windsor in 2006, Hackett was dealt to Plymouth during the 2007-08 season in a multi-player trade that saw Michael Neuvirth go to Windsor. For the rest of that season, Hackett backed-up veteran Jeremy Smith, putting up a GAA of 3.44 and a 0.900 save percentage.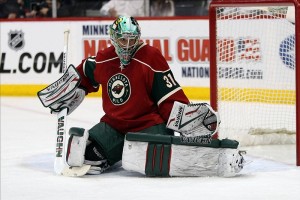 It was his next two seasons, though, that shot him into the spotlight. He improved all of his totals during the 2008-09 season and was only stopped by a dominant Windsor team in the playoffs.
In 2009-10, he played in 56 games for the Whalers with a GAA of 2.62 and a save percentage of 0.925. Over the final two seasons, he won 67 games during the regular season.
When Hackett arrived in Plymouth, he had the potential to be an outstanding goaltender. When he left Plymouth, he was one of the steadiest, most reliable goaltenders in the league. Since his graduation, Hackett has seen time both in the AHL and NHL with the Minnesota and Buffalo franchises.
Here are some highlights from his time with Plymouth:
When you think of top Plymouth goaltenders, Hackett is one of the first names that comes to mind. His overall game, combined with his development and stats, has earned him the ranking as the number two all-time goaltender in Whalers history.
[irp]
#1 – Alex Nedeljkovic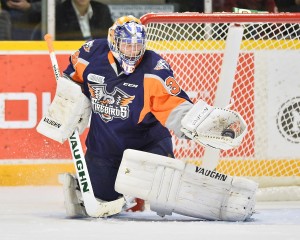 The six-foot, 190-pound Nedeljkovic was Plymouth's sixth-round pick in 2012. The team saw potential and he earned 26 games in his rookie season. He didn't disappoint with a 19-2 record, a GAA of 2.28 and a save percentage of 0.923.
He continued his winning the following season. Plymouth won just 28 games in 2013-14 and Nedeljkovic won 26 of them. In 61 games, he had a GAA of 2.88 and a save percentage of 0.925. He was the reason the team was in the game most nights as they scored just 187 goals on the season.
His play earned him a second-round selection by Carolina in the 2014 NHL Draft.
In 2014-15, Nedeljkovic continued his stellar play with a GAA of 3.13 and a save percentage of 0.916. He was a key reason Plymouth remained out of last place.
When the franchise moved to Flint to start the 2015-16 season, he became a prized asset for the Firebirds.  Nedeljkovic appeared in 19 games for the Firebirds with a 9-7-2 record. While Flint won just 20 games, he had a GAA of 3.21 and a save percentage of 0.907.
Before the trade deadline, the Firebirds dealt Nedeljkovic to Niagara in a package deal. It gave Flint draft picks to help build a team. Niagara got their goaltender to lead them to a conference title.
It's not easy for a goaltender to come into the league, get thrown in the fire and immediately find success. Nedeljkovic was a stable force on an average team, which is a rare commodity.
Here's a clip of the NHL Network talking about Nedeljkovic on draft day:
For these reasons, Nedeljkovic has earned the title as the best goaltender in Plymouth Whalers and Flint Firebirds history.