From May 1-31, NWHL teams can re-sign players from their 2016-17 roster and their draft picks during the restricted free agency period, and beginning on June 1 any unsigned players left will be free to sign with any team.
The third season of the NWHL will begin in October as the Buffalo Beauts defend their Isobel Cup championship, and with up to 12 players unable to participate in the league this season due to their selection for Team USA's 2018 Olympic team, this will be the most competitive season yet.
My colleague Dan Rice will keep THW readers up-to-date on New York and Connecticut's signings throughout the summer, while I post updates on Buffalo and Boston.
Rookie Litchfield Becomes Pride's 3rd Netminder
Whale Bolster Blueline & Add a Forward
Ott's Return Means Pride Have an Iron Wall
As if the Buffalo Beauts had not already doubled (even tripled) their firepower for 2017-18, they went ahead and added one of the CWHL's top scorers. Word came out on Aug. 31 that sniper Jess Jones had agreed in principle to play for Buffalo in the upcoming season. Jones, a staple for the Markham (Brampton) Thunder is one of three players now to have left the team and shuffled down to Buffalo. THW delves further into the Jones' signing.
A Most Productive College Career
As a Mercyhurst Laker in college, Jones was a force to be reckoned with. She would hit double-digits in goals in each of her four years spanning from 2008 through 2012. In terms of goal scoring, Jones' finest output was her sophomore year when she potted 20 of them. Points-wise, her senior season saw her reach 48 points (13 goals, 35 assists) in 34 games.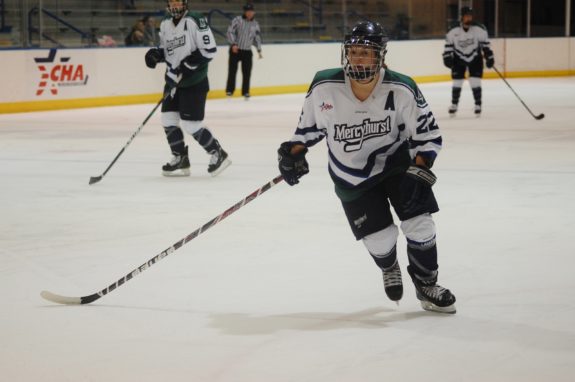 Mercyhurst head coach Michael Sisti spoke on Jones via an NWHL press release: "Jess was a great player for our program. "She is a very smart hockey player and will be a valuable addition for Buffalo. We wish her the best of luck with the Beauts."
Jones would finish her time with the Lakers having scored 61 goals and 93 assists in 136 games.
From Minsk to Brampton
After finishing college Jones would spend a season playing in Belarus with HK Pantera Minsk of the Elite Women's Hockey League. Her ability to score would continue to flourish while playing in Minsk. The league consists of several European teams including squads from countries such as Germany, Slovakia, Italy, Austria, Hungary, and Kazakhstan. While with Pantera, Jones put together a season of 28 goals and 25 assists in only 19 games.
ICYMI (not sure you could have): Jess. Jones. #DefendTheCrown

Story: https://t.co/LHjRympNXt pic.twitter.com/UZNMkxz5kc

— Buffalo Beauts (@BuffaloBeauts) September 1, 2017
Following a lone season in the EWHL, Jones would return to North America and play in her native Canada. In the CWHL's 2013 draft, Jones was selected in the first round by the Brampton (now Markham) Thunder.
Playing in a league with the premier talent in women's hockey, Jones' offensive prowess did not immediately transfer to CWHL play. Her first season with the Thunder, 2013-14, Jones would go 5-4-9 in 23 games. That would not last for long, as Jones' numbers went up exponentially in each of her following seasons in the league.
A CWHL Premier Player Comes to Buffalo
After a modest first year with the Thunder, Jones saw her point totals rise from nine to 16, to 24 and then an explosion of 37. When Jones compiled 17 goals and 20 assists in 24 games last season she would share the Angela James Bowl with Marie-Philip Poulin as the top scorers in the entire CWHL. That production in 2016-17 is part of what makes her signing with the Beauts such a coveted move.
In Jones' four seasons with the Thunder, she recorded 43 goals and 43 assists for 86 points in 95 career games. Having accomplished what she has in the CWHL, Jones now looks to showcase her talent's in the other top league for women's professional hockey. This is part of what fueled her move to Buffalo.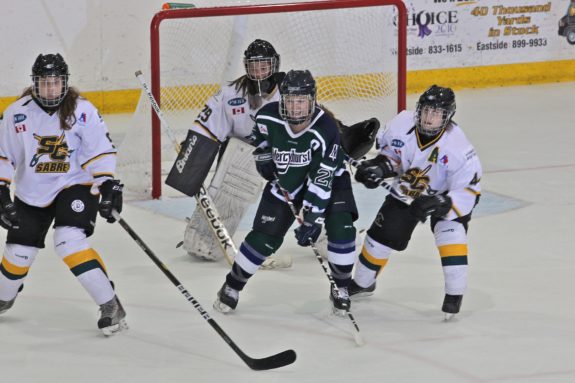 Jones shared in a NWHL press release:
"After playing in the European and Canadian leagues, I'm looking forward to the challenge of competing against the great talent in the National Women's Hockey League. I've admired the league from my home base in Toronto, and of course, I know some of the players from my collegiate career, so I'm really pumped to become a member of the Buffalo Beauts."
Jones Fits in Nicely as a Beaut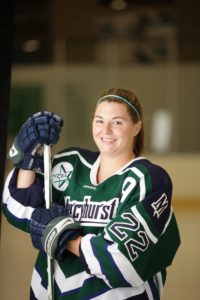 Her talent and scoring prowess aside, Jones fits in well with her Buffalo teammates. As she had stated, she is already familiar with a number of them. Jones is actually the third player from the Thunder to come stateside to the Beauts. Thunder teammates of hers Sarah Edney and Rebecca Vint have also signed in Buffalo for this season. Products of Mercyhurst are very well within the makeup of the roster. Like Jones, Beauts' goaltender Julia DiTondo and forwards Taylor Accursi and Kathy Donohue are former Lakers too.
Speaking of her time with the Thunder and now joining Buffalo, Jones also added through the same press release:
"I had a great experience in Brampton. My teammates, the staff and the fans were incredible there. I'm sorry to leave all the great friends I made there, but the opportunity that the NWHL and Buffalo presents is really exciting to me."
With those aforementioned teammates awaiting her in Buffalo, Jones is certainly not sailing into uncharted waters. Buffalo is the ideal fit. Here is how the Beauts' roster looks presently as we get closer and closer to the start of '17-'18 season:
The Beauts roster as of Sept. 6:
Goalie: Amanda Leveille, Kelsey Neumann, Julia DiTondo
Defense: Lisa Chesson, Sarah Casorso, Kayla Parsons, Colleen Murphy, Jacquie Greco (defender-forward), Sarah Edney, Jordyn Burns
Forward: Jessica Sibley, Kourtney Kunichika, Kathy Donohue, Taylor Accursi, Hayley Scamurra, Jordan Ott, Corinne Buie, Kaylyn Schroka, Sarah Shureb, Kristin Lewicki, Maddie Elia, Rebecca Vint, Jess Jones. 
General Manager of the Buffalo Beauts (NWHL). Hockey history writer "The Hockey Writers". Credentialed media for the NHL Combine and 2018 IIHF World Junior Championships in Buffalo, NY, USA. Born and raised in Buffalo, NY. Lifelong hockey fan for over 40 years. Proponent of the women's game.