From May 1-31 NWHL teams can re-sign players from their 2016-17 roster and their draft picks during the restricted free agency period, and beginning on June 1 any unsigned players left will be free to sign with any team. The third season of the NWHL will begin on October 28 as the Buffalo Beauts begin defense of their Isobel Cup championship, and with up to 12 players unable to participate in the league this season due to their selection for Team USA's 2018 Olympic team, this will be the most competitive season yet.
My colleague Nathaniel Oliver will keep THW readers up to date on Buffalo and Boston's signings throughout the offseason, while I post updates on Connecticut and New York. 
N. E. Native Schwarz Signs with Pride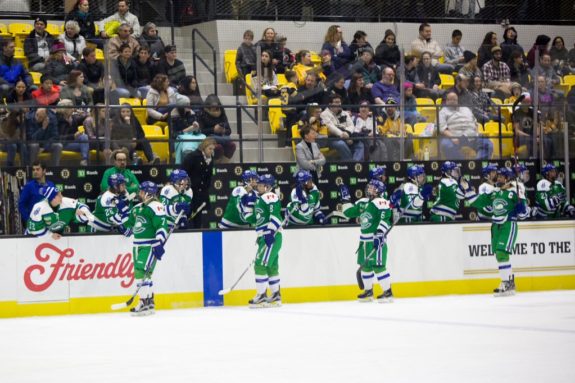 Whale Watch
As the start of the new season nears Connecticut's roster needed the most work and over the past two weeks they alleviated those concerns when they added six players — two goalies, four forwards — between September 12-27. First, they added Sophia Agostinelli who didn't play college hockey while she was at the College of Holy Cross, instead, she was a lacrosse player from 2011-15. During the inaugural NWHL season, Agostinelli did play hockey over in Germany.
"I'm proud to have this opportunity with the Connecticut Whale," she said in a press release. "Two years ago I watched the inaugural NWHL season at odd hours of the night in Germany on my iPhone. Last year I had the chance to watch my friends play on the ice and root them on in the stands. This year I'm lucky enough to have the chance to play with them on the ice, and I am beyond excited."
Flashback Friday to when I was already on the @CTWhale_NWHL signing autographs as @battaglinoa pic.twitter.com/U4c7QfDshN

— Sophia Agostinelli (@Sofia_Angelina) September 29, 2017
On September 27 the Whale announced they had re-signed two players – Meghan Huertas and goaltender Laura Brennan – from last season's team while adding three newcomers in Jamie Goldsmith and Grace Klienbach, as well as goaltender Keira Goin.
Brennan only saw action in the preseason, while Huertas joined Connecticut midseason and played in nine games (1g-3a). "It's thrilling to be part of the NWHL, which has given myself and so many others the opportunity to continue our hockey careers after college at such a competitive level," the 25-year-old Huertas said in a press release.
Like Huertas, Klienbach hails from Florida and played the last four seasons at Neumann; last season she was the team captain and registered 29 points (14g-15a) in 25 games.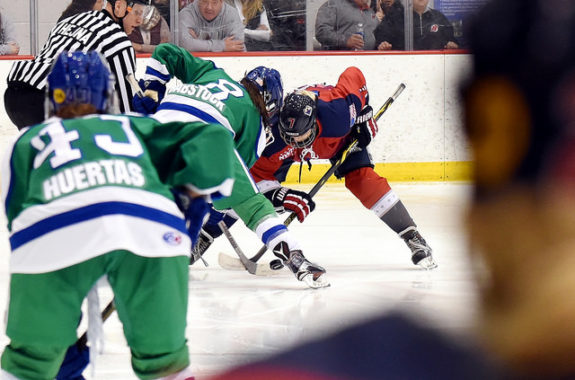 Goin won 40 games in four seasons with Utica and earned a contract with her strong showing at the NWHL Free Agent Camp. "Words can't-do justice to what I'm feeling, especially having thought that my playing career was over before the NWHL provided women with opportunities," she said in a press release. "I couldn't be more excited to continue playing hockey and to of it with the Connecticut Whale."
Goldsmith played collegiately at St. Lawrence from 2009-13 and is currently girls' hockey coach at The Gunnery prep school in Connecticut. "I am fulfilling the dreams of my ten-year-old self and am thankful for the women who came before me and blazed a trail for women's professional hockey," said Goldsmith in a press release. "By joining the league, I feel a great sense of responsibility to continue to carry that torch."
Here is the Whale roster as of October 1:
Goalie: Sydney Rossman, Keira Goin, Laura Brennan
Defense: Cydney Roesler, Shannon Doyle, Elena Orlando, Anya Battaglino, Rachel Ade, Jordan Brickner, Cassie Dunne, Amanda Boulier 
Forward: Kelly Babstock, Juana Baribeau, Stephanie Mock, Sam Faber, Emily Fluke, Kaycie Anderson, Meghan Huertas, Jamie Goldsmith, Grace Klienbach
Dan Rice is in his 9th year of reporting for THW & has covered NJ Devils home games for 15+ years at various websites. He began his journey working for legendary broadcaster/writer Stan Fischler from 2002-04 & completed an internship at the ECHL; he also has been writing features for the NWHL (nwhl.zone) website since 2016.