From May 1-31 NWHL teams can re-sign players from their 2016-17 roster and their draft picks during the restricted free agency period, and beginning on June 1 any unsigned players left will be free to sign with any team. The third season of the NWHL will begin on October 28 as the Buffalo Beauts begin defense of their Isobel Cup championship, and with up to 12 players unable to participate in the league this season due to their selection for Team USA's 2018 Olympic team, this will be the most competitive season yet.
My colleague Nathaniel Oliver will keep THW readers up to date on Buffalo and Boston's signings throughout the summer, while I post updates on Connecticut and New York. 
Pride Sign Princeton's Stearns
Rivs Recap
On September 5 the Riveters announced the re-signing of defender Rebecca Morse, who saw action in seven games last season as a practice player. The 25-year-old Providence grad had one assist and registered five blocked shots in the games she appeared in – most of which came in the first half of the season.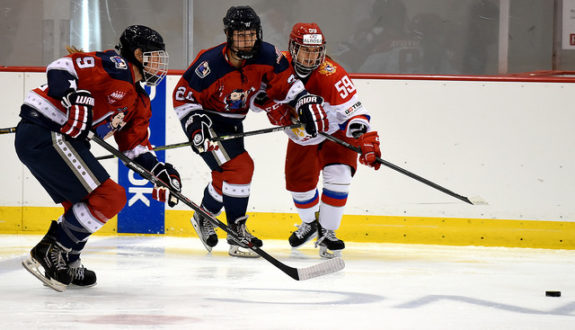 "Playing professional hockey last season was undoubtedly the coolest experience that I have had in my life thus far – in my home state, at the facility of my favorite NHL team, the New Jersey Devils," said Morse, who is from Westfield, New Jersey in a press release. "Because I was a practice player last season, I feel as though I still have a lot to prove. No one would prefer to watch games from the stands, but I really enjoyed pushing my teammates in practice and sharing in our success. Fortunately, I was able to help the team when we had injuries and play in a number of games. My goal is to earn a more consistent role in the lineup this season."
Two days later the Rivs sent a shockwave through the league when it was announced they had signed Erika Lawler for the upcoming season. Lawler was the Director of the NWHLPA in season one and last played a game in the CWHL in 2012-13, but she was a scoring dynamo, is a three-time NCAA champion and has played for the USA Olympic team as well.
"I'm just really, really happy to be back on the ice and contributing to a team's locker room dynamic again," the 30-year-old Lawler said in a press release. "I'll gladly embrace any role (coach) Chad Wiseman assigns me. I want to help the Riveters win the Isobel Cup."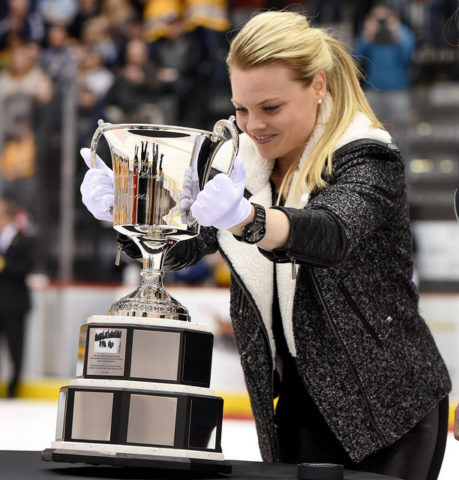 Over the past six months she has prepared for this and very motivated it seems to come back and be an impact player, on and off the ice for the Riveters. "I'm really grateful for this opportunity and proud to stand among all NWHL players at this incredible time of growth in the women's game," she added. "Regardless of how the season plays out, what's important to me is enjoying each step in the process. Until then, please excuse me while I go searching for my legs…"
The following day brought another shocking announcement from the Riveters when they announced Madison Packer – who announced her retirement at the end of season two – was coming back for season three. A two-time NWHL All-Star, Packer has amassed 20 points (11g-9a) which rank her 19th all-time in the league.
"Hockey instills the values of friendship and loyalty. It's about being part of something greater than myself"- Madison Packer#ThisIsHockey pic.twitter.com/ZufMPy7xAm

— NWHL (@NWHL) September 8, 2017
"I was a little banged up at the end of last year but got patched up over the summer and I'm thrilled to be a Riveter for another season," said Packer, who was an alternate captain in each of the first two seasons through a press release. "It will be great to be 100 percent again. Looking at the roster, we have a strong group. We have a lot of talent in the room, both returning and new players, and we have a real shot at winning the Cup this year. I'm anxious to get to work with this crew."
"In my time away from the game, I realized I wasn't ready to walk away, and I missed the camaraderie and friendships that come with being part of a team.I am grateful to the league for their support, and willingness to bring back on board."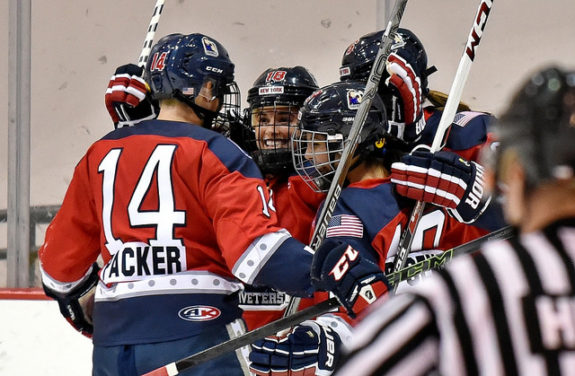 Here is the Riveters roster as of September 11:
Goalie: Katie Fitzgerald, Sarah Bryant
Defense: Ashley Johnston, Kiira Dosdall, Courtney Burke, Jenny Ryan, Kelsey Koelzer, Michelle Picard, Rebecca Morse
Forward: Tatiana Rafter, Rebecca Russo, Miye D'Oench, Cheeky Herr, Alexa Gruschow, Lindsey Hywla, Bray Ketchum, Harrison Browne, Erika Lawler, Madison Packer
Dan Rice is in his 9th year of reporting for THW & has covered NJ Devils home games for 15+ years at various websites. He began his journey working for legendary broadcaster/writer Stan Fischler from 2002-04 & completed an internship at the ECHL; he also has been writing features for the NWHL (nwhl.zone) website since 2016.