From May 1-31, NWHL teams can re-sign players from their 2016-17 roster and their draft picks during the restricted free agency period, and beginning on June 1 any unsigned players left will be free to sign with any team.
The third season of the NWHL will begin in October as the Buffalo Beauts defend their Isobel Cup championship, and with up to 12 players unable to participate in the league this season due to their selection for Team USA's 2018 Olympic team, this will be the most competitive season yet.
My colleague Dan Rice will keep THW readers up-to-date on New York and Connecticut's signings throughout the summer, while I post updates on Buffalo and Boston.
Rookie Litchfield Becomes Pride's 3rd Netminder
Whale Bolster Blueline & Add a Forward
Ott's Return Means Pride Have an Iron Wall
It is always touching to see teammates rally around each other and when a tragedy strikes some players – like the newest member of the Boston Pride – become inspired. On August 31st the Pride announced that they had signed former Princeton Tiger, and teammate of Denna Laing's, Corey Stearns.
ICYMI: We welcomed Corey Stearns to #ThePack today! Read more in the press release: https://t.co/7ICwOndWfg pic.twitter.com/jQxV8KqtyD

— Boston Pride (@TheBostonPride) September 1, 2017
Stearns has been working diligently to get herself into top competitive form and to play elite level hockey again. THW examines the signing more closely.
Playing for the Pride Touches Stearns
Clarkson Cup and Isobel Cup champion Laing played at Princeton University from 2010 until 2014. The first three of those seasons, Stearns was her teammate. Prior to that the two were teammates at Noble and Greenough School, a co-ed school in Dedham, Massachusetts.
On December 31st, 2015, Laing suffered a severe spinal cord injury during the first professional outdoor women's hockey game. The game was played between Laing's Boston Pride and the CWHL's Les Canadiennes de Montreal. The injury left Laing with limited movement in her arms and no feeling in her legs. Since that accident, the hockey community has rallied around her. Now her former teammate Stearns is doing the same.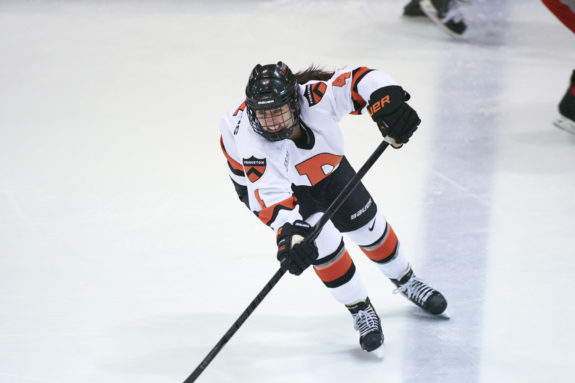 Stearns shared via NWHL press release:
"I'm so honored to be joining the Boston Pride and the NWHL and really proud that this is happening," she said. "I never thought I'd have the opportunity to play hockey professionally in my home city. I played with Denna at Nobles and at Princeton, and she is a true competitor and a great friend. Joining an organization that Denna played for and cares so deeply about makes playing for the Pride even more special."
Stearns' Time at Princeton
At 5'10", Stearns is a solid playmaking forward. In 112 games for the Tigers, she amassed 22 goals and 49 assists for 71 points. Stearns' finest outpouring was during her senior year at Princeton when she led the team in points with 31 points in only 29 games, making her a point per game player.
More importantly, it was how Stearns generated those points. Getting the puck to her teammates, 26 of her 31 points were assists. Those 26 helpers ranked 21st in the NCAA for women's Division-I schools and were more than other NWHL veterans Brianna Decker and Rachel Llanes, and Buffalo Beauts' draft choice Cayley Mercer. Stearns also accomplished the feat in less games than players like Kelly Babstock, Nicole Kosta, and Emily Field.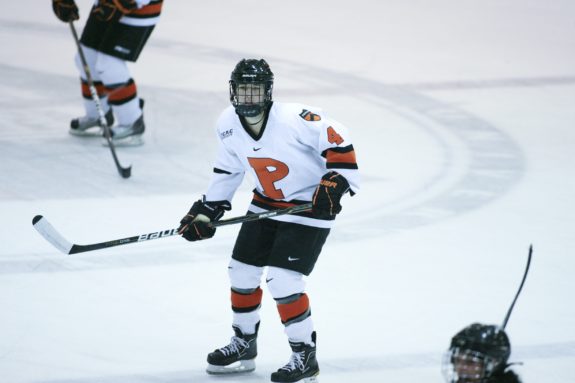 Speaking of her collegiate career with the Tigers, Stearns mentioned that she, "was fortunate to have had the opportunity to play for Jeff Kampersal at Princeton. I played with the best teammates and friends anyone could ask for and I am forever grateful for my experiences there."
International Experience and Teammate Familiarity
At the 2008 IIHF World Women's U18 Championship in Calgary, Alberta, Stearns helped lead the United States to the gold medal. Current and former NWHLers Decker, Anne Schleper, Meagan Mangene, and Kelley Steadman were all part of that same winning squad where Stearns scored two goals and four assists in five tournament games. Mangene, whose signed with "The Pack" on August 25th, will be Stearns' teammate this season.
One of the foremost strengths of the Boston team is the players' familiarity with one another. Having a vast number of players like Stearns and Mangene who played internationally together, as well as all the members of the Pride who have won Clarkson and Isobel Cups together will help this group recapture the Isobel Cup in 2018.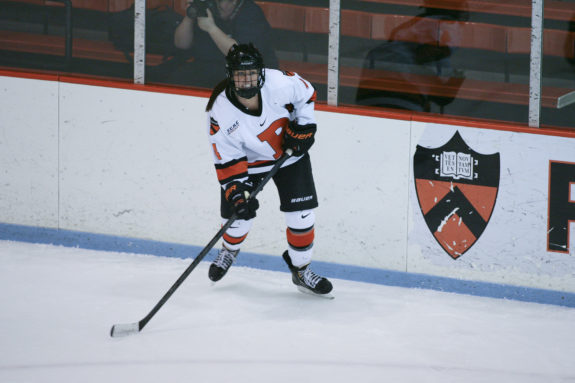 Stearns is ready to do whatever it takes to win the championship. "Over the past year I ramped up my training and ice time to get ready for the upcoming season," she said in the press release. "I'm really excited to play at the highest level again."
Here is the Pride roster as of Sept. 4:
Goalie: Brittany Ott, Brianna Laing, Madison Litchfield.
Defense: Lexi Bender, Meagan Mangene (defender-forward), Alyssa Gagliardi, Marissa Gedman, Paige Harrington, Kaliya Johnson.
Forward: Paige Savage, Sydney Daniels, Mary Parker, Emily Field, Jillian Dempsey, Michaela Levine, Jordan Smelker, Dana Trivigno, Janine Weber, Kathryn Tomaselli, Corey Stearns.
General Manager of the Buffalo Beauts (NWHL). Hockey history writer "The Hockey Writers". Credentialed media for the NHL Combine and 2018 IIHF World Junior Championships in Buffalo, NY, USA. Born and raised in Buffalo, NY. Lifelong hockey fan for over 40 years. Proponent of the women's game.