There have been reports that the Edmonton Oilers are one of the finalists bidding for free agent defenseman Cody Franson. One of the reports comes from Rick Dhaliwal from Vancouver's News 1130 radio station. Dhaliwal states Franson, an unrestricted free agent, is looking at offers from the Oilers and Chicago Blackhawks.
According to Dhaliwal, the Vancouver Canucks, a team many thought were a great fit for Franson, never called. The 30-year-old is one of the few remaining blueliners on a slim market.
As Lowetide of Oilersnation points out, Franson's likely going through the same thing Kris Russell did last summer. Russell priced himself out of the market and ended up signing just before the end of the pre-season.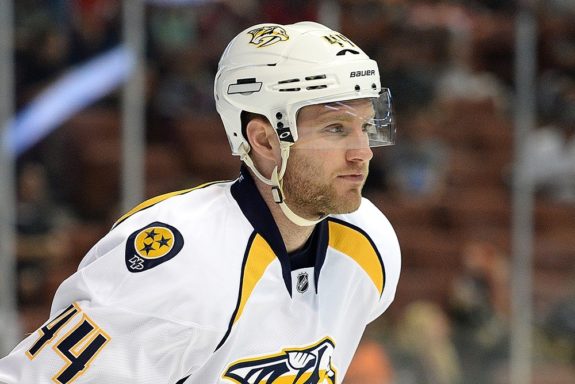 Edmonton needs another blueliner. The injury to Andrej Sekera creates a short-term hole in their top four. There's also the possibility the Oilers will try Matt Benning and Darnell Nurse in the top four next to Russell. Either way, depth is going to be a consideration if Edmonton is going to make a run in the 2018 Stanley Cup Playoffs.
Unfortunately for Oilers general manager Peter Chiarelli, there hasn't been a lot of options to fill a need.
2017 UFA Market Has Been Slim Pickings
The free agent market this summer was dreadful. The limited supply of quality players has allowed some blueliners with plenty of warts to get not only multi-year contracts but multi-million dollar deals. Trevor Daley, Michael Del Zotto, Dan Girardi and Dmitry Kulikov all signed decent deals, from a player's perspective; from an organizational standpoint, those contracts are ugly.
Dennis Wideman, Fedor Tyutin, Roman Polak, John-Michael Liles and Franson highlight the remaining list of defenders on the market. Edmonton supposedly went after European free agent Jan Rutta earlier this summer but lost a bidding war to the Blackhawks.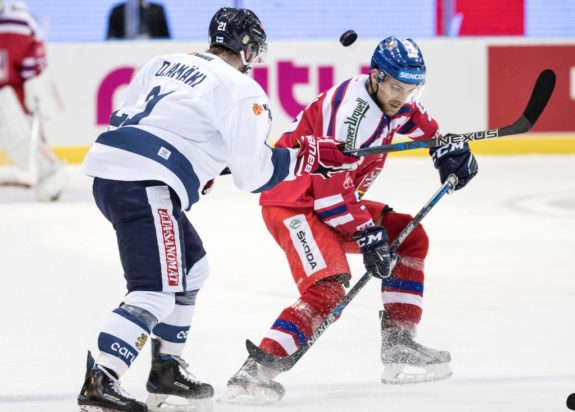 In June, I rumbled about Chris Lee, a 37-year-old journeyman from the European leagues. There was an argument that Lee was a viable option for the Oilers and Lee ended up signing a professional tryout (PTO) with the Los Angeles Kings.
In turn, Edmonton went out and signed a pair of blueliners in Yohann Auvitu and Ryan Stanton. They add depth, but they don't help an already questionable Oilers top four. Thus we circle back to the Oilers options on the free agency market.
So should Edmonton try and sign Franson?
Cody Franson: Good, the Bad & the Ugly
The Good:
From a fancy stats perspective Franson's possession numbers are relatively good. He was one of the Buffalo Sabres' best players at five-on-five (0.89 points per sixty) and had a Corsi For of 50.8. On a Buffalo team that finished in the bottom-third of the league (24th) in goals, Franson still managed to finish third on their defense in scoring. His 19 points in 68 games would've bested Adam Larsson (19), Matt Benning (15) and Kris Russell (13) in Edmonton during the 2016-17 season.
The Oilers need a cannon for their second power play (PP) unit, and Franson's got an absolute bomb from the point. He's been trusted with the power play in the past, and he's not terrible at moving the puck. He's also 6'5″ and 225 pounds, the ideal size for an NHL defender. We all know Chiarelli likes big bodies, and Franson's just that with an offensive edge.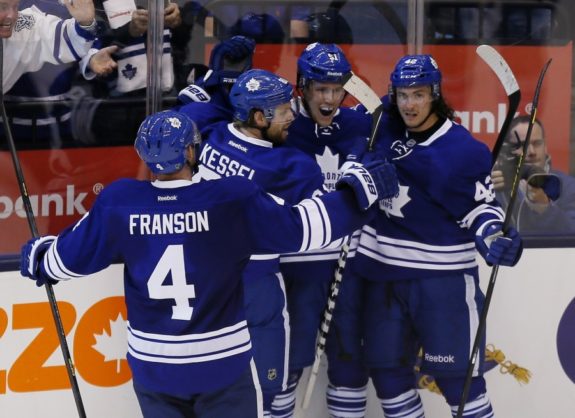 The Bad:
Keep in mind that at 30-years-old Franson is starting to slow down. He's no longer a 29-36 point defenseman anymore, and he's declined over the past three seasons. His defensive abilities have made him a liability at times. Both Randy Carlyle (in Toronto) and Peter Laviolette (in Nashville) grew frustrated with his play which led to shrinking his time on the ice.
The Ugly:
Not only has Franson slowed offensively, his biggest asset, but his consistency and slow foot have become more noticeable over time. It would be nice if he used his giant frame to his advantage as well.
Is Cody Franson a Viable Option for Oilers?
Compared to the rest of the players on the market, Franson is not the worst option on the market.  As Lowetide points out, he played a third of his five-on-five minutes against top-level talent and didn't look as bad as you'd think on an anemic Sabres squad last season.
There's a reason Franson has bounced around over the past several seasons, and it has to do with the Jekyll and Hyde effect,  you just don't know which Franson will show up when the puck drops. At the end of the day, there are only two real options for the Oilers and Chiarelli to consider here.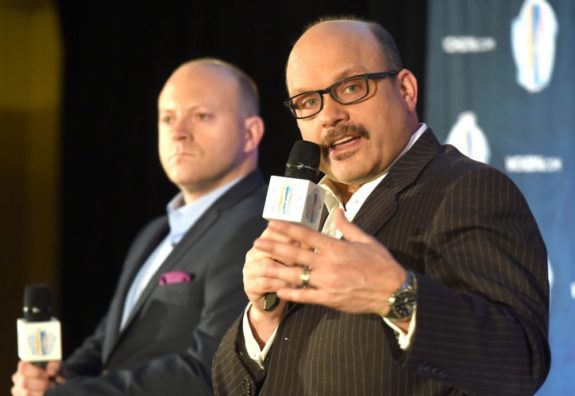 Option one is to sign Franson to a PTO and see what works better; having Benning or Nurse rotate into the top four, or giving Franson a short-term opportunity. Option two is to give Franson a one-year, bonus-laden deal at a base of $1 million.
Things are tight with the number of contracts, but the Oilers can fit in one or two more signings. There's also $8.3 million in projected cap space, so they can afford Franson. If there isn't much out there regarding trade possibilities, or Chiarelli and Todd McLellan don't see Benning or Nurse as short-term stop gaps, then yes, go for Franson.
Then again, is there any other better option on the free agent market?
Edmonton Oilers regular contributor providing insight on all things Oilers including club history, prospect profiles, trade breakdowns, and everything else in between. Check back regularly for new and exciting content. Follow on Twitter @SanderTHW.