Through the early parts of the offseason, the Edmonton Oilers are tied to a free agent European defenseman named Jan Rutta. The 26-year-old was a member of the Czech Republic team that lost to Russia in the quarterfinals of the 2017 World Hockey Championships this year. According to TSN's Darren Dreger, multiple teams are interested in the 6'2″, 211-pound blueliner. The frontrunners have been rumored to be the Calgary Flames, Chicago Blackhawks and the Oilers.
The report was made in mid-May, but in the early parts of June, it seems as if the only thing left is for Rutta to make a decision and sign a contract. For what it's worth, the Oilers haven't offered Rutta a contract yet. Edmonton will be without Andrej Sekera for the next six to nine months with a torn ACL, so they have a hole on the left side. So the Oilers are thus looking for a short-term solution for their top four.
Another option is promoting Darnell Nurse or Matt Benning into a bigger role, but both are still young and coming into their own. Then there's the question of what to do with the love Kris Russell. Adding a defenseman makes sense for Edmonton, but who is Rutta, and why are the Oilers so interested?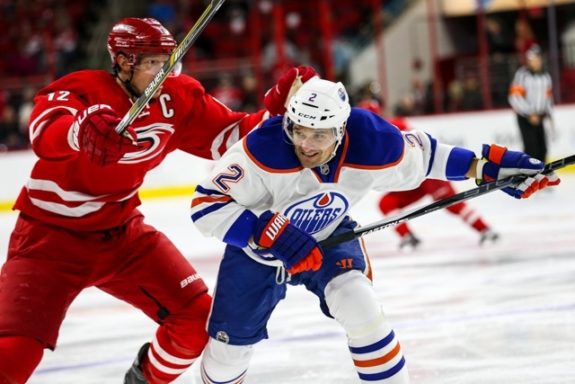 Who Is Jan Rutta?
An undrafted player, Rutta would've initially been available in the 2008 NHL Entry Draft. He played his junior career with HC Plzen and posted 18 points and was a plus-26 in 43 games in his draft year. However, it might've been a lackluster performance in front of the heavily scouted U-18 Ivan Hlinka tournament that hurt his draft stock. For someone expected to be an offensive defenseman, Rutta went pointless through five games.
He never represented the Czech Republic at the World Junior tournament, and he concluded his junior career playing in lower pro divisions like the Czech 2, Czech 3 and Czech Q. He wasn't very offensively productive and was looking more like a defensive defenseman up until 2014-15. That year he scored 11 goals and 27 points in 50 games for the Pirati Chomutov (Czech 2) and was promoted to being a regular on their main club in 2015-16.
This past season he scored eight goals and 32 points in 46 games for the Pirati (Pirates) and in the last two seasons has averaged 0.59 points per game (PPG). The Oilers haven't had much success with European defensemen they've signed from club teams though.
Why is Edmonton Interested in Rutta?
He's a right shot defenseman and plays the right side for Chomutov on their top pairing. A few things stand out about his game. Rutta's got an incredible reach with his stick, a relatively good shot, and he likes to join the offensive rush. He carries the puck well and does so with speed. In the offensive zone, he loves sneaking into the slot and acting like that fourth forward. This is something that could improve the Oilers attack and point production from the backend.
Physically he's quite strong and imposing, much like another Oilers defender Adam Larsson. Rutta's looked good in his last two seasons in Europe and as mentioned before could bolster the Oilers top four and give them much need offensive support from the backend. The Oilers don't have a real offensive defenseman, but Rutta's offensive capabilities in Europe show that he can at least help the situation in Edmonton. Russell has shown an ability to play either side, so inserting Rutta onto the Oilers second pairing on the right side makes sense.
EDMONTON'S DEFENSE IN 2017-18 WITH RUTTA

Oscar Klefbom

Adam Larsson

Kris Russell (UFA, if re-signed)

Jan Rutta

Darnell Nurse

Matt Benning

Andrej Sekera (LTIR)

Eric Gryba (UFA, if re-signed)
He's looking more like a strong two-way defenseman with some limited offensive upside. It likely won't be an expensive acquisition either. If you look at some of the more recent European free agent blueliners to sign in North American like Nikita Zaitsev ($1.75 million), Evgeni Medvedev ($3 million), and Michal Kempny ($900,000) to name a few, there's a show-me factor to these signings.
Even the deal the Flames signed with Jakub Nakladal a few years back ($900,000) was a low-risk signing. If you're looking for a price point for Rutta, remember almost all of them are one-year deals, virtually all of them less than $2 million.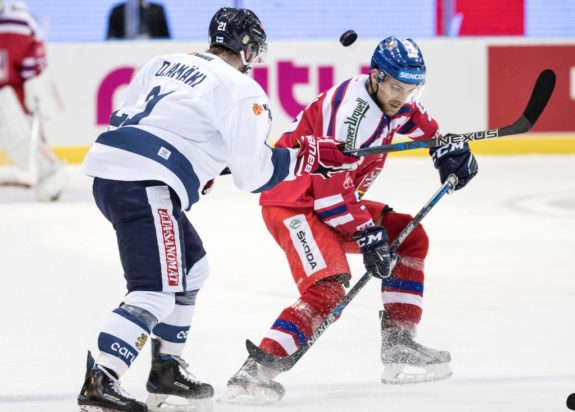 Low-Risk, Low-Cost, High-Reward
There's a risk going with a bit of an unknown, and Edmonton is well aware of their history with signing free agent European players. The Oilers infamously signed Anton Belov for the 2013-14 season. Similar to Rutta's 0.59 PPG, Belov's was 0.57 in the season before signing in Edmonton. He fizzled out scoring a single goal and seven points in 56 games despite being given plenty of power-play time.
The same can be said for Philip Larsen, who the Oilers did a trade and sign with back in 2013-14. Larsen was offensively productive with 12 points in 30 games but drew criticism for his defensive efforts. Both players became sheltered. However, both players were low-risk and low-cost acquisitions. Historically the Oilers haven't done well in the European signings department.
Jere Sallinen, Eetu Laurikainen, Denis Grebeshkov, Jesse Joensuu, Kirill Tulupov, Lennart Petrell and Antti Tyrvainen haven't had much success in the organization.
Every general manager is looking for the next Zaitsev. For the Oilers, the hope is that he isn't the next Medvedev or Belov. Here's hoping if Jan Rutta signs that he bucks Edmonton's bad signings of European talent.