From May 1-31, NWHL teams can re-sign players from their 2016-17 roster and their draft picks during the restricted free agency period, and beginning on June 1 any unsigned players left will be free to sign with any team.
The third season of the NWHL will begin in October as the Buffalo Beauts defend their Isobel Cup championship, and with up to 12 players unable to participate in the league this season due to their selection for Team USA's 2018 Olympic team, this will be the most competitive season yet.
My colleague Dan Rice will keep THW readers up-to-date on New York and Connecticut's signings throughout the summer, while I post updates on Buffalo and Boston.
Beauts' Sign Offensive Force Jess Jones
Pride Add Princeton Grad Corey Stearns
Rookie Litchfield Becomes Pride's 3rd Netminder
Maybe the Boston Pride can find a way to incorporate the Sister Sledge song "We Are Family" into their games this season. Now that they have three Laing sisters as part of the organization, they have also brought the Parker sisters together. On September 6th, the team announced that defender Elizabeth Parker, the older sister of Pride forward Mary Parker, had signed with the team. While the closely knit Boston team already considers themselves family, having sisters on the roster further enhances their bond. THW takes a look at the recent Parker signing.
Elizabeth's Time With the Crimson
Parker played for the Harvard University Crimson from 2010 until 2014. During that time she demonstrated her ability to perform as a reliable blueliner. Her finest offensive season came during her senior year with the program. In 30 games, she put together five goals and nine assists for 14 points – the most of her collegiate career. Two of her five goals came within 36 seconds of each other during a 3-1 Harvard win against Brown University on February 22nd, 2014.
Parker put the puck in the net most often during her sophomore year. She tallied six goals that season (to go along with 3 assists). More importantly, two of the six goals were game-winners.
"Hockey is one of the greatest sources of joy in my life. It's taught me about hard work & respect"- Elizabeth Parker#ThisIsHockey pic.twitter.com/U6K60smNMA

— NWHL (@NWHL) September 7, 2017
Her one season with the Crimson in which she did not score a goal was her junior year. That didn't matter, as the trade-off ended up being that Parker had the highest plus/minus of her career. She finished the 2012-13 season as a plus-15. A sizable chunk of that plus-15 came against Union College on January 4th, 2013 when she finished the game a notable plus-4.
When her college career ended, Parker had played in 125 games for Harvard. She totaled 14 goals and 17 assists for 31 career points. Those 14 goals came from peppering 130 shots on net. Furthermore, she finished her time as a career plus-player, with a plus-27 over her four years.
Excited to Be Part Of "The Pack"
Mary Parker signed with the Pride at the end of last season. She played in one regular season game for the team and appeared in both of Boston's playoff games. She has experience and familiarity with the level of play in the NWHL. Now Elizabeth will join the fun.
The older Parker stated via NWHL press release: "I'm incredibly honored and humbled to have signed with the Boston Pride and to become a player in the NWHL. Playing at the highest level with such talented teammates is a dream come true, so it's going to be an unbelievable experience to play for my hometown. As a team, I believe we can bring the Isobel Cup back to Boston."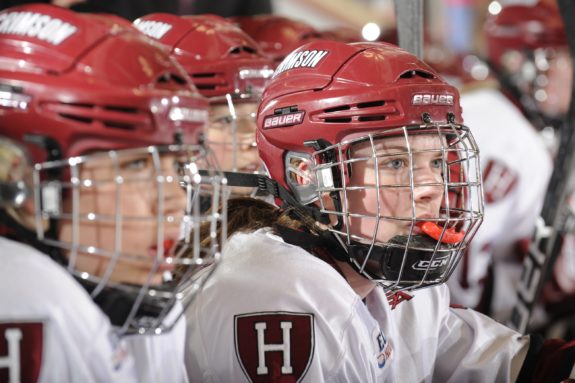 The Parker sisters hail from Milton, Massachusetts, a suburb of Boston. There is only a distance of 10 miles between the two areas.
Parker also shared thoughts specifically on getting the opportunity to play with her sister:
"I'm very excited to play with Mary," she said. "We always played on the same teams growing up, so playing at the next level will be extra special. It's definitely going to be a very fun experience."
Parker Adds Depth to Boston Blueline
While Boston's defense corps is already envy-inducing, it still needed depth. Prior to the Parker signing, the Pride's "D" was only comprised of six signings, that is also if defender-forward Meagan Mangene is used on defense instead of playing up front.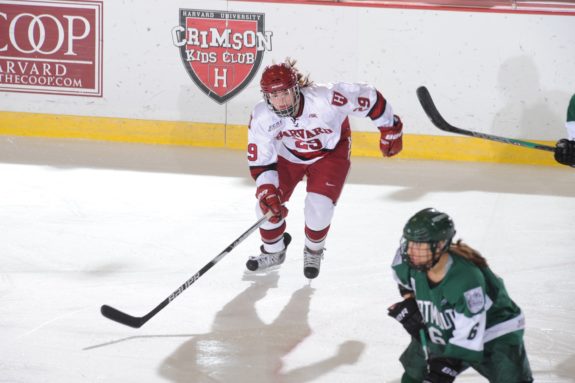 Adding Parker into the mix not only makes it a real "family affair" in Boston but it was an essential move in order to ensure that their back end has strength, size and depth. With both Parkers on the team, the 2017-18 edition of the Pride is coming together rather nicely.
Here is the Pride roster as of Sept. 10:
Goalie: Brittany Ott, Brianna Laing, Madison Litchfield.
Defense: Lexi Bender, Meagan Mangene (defender-forward), Alyssa Gagliardi, Marissa Gedman, Paige Harrington, Kaliya Johnson, Elizabeth Parker.
Forward: Paige Savage, Sydney Daniels, Mary Parker, Emily Field, Jillian Dempsey, Michaela Levine, Jordan Smelker, Dana Trivigno, Janine Weber, Kathryn Tomaselli, Corey Stearns, Heather Schwarz.
General Manager of the Buffalo Beauts (NWHL). Hockey history writer "The Hockey Writers". Credentialed media for the NHL Combine and 2018 IIHF World Junior Championships in Buffalo, NY, USA. Born and raised in Buffalo, NY. Lifelong hockey fan for over 40 years. Proponent of the women's game.