Yes, the Vancouver Canucks are currently undergoing a rebuild, but this coming 2017-18 season should not be forgotten. Management has added some firepower to a fairly deep hockey club and with certain players stepping up, the Canucks could make the playoffs and give the faithful something to cheer about.
These players that need to step up are 'X' factors because their elevated game will do wonders for the team as a whole. I will be doing a three-part series on 'X' factors, starting off with Sven Baertschi who has developed into one of the Canucks' top offensive weapons.
Last season, Baertschi finished third in team goals (18) and fourth in overall points (35). Based on his progression, he should be expected to tally anywhere from 20-to-25 goals in the coming 2017-18 season.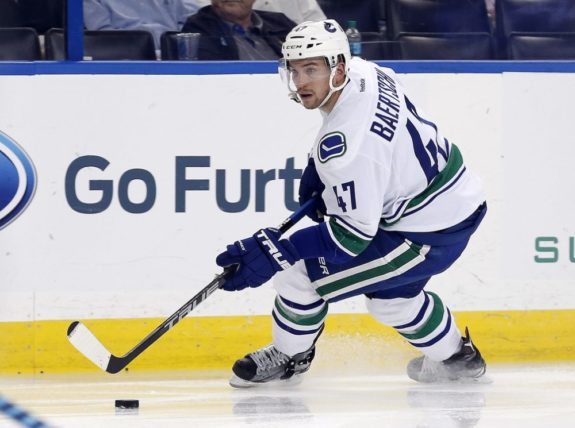 Baertschi's  Past
Baertschi was shipped off to the Canucks during the 2014-15 season after a disappointing run with his draft team, the Calgary Flames. In 61 games as a Flame (over four seasons), he contributed eight goals and 28 points, unable to find his footing.
Prior to his first round, 13th overall selection in the 2011 draft, Baertschi played a single season in the WHL with the Portland Winterhawks and displayed his offensive prowess. In 66 games, he found twine 34 times and added an additional 51 helpers, finishing second in team points and helping lead the Winterhawks to a disappointing WHL playoff finals loss.
That offensive ability has started to come into the light in his past two seasons with the Canucks and many are impressed with his play.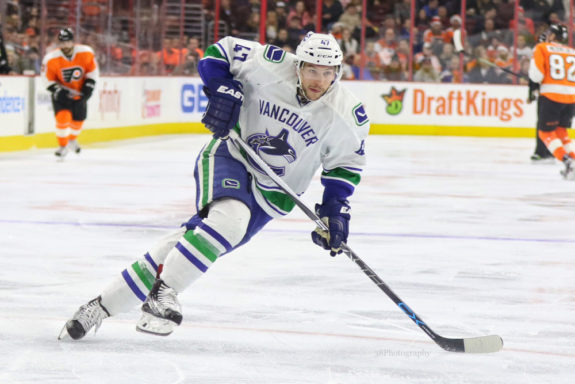 In the past, Baertschi has run into some injury problems from concussions to upper body/neck issues and it has certainly hindered his point totals. In order for him to reach his full potential, he will need to stay healthy and hopefully punch in for a full 82-game stint next season.
Canucks' Present
Coming off of his best professional season, Baertschi is looking good and will receive more responsibility in the coming seasons. With linemate Bo Horvat the two had an excellent season in 2016-17, and they will likely be holding down two spots on the Canucks' top line with a lot of power play time.
He's not the biggest guy on the ice, standing at 5-foot-11 and around 190 pounds, but Baertschi makes up for it with blazing speed and an unteachable ability to find the open ice and create passing lanes. His speed compliments Horvat's play style very well and the duo will be causing a lot of headaches for opposing defenders.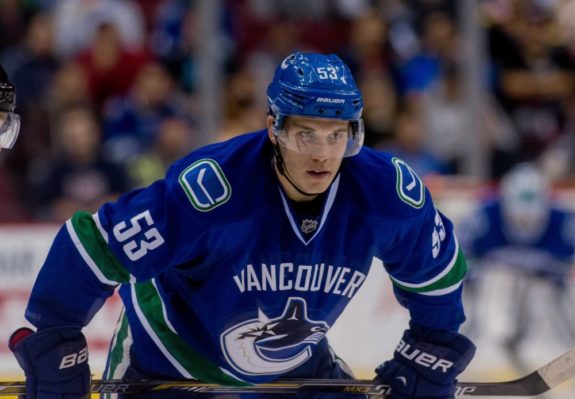 It's been tough being a Canucks fan in recent years but if anything, Baertschi is a player who has provided a beacon of hope and some entertainment to 'Nucks fans everywhere. The future looks bright for the young Baertschi.
The Future
As previously mentioned, Baertschi's progression has been impressive, and at only 24-years-old, he has yet to reach his prime. Conservatively speaking, he can be expected to find the net over 20 times but if he has a breakout season alongside Horvat, the 25-to-30 goal range is not unrealistic.
With the deterioration of Daniel and Henrik Sedin's role, Baertschi and Horvat are poised to fill the void and become the new faces of the Canucks.
At a cap hit of only $1.85 million per season, he is an extremely affordable first-liner and with his contract expiring at the end of the 2017-18 season, I'd expect a long-term contract coming his way, assuming of course that he can maintain his level of play and progression.
Although the odds are against the Canucks in terms of making the playoffs, it's something that would be hugely instrumental in Baertschi's (among others) development as he has only skated in two NHL playoff games — giving a taste of the post-season can add a lot of hunger and grit to a young and upcoming dressing room.
Now that #SolarEclipse2017 is in the past, let's get back to what's important. 47 DAYS UNTIL HOCKEY! pic.twitter.com/EcbY14SAcK

— Vancouver #Canucks (@Canucks) August 21, 2017
Matt is a longtime fan, player and student of the game of hockey. Broadcast and Online Journalism student at the British Columbia Institute of Technology.